150 years TU Munich: Highest honor for distinguished alumni
TUM appoints three civil engineers as honorary senators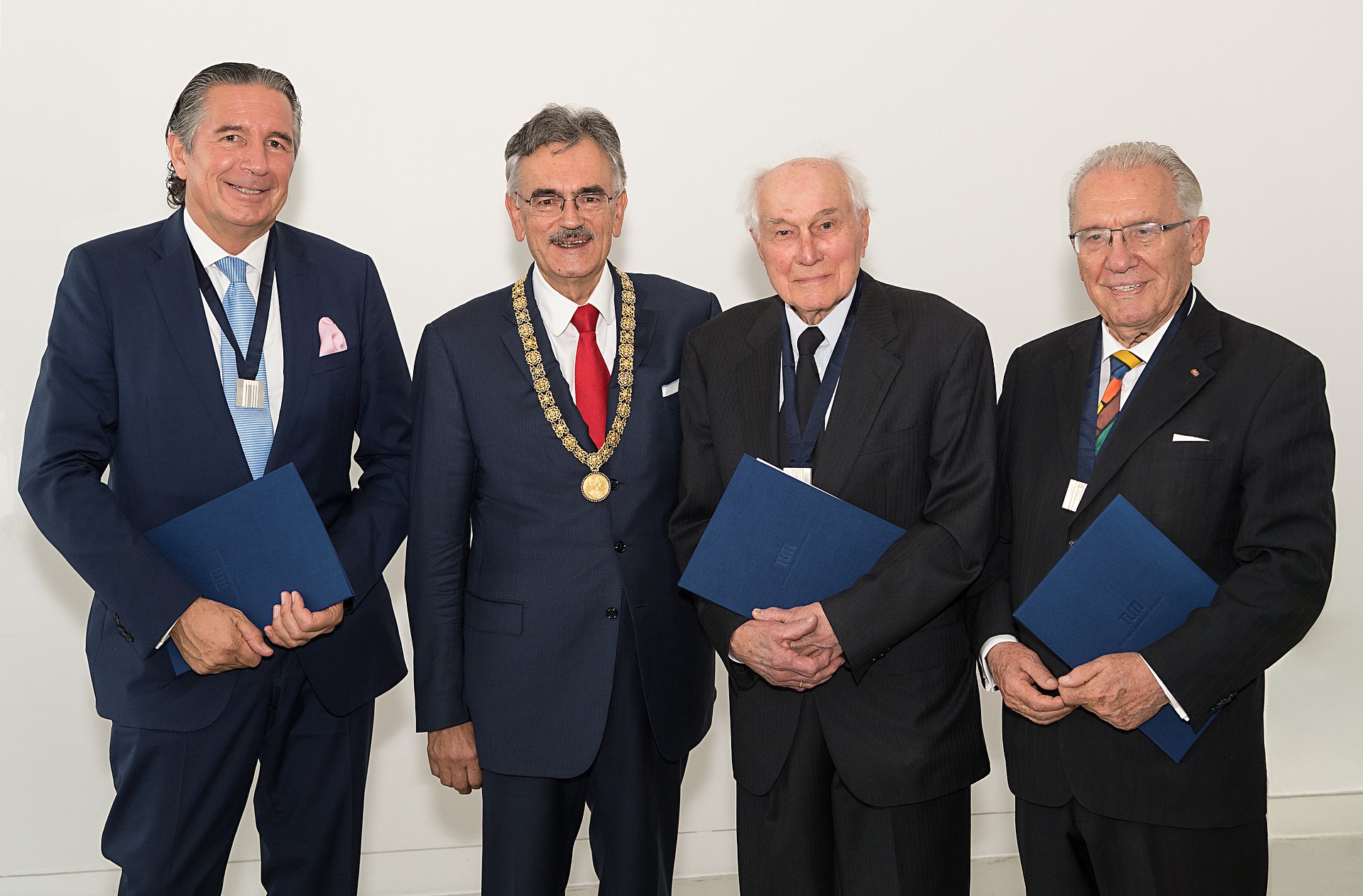 Dipl.-Ing. Max Aicher
Max Aicher studied civil engineering at TUM. After his first position at the Bavarian State Administration, he became the sole shareholder of the Max Aicher GmbH in Freilassing at the age of 30. He subsequently diversified and expanded his parents' construction company. In addition to his entrepreneurial activities, Max Aicher was a town councillor in Freilassing and a county councillor in the district of Berchtesgadener Land. His extraordinary commitment and entrepreneurial talent were honoured by the award of the Federal Cross of Merit in 1994. Max Aicher is particularly committed to the education of young people until today. He provided refugee accommodation with an integrated teaching concept, is a sponsor of the TUM Schülerforschungszentrums Berchtesgaden and a founding and anniversary sponsor of the TUM University Foundation.
Dipl.-Ing. Dr.-Ing. Urs Brunner
After studying civil engineering at TUM and obtaining his doctorate in Karlsruhe, Urs Brunner gained work experience in renowned companies in the construction industry. In 1987 he founded the Brunner + Co construction company, which today is one of the leading providers of construction services in the Munich area. Subsequently, he built up further companies, which he later merged into the Dr. Brunner Group. Urs Brunner has been passing on his entrepreneurial and technical knowledge to young generations of engineers as a lecturer at TUM for many years. He is associated with his alma mater as a powerful supporter of the TUM University Foundation.
Dipl.-Ing. Prof. Dr.-Ing. Drs. h.c. Gallus Rehm
Prof. Gallus Rehm studied civil engineering at TUM from 1947 to 1951 and obtained his doctorate with an experimental engineering thesis at its Materials Testing Institute. Later he headed the Chair for Building Materials and Reinforced Concrete Construction at the Technical University of Braunschweig, then the Chair for Materials in Construction at the Technical University of Stuttgart, where he also held the position of director at the renowned Otto Graf Institute. Gallus Rehm remained associated with TUM as his alma mater for decades without interruption - not least as a generous donor of the TUM University Foundation in its successful development phase since 2010.
More Information
Technical University of Munich
Corporate Communications Center