Building for the Munich School of Robotics and Machine Intelligence officially handed over
A new hotbed for artificial intelligence and robotics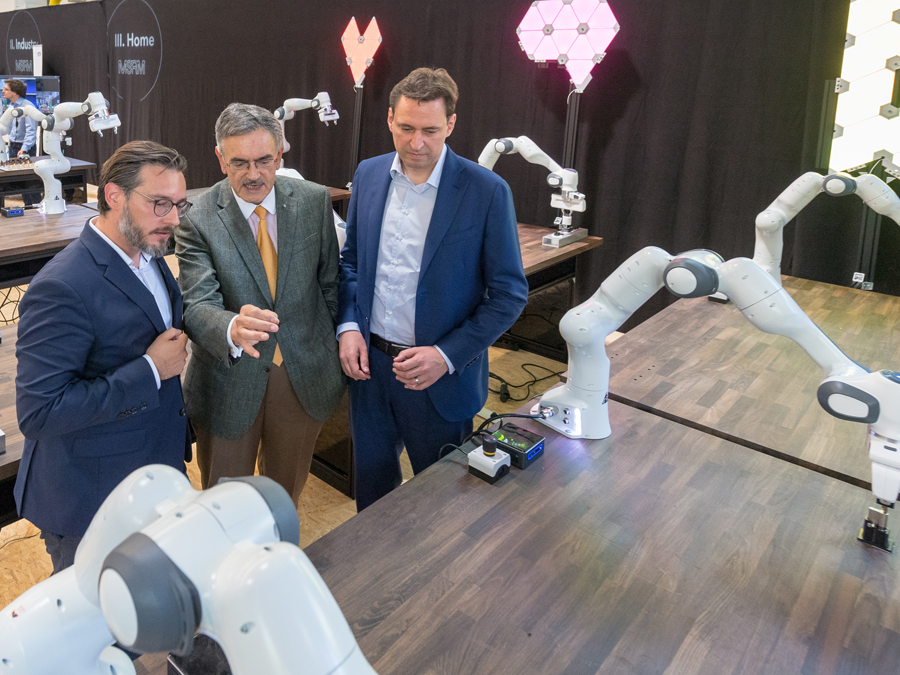 The Bavarian state government has identified artificial intelligence (AI) and robotics as megatrends that are set to play a defining role in the evolution of society and industry. "Bavaria enjoys an excellent position on the international stage when it comes to digital technologies. But to safeguard jobs in industry and science for the future, we really need to invest in the key digitalization drivers today," commented State Minister Georg Eisenreich on Friday. "We want Bavaria to become one of the world's leading regions in artificial machine intelligence. The Munich School of Robotics and Machine Intelligence will play a key role here by advancing both social and economic developments in Bavaria." The MSRM is part of an ambitious funding program that was recently unveiled to the public by Bavarian Minister-President Dr. Markus Söder and Science Minister Prof. Marion Kiechle.

The building located at Hessstrasse 134 in Munich has over 2,000 square meters of space available to scientists for their research, including a 900 square meter hall to accommodate large-scale experiments. Following a transition phase, the MSRM will be free to occupy the entire building in Hessstrasse.
Interdisciplinary research under one roof
The founding director of the research institute is Prof. Sami Haddadin, 38, whose accolades include the Future Prize awarded by the Federal President of Germany in 2017. Prof. Haddadin was originally educated in Munich.

"The concept underlying the Munich School of Robotics and Machine Intelligence is strictly interdisciplinary by design," commented Prof. Wolfgang A. Herrmann, President of TUM, at the hand-over ceremony. "When different scientific disciplines cross-fertilize, when basic research works closely with applied research, and when science, industry and society pool their knowledge and experience, that is when you get truly novel solutions to the pressing challenges of the future." Through its focused and systematic recruitment policy, TUM has built up a competence profile of exceptional depth and breadth. The key to success now lies in leveraging its full interdisciplinary potential.
"Geriatronics" flagship project
The institute will focus on three megatrends: work, mobility and health. Alongside the ceremonial hand-over of the building, State Minister Eisenreich also kicked off the MSRM's first major flagship project on Friday. Funded by the Bavarian Ministry of Economic Affairs, the "Geriatronics" project will investigate assistance robotics as a way to help seniors remain independent in their own homes.
Geriatronics, a portmanteau of geriatrics and mechatronics, is a field of robotics that will become critically important to society in view of demographic change and the shortage of nursing staff. One element of the project will see the development of a humanoid robot assistant for the elderly. Subsequent project phases will be dedicated to topics like telemedicine and rehabilitation using mechatronic systems.
Contact:
Prof. Dr. Sami Haddadin
Technische Universität München
Lehrstuhl für Robotik und Systemintelligenz
officespam prevention@msrm.tum.de
Technical University of Munich
Corporate Communications Center