Research data translated into a walk-in light and sound installation
Ghost particles as fascinating lights and sounds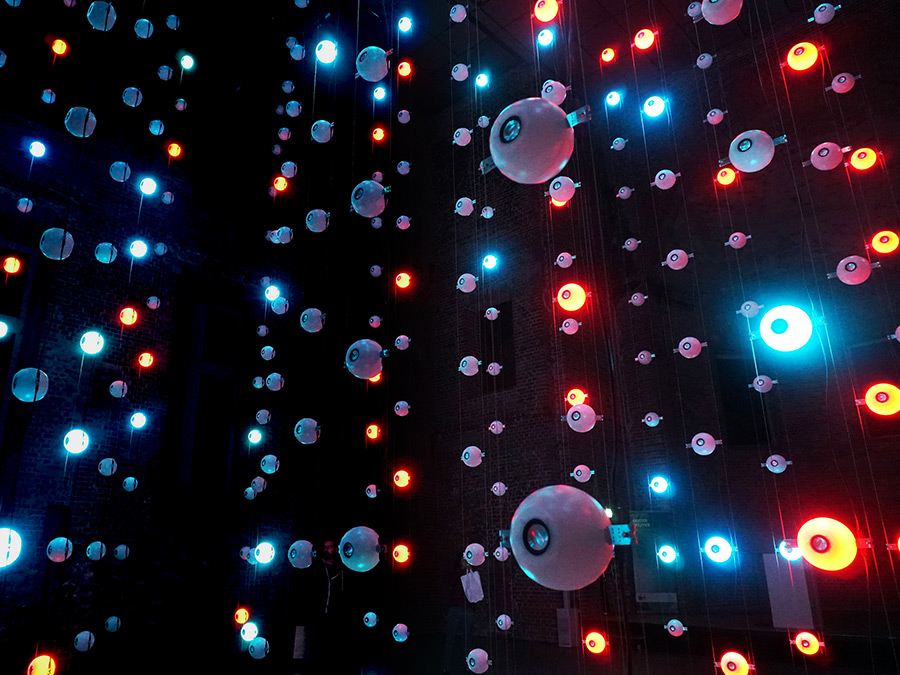 444 illuminated loudspeakers in the "Reaktorhalle" of the Hochschule für Musik und Theater Munich adopt the structure of the IceCube Neutrino Observatory deep in the eternal ice of the South Pole and translate the largest observatory in the world's data into a vibrating space of sounds and colours.
The Neutrino Observatory IceCube in Antarctica observes high-energy neutrinos. Science has long puzzled over which cosmic events could accelerate particles to such high energies. Last year, they succeeded for the first time in identifying an object as its origin at a distance of four billion light years away.
In absolute darkness, deep in the Arctic ice, IceCube measures minimal flashes of light triggered by neutrinos, also known as "ghost particles" due to their weak interaction with other matter. Billions of neutrinos fly through our bodies every second unnoticed and even penetrate the whole earth without any problems.
Walk-in light and sound installation
With the AIS3 [aiskju:b] installation Tim Otto Roth adopts the structure of the one cubic kilometre IceCube Neutrino Observatory with its more than 5,000 light sensors, which is frozen up to three kilometres deep into the ice of the South Pole. 12 spherical loudspeakers hang from each of 37 wire ropes. Together they create a walk-in sound and light installation with a volume of 8 x 8 x 7 cubic metres.
The latest data from the IceCube experiment are fed into this installation, which translate the measured neutrino energies into lights and sounds that merge into different timbres depending on one's position in the space. Visitors can move freely in and around the installation and therefore not only get a unique perspective on what is happening in IceCube, but also become aware of the invisible processes that surround us every day.
Turning the invisible into an experience
"Making the invisible understandable and presenting it is the challenge that we astroparticle physicists face when we want to explain what we are researching. AIS3 [aiskju:b] is an extraordinary experience that turns the IceCube experiment into an impressive sensual experience", says Prof. Elisa Resconi, who is a member of the international cooperation project IceCube with her research group at the Technical University of Munich.
"I am delighted that following my first major project with astrophysicists, "I see what I see not", on Serviceplan's art façade, I can once again show a collaboration with particle physicists in Munich after 15 years", says composer and conceptual artist Tim Otto Roth, looking forward to the presentation of [aiskju:b].
"The overwhelming response I received not just from amazed visitors of all ages, but also from physicists, art historians and curators after the première in Berlin, allows me to look forward to the presentation in the Reaktorhalle with confidence", says Tim Otto Roth.
More information:
The exhibition is sponsored by: Hauptstadtkulturfonds, Schering Stiftung, DESY Deutsches Elektronen-Synchrotron, European Astroparticle Consortium APPEC, Rheinisch-Westfälische Technische Hochschule Aachen, Hamamatsu, F. Victor Rolff-Stiftung, Technical University of Munich, Deutsche Forschungsgemeinschaft, Collaborative Research Center "Neutrinos and Dark Matter in Astro- and Particle Physics" (SFB1258). The exhibition is being held in cooperation with the Hochschule für Musik und Theater Munich.
High resolution pictures:
Contact:
Prof. Dr. Elisa Resconi
Technical University of Munich
Physik Department / SFB1258
elisa.resconispam prevention@tum.de
Tel.: +49 89 289 12422
Technical University of Munich
Corporate Communications Center