Tony Blair at the TUM Speakers Series
"Brexit is a terrible historic mistake"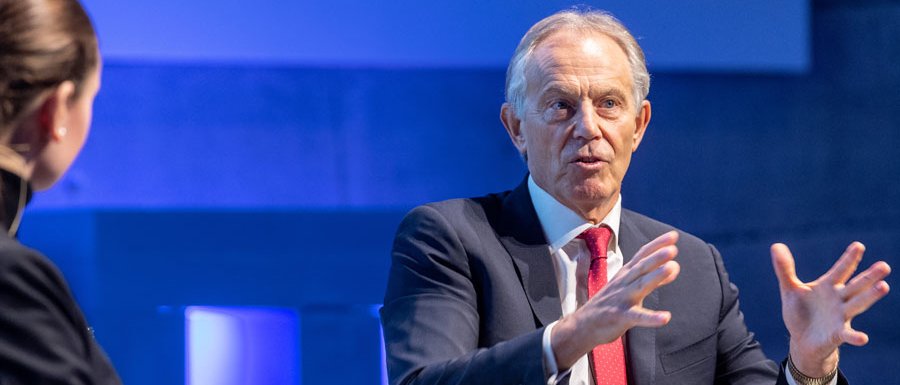 Tony Blair stated emphatically: "Brexit is a terrible historic mistake for my country. And I will do everything I can until the last moment to stop it." (video of the event, TUM's YouTube channel). A second Brexit vote would be justified, in his view, because most people did not have a clear idea of the consequences. Now, after years of discussions, the situation is different. "I was prime minister for 10 years. Even I know more about the single market today than I did." Blair can't see how people can say that a second referendum would be undemocratic. "We'll be asking the British people to vote again – not some other people."
"Feelings that are not just British"
Instead of delivering a speech, Tony Blair (65), who was the UK prime minister from 1997 until 2007, started by taking questions. Silja Wöhrle, the moderator of the student-organized TUM Speakers Series, asked what the EU might do to win back the British people. The EU should give its members the freedom on how closely they wish to integrate, suggested Blair. They should also take action on abuses of the free movement of workers. Migration issues are a concern for people all over Europe, he added. They engender fears, like other effects of globalization, for example de-industrialization." "Brexit is driven by emotions that are not only British."

These common concerns are not the only reason why a united Europe is important. It's also about competing successfully alongside China, USA and India. "If we don't come together and band together, then we are going to get flattened by these giants," Blair warned. "That is the only way we are going to defend our interests, but also our values."
TUM partnerships with Imperial College and EuroTech Universities
To strengthen this European community, TUM is currently intensifying its relations with the UK. It recently entered into a flagship partnership with the Imperial College London (ICL). The two universities will cooperate more closely in the fields of artificial intelligence, robotics, digital medicine, bioengineering and aerospace. In a joint article in the Financial Times, ICL President Alice Gast and TUM President Wolfgang A. Herrmann called for continued support of cross-border cooperation in science – regardless of the outcome of the Brexit negotiations.

TUM is also active in the EuroTech Universities Alliance, which has recently been strengthened by the French École Polytechnique and Technion in Israel to its members. This alliance works together to address the major challenges facing society and engages with EU policy makers. Activities include joint post-doc and entrepreneurship programs as well as maintaining an office in Brussels.
Video:
TUM Speakers Series: Tony Blair (1:14:00, TUM's YouTube channel)
More Information:
The TUM Speakers Series is organized by students for students. Guests in recent years have included Bill Gates, Kofi Annan and Eric Schmidt.
Technical University of Munich
Corporate Communications Center