Nobel Peace Prize laureate Kofi Annan at "TUM Speakers Series"
Do social media pose a threat to democracy?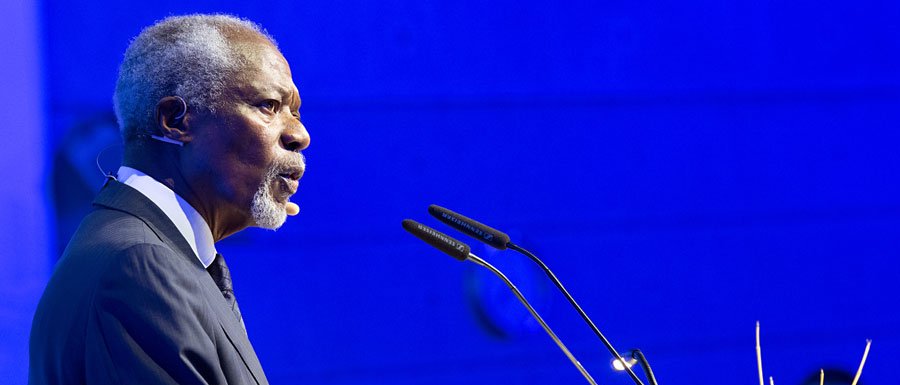 Addressing an audience of more than 1,000 in attendance in TUM's Audimax auditorium (video of the event, TUM's youtube channel), Kofi Annan recalled how, only a few years ago, social media were widely celebrated as an unprecedented global force, for example during the uprisings in Iran and the Arabian world. Soon, however, not only did many authoritarian regimes regain control over the internet. Even from within democratic societies, troubling developments have emerged: "Social media have become a battlefield for the manipulation of political discussion." Echo chambers that amplify opinions made compromise more difficult. Hate speech, harassment and fake news gained a platform.

Annan called for social media to be submitted to the same rules that are established for other media such as clear accountability and transparency. This would probably require new international laws. Moreover, the big companies should continue looking for ways to prevent the abuse of their media. "We have to act fast," said Annan. Otherwise the trend could turn into a slippery slope where democracy would be at risk.
"You are never too young to lead"
Annan urged the students: "Do not believe everything you hear. Do not believe everything you read." He went on to say that checking sources of news is just as important as engaging with people whose opinions you don't share. A healthy democracy needs robust debate, even on tough issues, for example the jobs that will be eliminated through digitalization and automation. This is a debate that should also be addressed by people who plan to start companies themselves.

Annan urged the students to get involved in their everyday lives: "Take responsibility when you believe you can do something. When you see something is going wrong, organize with friends and do it. You are never too young to lead."
TUM studies the political impact of social media
With his speech, the Nobel Peace Prize laureate raised an issue that is the subject of intensive research and teaching activity in the TUM School of Governance. Several professorships in the school, which was established in 2016, are working on the question of how digital media change political processes.

Kofi Annan served as the Secretary-General of the United Nations from 1997 to 2006. As founding chair of the Kofi Annan Foundation, he continues his work by mobilizing political will. Alongside Nelson Mandela, Jimmy Carter, and other eminent statesmen, he was a founding member of The Elders, who work together for peace and human rights.

The "TUM Speakers Series" is organized by students for students. Eric Schmidt, long-serving CEO of Google, is scheduled to speak tomorrow. Both talks are side-events of the Munich Security Conference.
More Information:
Technical University of Munich
Corporate Communications Center