Chancellor Merkel and Minister President Söder at TUM
A visit to the home of intelligent robots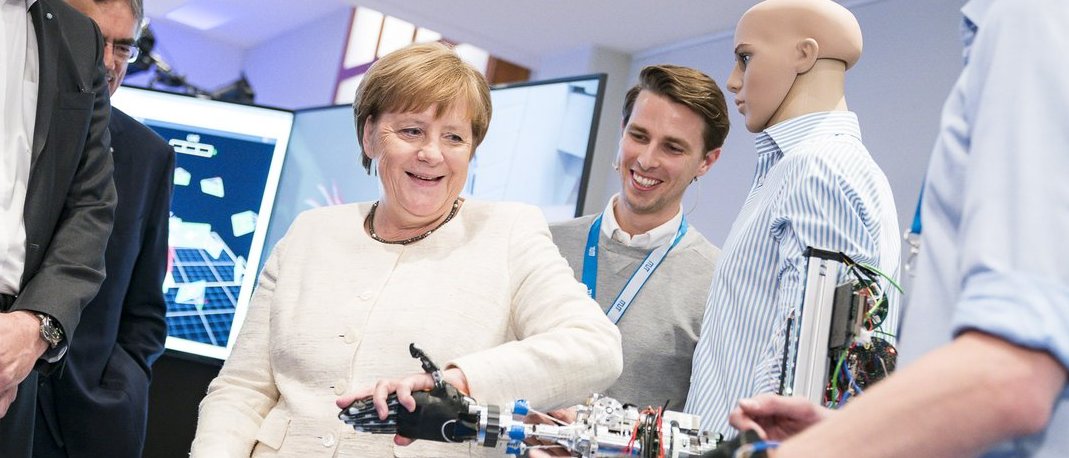 Barely a year after the state-owned site in Munich's Maxvorstadt was handed over to the MSRM, Dr. Angela Merkel and Dr. Markus Söder paid a visit to learn about the latest developments in robotics and artificial intelligence (AI). They looked at numerous demonstrations featuring high-tech projects at TUM and learned about synergies with science-based start-ups and research-driven companies in the Munich metropolitan area.
Since it was established in 2017, the MSRM has brought together more than 50 TUM professors from such fields as informatics, engineering, physics and medicine in cooperation with the humanities and social sciences. The presentation in the 750 square meter main hall of the MSRM was centered around the MSRM's three key areas of interest: the future of work, health and mobility. Among the highlights seen by the honored guests at the various stations were autonomous flying robots generating detailed maps of inaccessible areas of the hall. They also saw demonstrations showing how robots can be used as intelligent tools in small companies or to help with the medical treatment of elderly people in their own homes.
Research, studies, entrepreneurship
Researchers at MSRM also study the human body and its functions to create the foundation for AI-controlled prosthetics. With the result of one such project, a team from MSRM will soon take part in the Cybathlon, a renowned international championship for people using advanced assistive devices. "It is very important to us to get students from the first semester onward involved in basic and application-driven research and also to incubate our young start-ups," said MSRM director and Leibniz Prize winner Prof. Sami Haddadin, who showed the guests around the institute. "This gives them a solid education through contact with top academic specialists. And it also lets them explore their own creativity right from the start and see how inventions can be turned quickly into usable products and ideas for the common good."
Appeal to talented young researchers
After the tour, Chancellor Merkel discussed issues with the talented young scientists and entrepreneurs from the fields of AI and robotics. In a press statement she said: "What one can see here is that, from basic research to applications, everything is thoroughly thought through – and always from the standpoint: What will be beneficial to humans? That's how I envision the high-tech-country Germany." The chancellor concluded her remarks with an appeal to talented young researchers: "For all of the doctoral candidates, everyone working here and all of those launching start-ups, I wish them plenty of drive and initiative and all the best. Our future prosperity depends on the work you are doing today."
At the occasion of the tour, Minister President Dr. Markus Söder said: "In Bavaria we want to push hard to develop artificial intelligence. This technology will help to diagnose illnesses, manage traffic flows and make physical work easier. It is only with innovations of this kind that Bavaria will remain competitive in the future. We're making enormous investments in science and research, quantum technology, robotics, supercomputing, modern mobility and the 'new space' field. The MSRM at TUM is a key component in the Bavarian Research in Artificial Intelligence Network (BRAIN). Bavaria supports its visionary thinkers."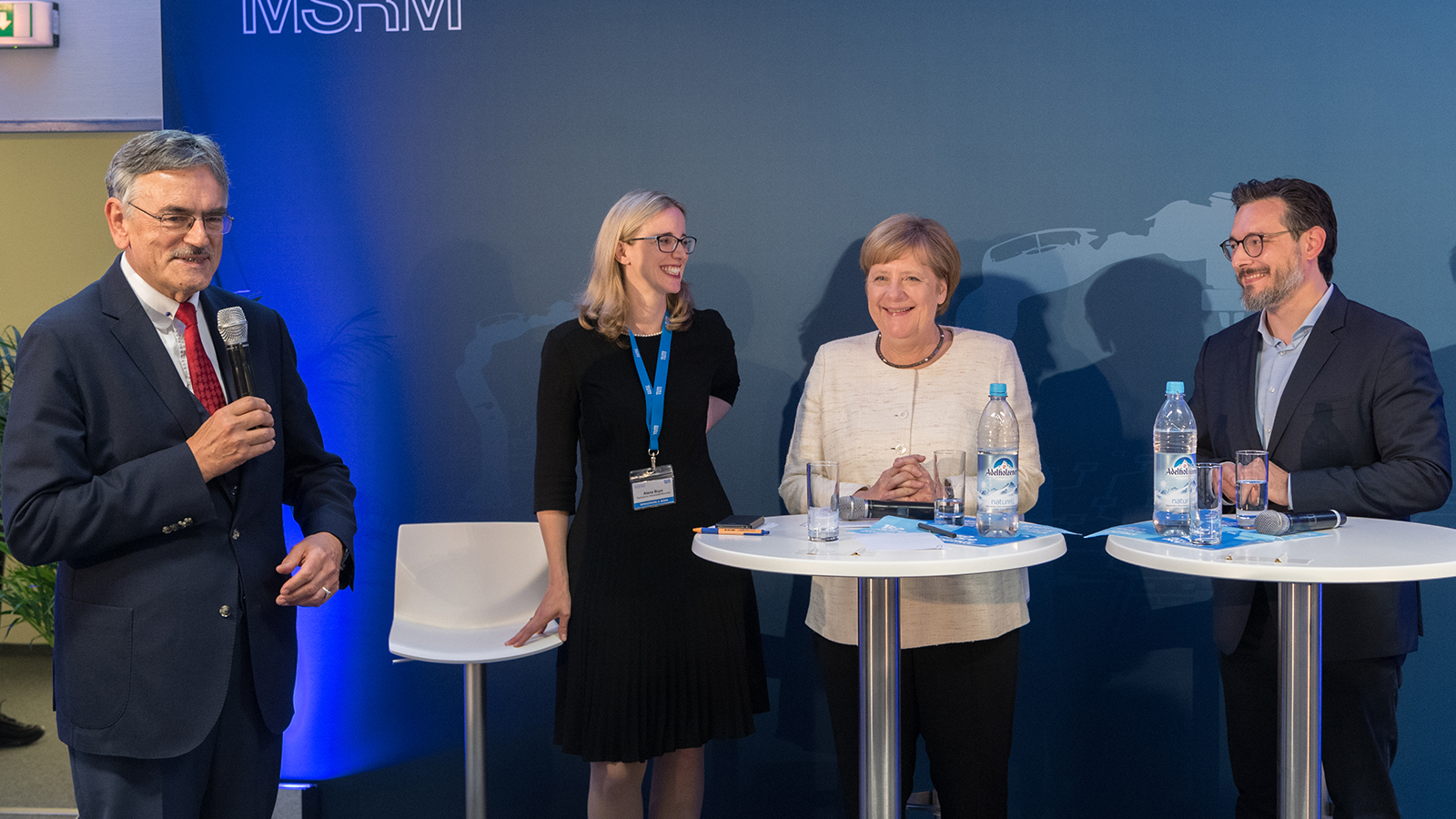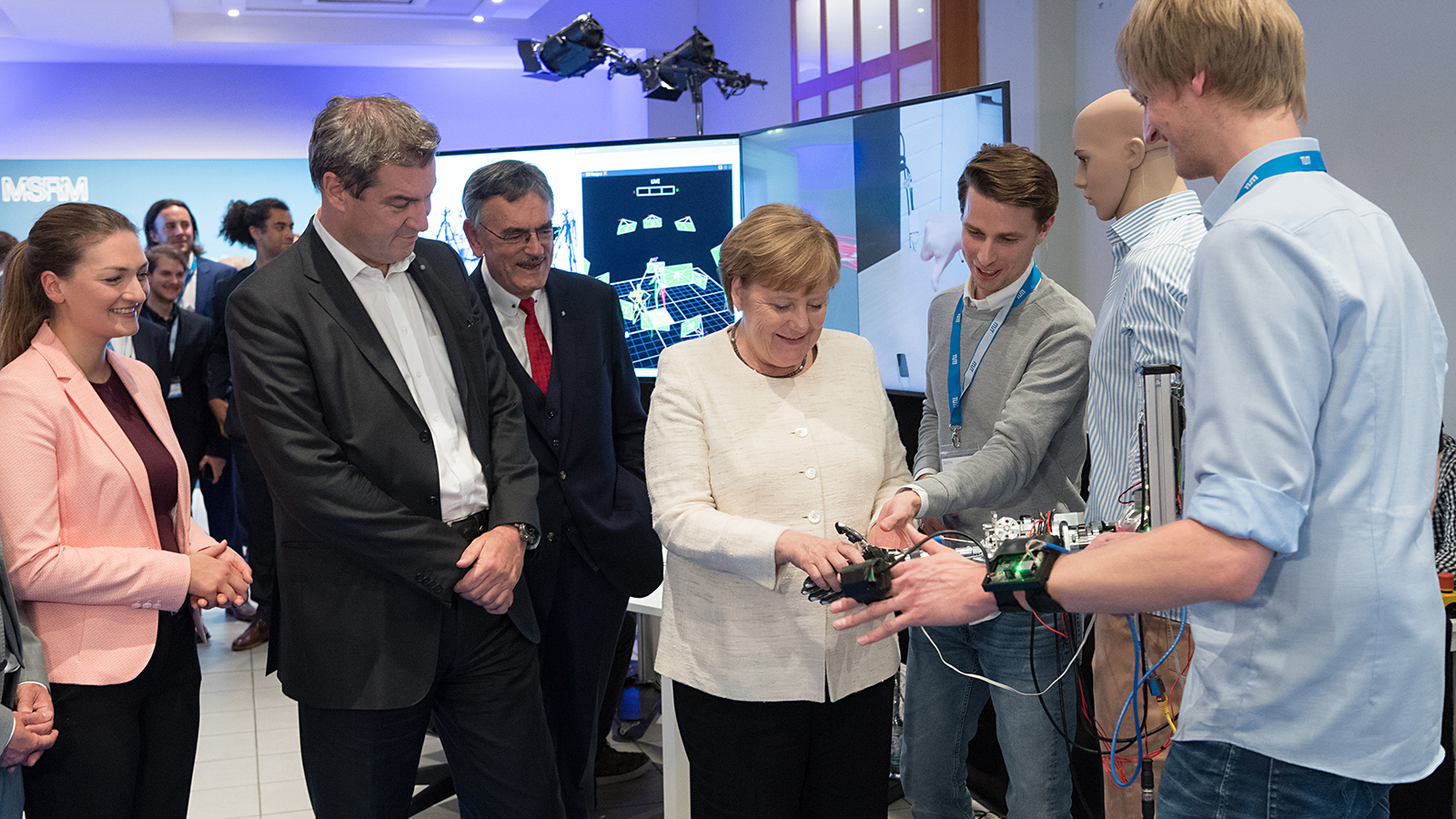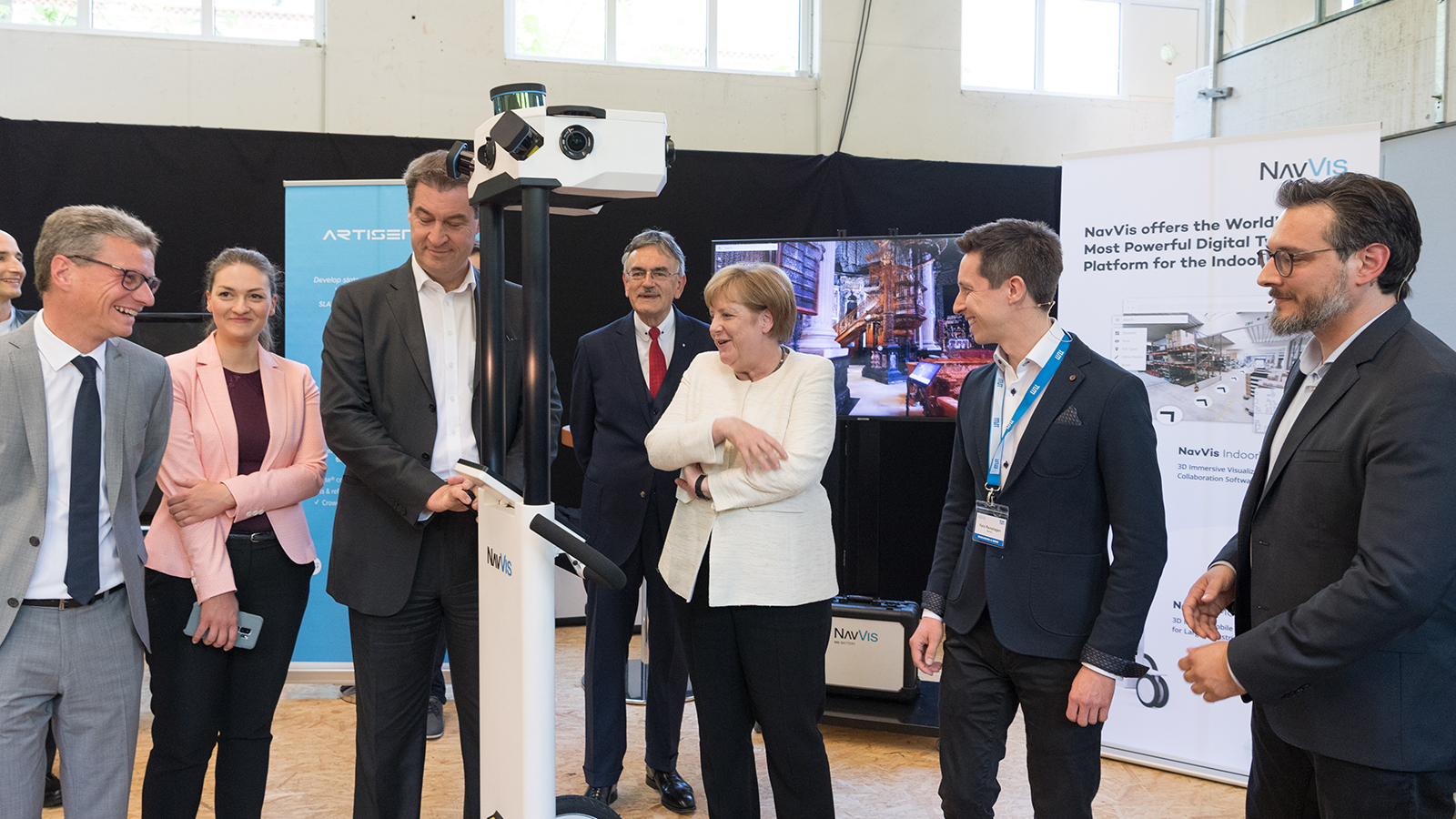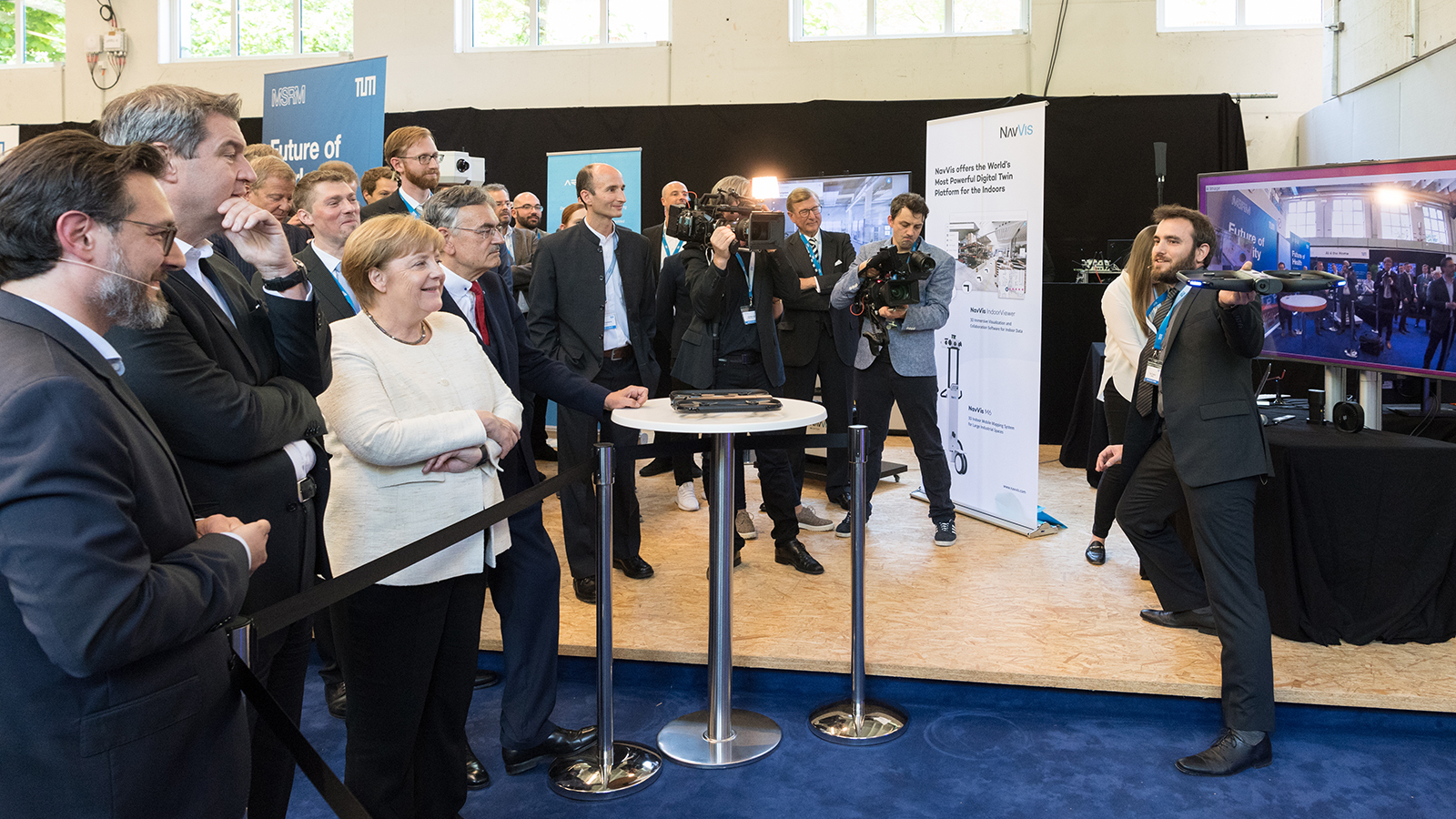 European Center for Robotics and Artificial Intelligence
Prof. Wolfgang A. Herrmann, the President of TUM, said: "With its highly differentiated, cross-disciplinary approach, TUM is ideally positioned to work with its strong partners to help the Munich region develop into a European hub for robotics and artificial intelligence. This will pave the way for exciting new developments in areas where we are already strong today – such as aerospace. And it also enables us to play a role in setting the standards for leading-edge research in this country as it competes internationally."
Focus of the future strategy
The president went on to explain that MSRM, with its interdisciplinary approach at the interfaces of engineering, natural sciences, IT, humanities and social sciences, has a central position as an "integrative research center" at the heart of TUM's future strategy, in a role that could be described as a "core element of the new human-centered engineering". "The classical disciplines are merging into new technical solutions geared to human needs, as the kind of digital machine intelligence that can be truly 'grasped' in every sense of the word." At the same time, he concluded, MSRM embodies TUM's fundamental commitment to entrepreneurship.
Further information and links
Technical University of Munich
Corporate Communications Center