Bavarian Minister President Söder comes to TU Munich: Bavarian aerospace strategy is a "Mission Earth"
Aviation, aerospace and geodesy "take off"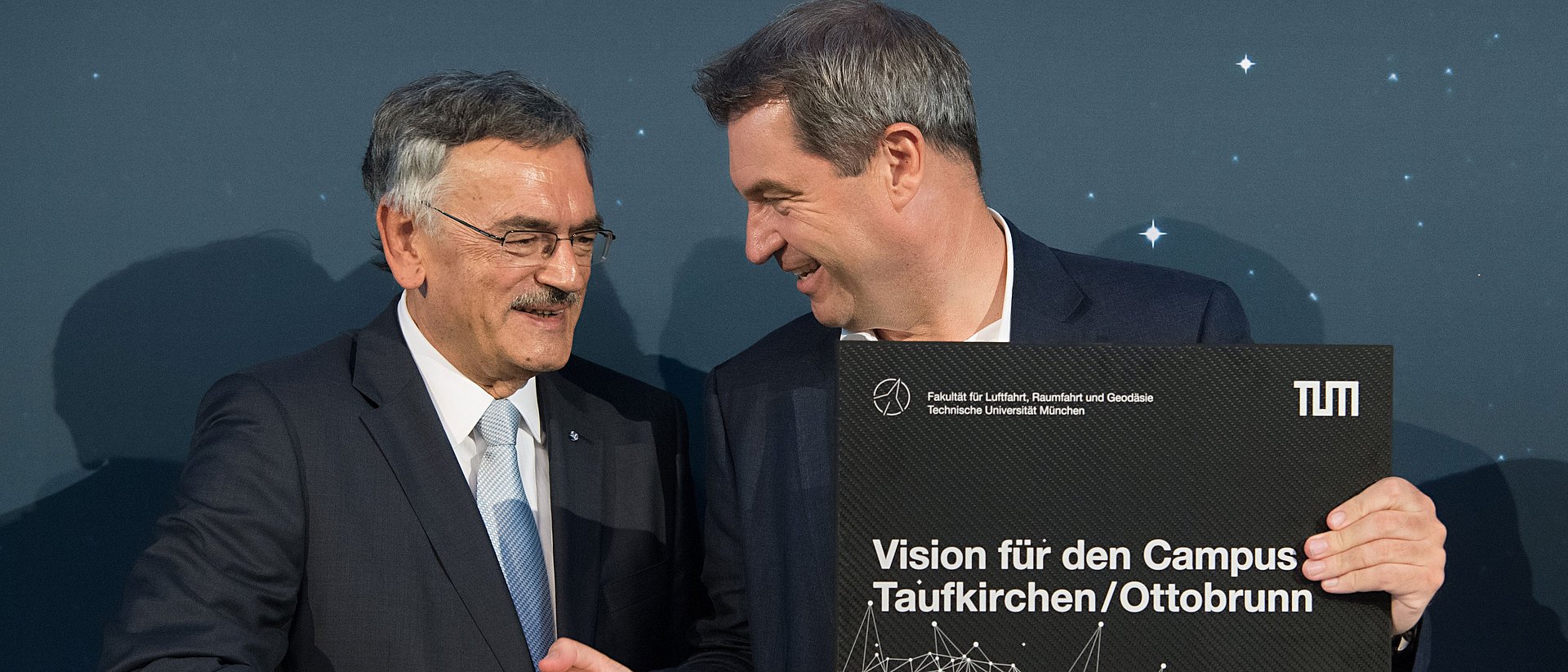 Miniaturization, high-performance drives and materials, additive manufacturing processes and Artificial Intelligence are converging in the new challenges of the aviation and astronautics sector, with geodesy as an umbrella function. The result is a number of impending disruptions which will change society: Travel with flying taxis, extremely precise measurement of climate changes and flocks of satellites that provide gap-free Internet connections. New business models with new value chains point towards fundamentally different economic structures.
TUM: Well-prepared for the new era of integrated technologies
Over several decades TUM has built extensive expertise in the fields of aviation, aerospace and geodesy. The quality of this expertise is reflected in the current "Global Ranking of Academic Subjects" (Shanghai Ranking), where TUM is ranked 24th worldwide in the area "Aerospace Engineering".
The new department will now consolidate this expertise and strengthen the synergies among these disciplines. "Only those who understand the world as a whole can move the world as a whole," summarizes President Herrmann. "This is why we plan to deploy the new department LRG with a wholistic strategy and to make it the most integrative of its type in Europe – a real 'European department'. At no other location are the conditions so positive and the timing so perfect."
Tri-city metropolitan area Garching-Oberpfaffenhofen-Ottobrunn/Taufkirchen
Since the entire scope of technological demands can no longer be covered at a single location, the new department will develop synergy among the three sites Garching, Oberpfaffenhofen (location of the German Aerospace Center (DLR)) and Ottobrunn/Taufkirchen.
A new university campus is being built in Ottobrunn/Taufkirchen. With a final total of over 55 professorships, the campus will account for 50 percent of university aviation and astronautics research in Germany. Using partnership models with research facilities, international leading universities and industry, LRG will found a new "Space Valley" on the outskirts of Munich, Bavaria's capital.
Hyperloop: Technological vision, not just a wild idea
Herrmann went on to say that the Hyperloop concept, the focus of an interdisciplinary student group, can be judged in the context of the most demanding technological challenges conceivable: "Only those who choose ambitious objectives can shape the world of tomorrow." He added that this is why TUM is giving its students freedom of action with regard to Hyperloop and support in achieving the next world record.
Bavarian Minister President Dr. Markus Söder: "The new TUM department will turn what would previously have been thought of as science fiction into reality. We are thinking in new orders of magnitude, since we want to build the biggest aerospace department in Europe! High-tech materials, alternative energy sources, new forms of mobility, progress in medicine – Space flight is being developed here to the benefit of society. This is of enormous value to us all. Here alone, in the final configuration of the new department we will create over 30 new chairs and will construct buildings worth 500 million euros."
Video: Visit of Minister President Söder at the Garching research campus
Further information and links
Technical University of Munich
Corporate Communications Center
Corporate Communications Center

presse @tum.de
+49 (0)89 289 10519
presse @tum.de