Bavarian Minister-President tours climate gas sensors at TUM
Dr. Markus Söder praises cutting-edge research 'Made in Bavaria'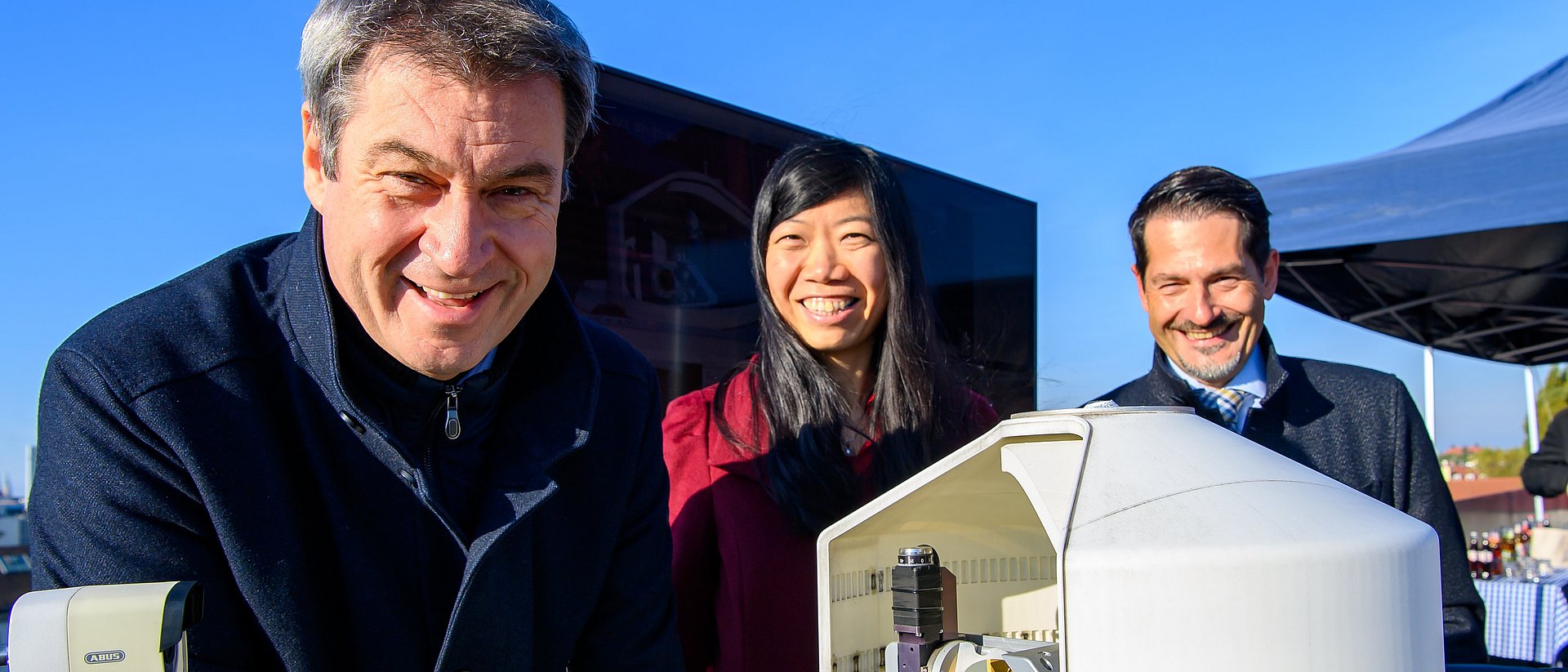 MUCCnet (Munich Urban Carbon Column network) is the first completely automated sensor network for the measurement of urban greenhouse gas emissions to use ground-based remote atmospheric sensing. The network was developed by a working group led by Jia Chen, professor for Environmental Sensing and Modeling at TUM. MUCCnet consists of five high-precision optical instruments that analyze the spectrum of sunlight, measuring concentrations of carbon dioxide (CO2), methane (CH4) and carbon monoxide (CO) in order to show the amounts of these gases which are generated directly in the city.

During the informative visit by the Minister-President, Professor Chen commented: "Until now emission estimates have usually been based on projections. Our sensor network measures actual emissions. We want to expand the methods and models we have developed here in Munich on a worldwide scale and thus want to help understand and resolve climate issues. The results will serve as a scientific basis for political decisions." The World Meteorology Organization has in the meantime adopted the TUM measurement technique as part of its global guidelines for measuring urban greenhouse gas emissions. MUCCnet also played a decisive role in the selection of Munich as a pilot city in the European Green Deal project.
TUM's sustainability strategy
TUM President Thomas F. Hofmann said: "TUM is pursuing a comprehensive research strategy for climate protection and sustainability. Our research and teaching spectrum includes intelligent agricultural production and the design of rural spaces as well as the use of renewable resources and recovery of their chemical, material and energy elements, and even the development of closed loop recycling management. We formulate future-oriented approaches to energy-efficient planning and construction for new working worlds and decentral production; we are also working on future-oriented mobility systems as part of the sustainable design of urban living spaces. We conduct research on changes in climate and the environment from outer space using satellites and on the ground at a variety of elevations. The creation of high-resolution emission maps, like those generated using Professor Chen's high-precision sensor technologies, helps us develop effective greenhouse gas reduction measures."
Further information and links
Technical University of Munich
Corporate Communications Center
Contacts to this article: