Three strong women at "Women of TUM Talk"
More courage and self-confidence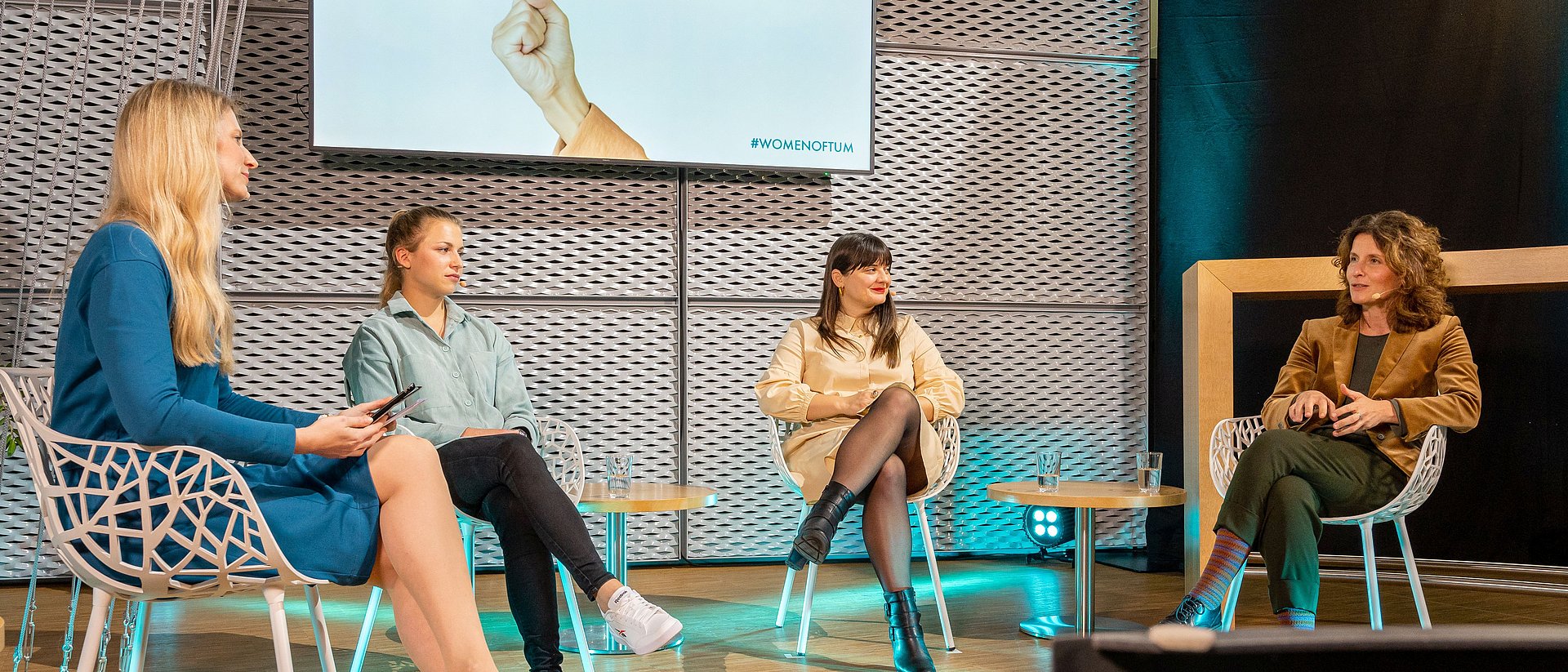 The "Women of TUM Talks" are meant to inspire and encourage. They offer the women of TUM a stage on which to make their role models visible while motivating individuals to pursue their own goals. Prof. Peus, the sponsor of the event series, pointed out that expressions like Power and Strength are usually attributed a more male connotation, adding that women often don't feel the terms apply to them. That, she said, will have to change.
An astrophysicist, a founding entrepreneur and an Olympic athlete
Prof. Elisa Resconi has successfully established herself as an astrophysicist in a research field which is highly dominated by men. She says her objective is to better understand the universe: the experimental physicist works with neutrinos, subatomic particles which only rarely interact with other particles. She emphasized the importance of being able to admit to weaknesses and ask for help in her field, even as a woman in a leadership position.
Dr. Tina Ruseva, CEO of Mentessa, a community platform for agile collaboration, called for more involvement. Just going along for the ride isn't enough, she said, pointing out that the old power structures are beginning to change. She added that soft skills like empathy and creativity will be the most important in the future.
Olympic Judoka Theresa Stoll highlighted the value of self-confidence in her athletic success in one-on-one competition. "You can't have a second of self-doubt," said Stoll, adding that mental strengths and strategic approaches are decisive. "The winner is not always the one with the strongest body, but rather the one who also knows how to yield at exactly the right moment."
Women of TUM is a rapidly growing, living network which connects women with one another – 15,468 female students, 110 female professors and more and more alumnae every year. This lively network is quickly spreading and bringing together women across the boundaries of continents, generations, hierarchy levels and specializations.
In the Women of TUM network, women are forming a community in which they mutually support and inspire one another, regardless of their academic disciplines or industry sectors. Here women also find a unique platform which makes them more visible to the public, anchors the role of the woman in the working world and thus establishes role models for future generations.
Further information and links
Technical University of Munich
Corporate Communications Center
Contacts to this article: