TUM School of Management honors former EU Commission president
TUM honorary doctorate presented to Romano Prodi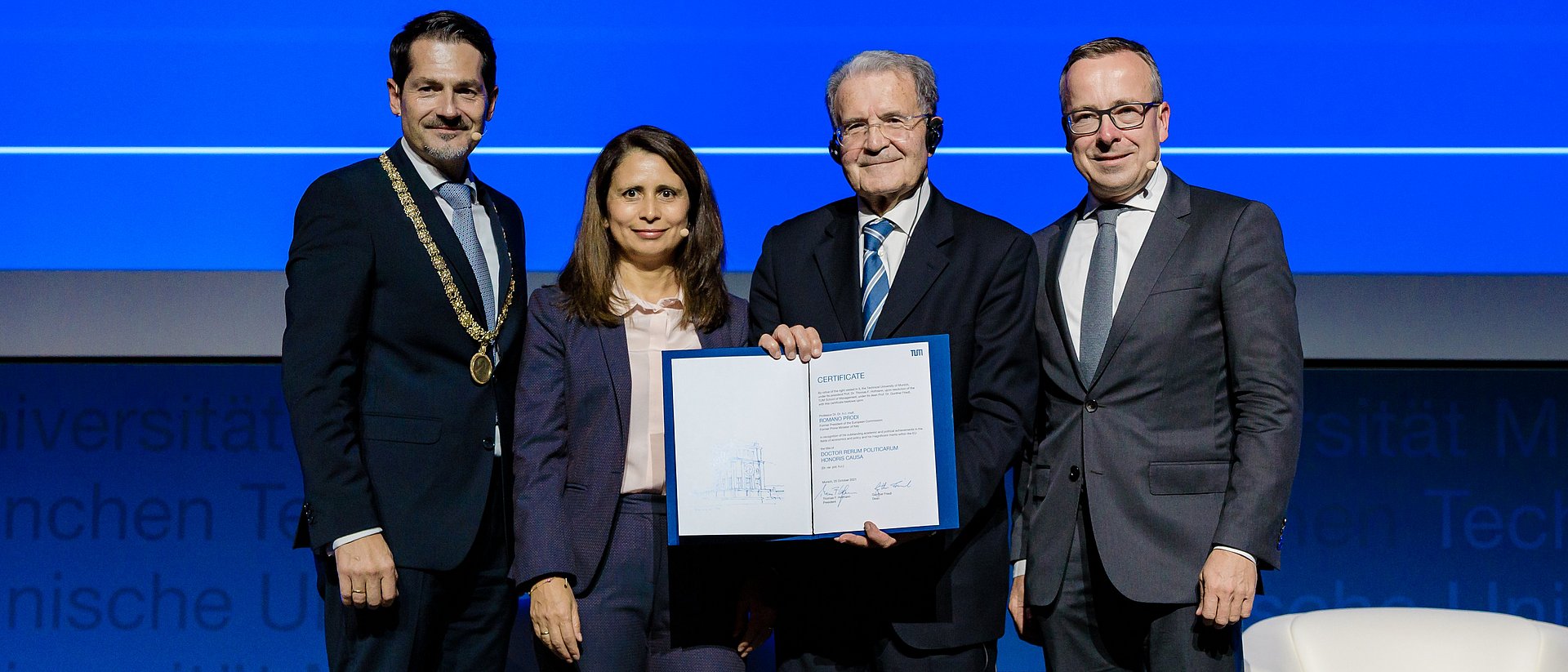 The former Bavarian minister president Dr Edmund Stoiber delivered the award citation via video link. Citing his importance for the enlargement of the EU, with the accession of many Eastern European countries, Dr. Stoiber said that Romano Prodi must be seen as "one of the fathers of the reunification of the continent". These achievements are above all a reflection of his open approach to dialog combined with a strong will to bring about reform. EU Commission president Ursula von der Leyen also sent a video message. She recalled that it was during Prodi's term of office as the Commission president that the euro was introduced.
At the public event, Romano Prodi engaged in a discussion with the students Fiona Burckhardt and Tamara Nauhardt and with Prof. Eugénia da Conceição-Heldt, who holds the Chair of European and Global Governance. Prodi said that Europe's most important task today, in view of the increasing tensions, is to maintain the dialog between the American and Chinese superpowers.
"An important agent for change"
Prof. Romano Prodi is regarded as one of the founders of the Italian school of industrial economics. He was a professor of economics and industrial policy at the University of Bologna from 1971 until 1999 and had stints as a visiting researcher in Harvard and Stanford. Along with his outstanding academic achievements, the honorary doctorate also recognizes his ability to apply economic insights in the interests of social progress. When serving as the EU Commission president from 1999 to 2004 and in his two terms as the Italian prime minister, from 1996 to 1998 and from 2006 to 2008, he rendered outstanding services in the fields of innovation and entrepreneurship and in industrial, competition and monetary policy. This resulted in important contributions to the modernization and economic development of the EU.
TUM President Prof. Thomas F. Hofmann called Romano Prodi an important agent for change. "For many years to come, Europeans will benefit from your idealism, dedication, commitment and your accomplishments." Prof. Gunther Friedl, the dean of the TUM School of Management, said that Prodi was quick to recognize the importance of entrepreneurship for shaping globalization and addressing the global challenges like climate change. He remains active in this area today. Prior to the event he visited the recently launched Munich Urban Colab, in which TUM and UnternehmerTUM, the Center for Innovation and Business Creation, are working on sustainable smart city innovations with start-ups, established companies, creatives, societal actors and the city of Munich.
Technical University of Munich
Corporate Communications Center