Investigations at Research Neutron Source lead to discovery of a previously unknown animal species
Neutrons help track down Mammalian Ancestors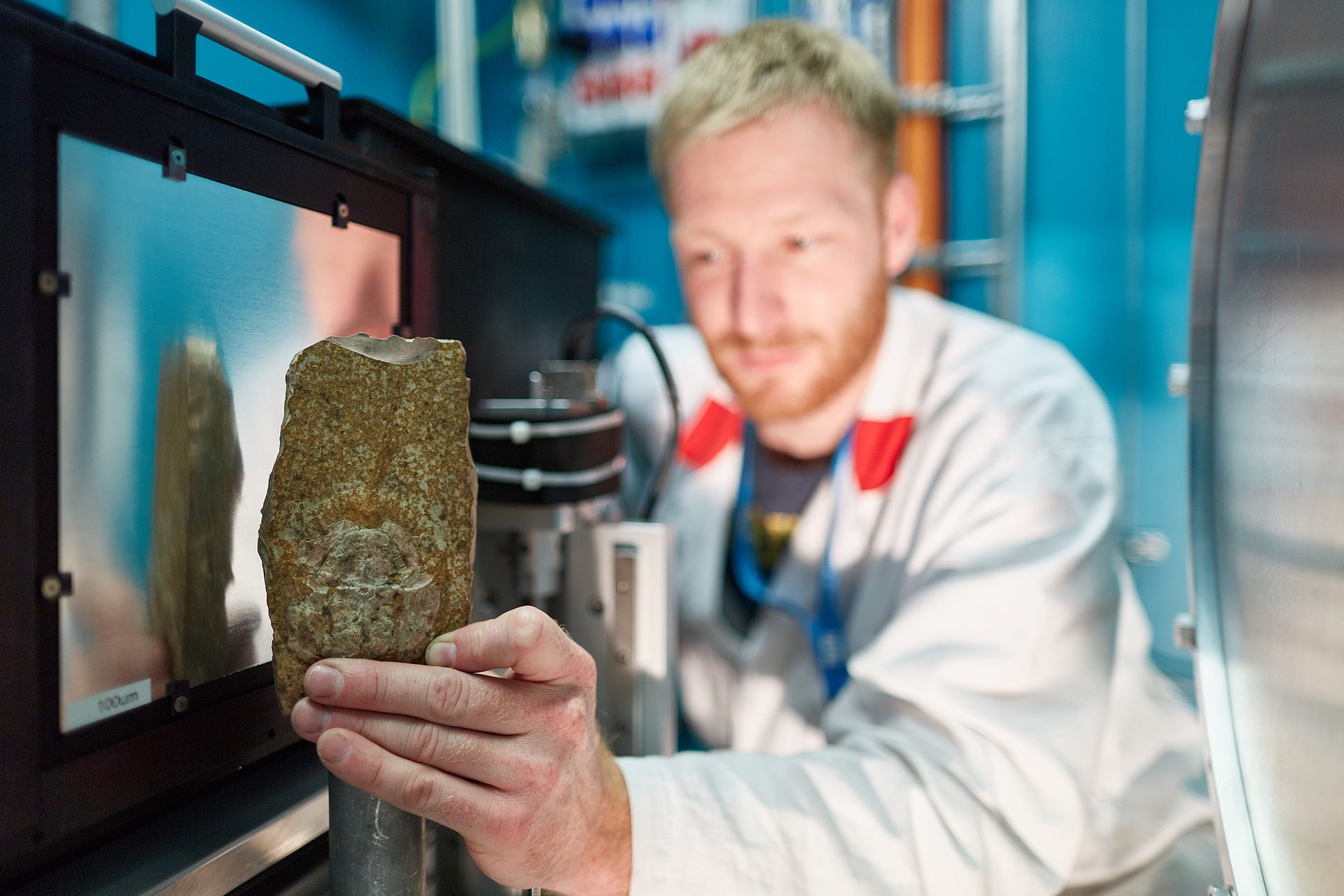 A long snout, a massive jaw and sharp teeth – these are some features of the newly discovered species Tessellatia bonapartei. It belongs to the group of Cynodontia (which literally translates to "dog teeth"), mammal-like animals from which mammals eventually evolved.
Argentinian researchers found the bones of the roughly mouse-sized cynodont species in the desert-like Talampaya National Park in the west of Argentina. "The bones were very fragile and therefore it was not possible to remove the surrounding rock without risking to damage them", explains Dr. Aureliano Tartaglione of the research neutron source Heinz Maier-Leibnitz at TUM. He worked on the project with Dr. Leandro Gaetano from CONICET (National Scientific and Technical Research Council in Argentina).
L.C. Gaetano, F. Abdala, F.D. Seoane, A. Tartaglione, M. Schulz, A. Otero, J. M. Leardi, C. Apaldetti, V. Krapovickas, E. Steimbach A new cynodont from the Upper Triassic Los Colorados Formation (Argentina, South America) reveals a novel paleobiogeographic context for mammalian ancestors. Sci Rep 12, 6451 (2022). doi.org/10.1038/s41598-022-10486-4
Further information and links
The experiments were conducted by Comisión Nacional de Energía Atómica, San Carlos de Bariloche, Argentina, at the RA-6 facility (CNEA) and the company Y-TEC as well as at ANTARES, an instrument operated by FRM II at the Heinz Maier-Leibnitz Zentrum (MLZ), Garching, Germany.

The researchers work at the Technical University of Munich, Consejo Nacional de Investigaciones Científicas y Técnicas (Instituto de Estudios Andinos "Don Pablo Groeber", Universidad Nacional de La Plata, and Universidad Nacional de San Juan), Universidad de Buenos Aires, and Laboratorio Argentino de Haces de Neutrones in Argentina and the University of the Witwatersrand in Johannesburg, South Africa.

The research was partly funded by Agencia Nacional de Promoción Científica y Tecnológica, Consejo Nacional de Investigaciones Científicas y Técnicas, Sepkosky Grant and The Explorers Club Grant.
Technical University of Munich
Corporate Communications Center
CCC / Elene Mamaladze

presse @tum.de
Contacts to this article:
Dr. Aureliano Tartaglione
Technical University of Munich
Research Neutron Source Heinz Maier-Leibnitz (FRM II) and
Heinz Maier-Leibnitz Zentrum (MLZ)
+49 89 289 12106
aureliano.tartaglione@frm2.tum.de