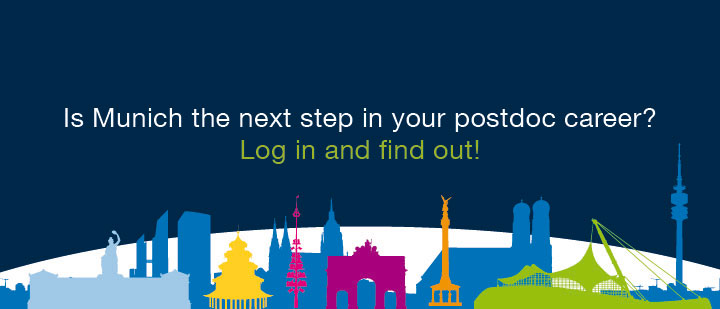 Research Opportunities Week Spring 2021
Date: April 12-16, 2021
Are you interested in postdoc opportunities at the Technical University of Munich? Join our virtual Research Opportunities Week (ROW) 2021! This year, the Technical University of Munich invites young researchers from all over the world to join the virtual five-day event and learn about exciting postdoc opportunities at TUM.
During the Research Opportunities Week, participants will get the unique opportunity to meet and network with TUM professors & researchers at the virtual Career Opportunities Fair. Furthermore, participants get the chance to inform themselves about postdoc funding opportunities in Germany, and to join inspiring talks and webinars. Participation is free for all selected participants. After the ROW, participants have the opportunity to apply for the prestigious two-year TUM Global Postdoc Fellowship at TUM.
You are welcome to apply for the ROW if you meet the following requirements:
Researchers from all locations are eligible to apply this year: The event primarily aims at international postdocs or German researchers currently living abroad. Given the current obstacles to meet researchers even within Germany, we will open the Research Opportunities Week 2021 for German and international researchers who are currently conducting research in Germany at institutions other than TUM.
PhD Certificate or Statement from your Supervisor
You need to have completed a PhD within the last 3 years (on May 01, 2018 or later) at an institution other than TUM. If you have completed your PhD at TUM, you are not eligible to apply.
or you need to have recently submitted your PhD thesis at an institution other than TUM. For your application you will need to submit confirmation of your submission.
or you are going to submit your PhD thesis within the next 12 months. For your application, you will need a statement from your supervisor confirming the expected date of submission.
You need to have completed a PhD in one of the research fields listed on the websites of the TUM Schools and Departments, TUM Clusters of Excellence or TUM Research Centers.
Please refer also to our FAQ if you have questions if you are unsure whether you are eligible.
Applications can only be submitted via the application portal. The portal opens on Monday, February 15, 2021. The link to the application portal will be posted here on the same day. The application deadline is Sunday, March 21, 2021. Researchers will be informed whether they have been selected for the event until March 26, 2021.Please hand in all documents in English.
You need to submit the following documents:
Letter of Motivation (approx. 1 page)
Please tell us about your motivation to join ROW. Please keep in mind that your letter of motivation is essential for the evaluation of your application. You are therefore asked to describe your professional goals as precisely as possible and to elaborate on your motivation to conduct a postdoc at TUM. Furthermore, make sure to explain in detail how the TUM professor(s) you are interested to work with match your research interests and scope. When writing your letter of motivation, please bear in mind that members of the selection committee might not be experts in your specific field of expertise.
Curriculum Vitae including Track Record/List of Publications
As part of your CV, please provide a list of publications or papers in progress. Please highlight the most important three papers with an asterisk. You may add awards, conference contributions (presentations, speeches, courses, poster sessions, workshops), patents, etc. to your track record.
Please provide a PhD certificate, a conformation of your PhD submission or a statement from your supervisor that you have completed your PhD or that you will complete your PhD within the next 12 months.
Names of TUM professor(s) or TUM Junior Fellows that are of interest for you
Please name up to three TUM professors who are of interest for you. Only applications that include the name of at least one professor are taken into consideration.
You can use the following websites to help you find professors who fit your research profile: TUM Schools and Departments, TUM Clusters of Excellence or TUM Research Centers. You can also go through the list of TUM Professors or TUM Junior Fellows.
Please refrain from contacting TUM Professors beforehand regarding your ROW application unless you have already been in touch with them. You do not need to inform the professor(s) that you are listing them in your application.
Please note that only TUM Professors, TUM Head of Institutes or Chairs and TUM Junior Fellows can be named as hosts. Other scientists cannot be named here. Honorary Professors, Distinguished Affiliated Professors, retired professors including the TUM Emeriti of Excellence and TUM President Prof. Dr. Thomas F. Hofmann cannot be named here.
Support Statement from a TUM Professor (optional)
If you have already been in contact with a TUM professor who wants to support your application, s/he can provide you with a short statement that s/he would like to see you invited for the ROW. The short statement (1-2 sentences) needs to be written on official letter paper with date and signature. A longer letter of recommendation is not required for the ROW. If you have not been in touch with a TUM professor you want to meet, please refrain from approaching them beforehand.
All applications will be reviewed by the Selection Board. The applications will be evaluated with regard to the following criteria:
scientific excellence

quality of the motivation letter

synergy with TUM hosts and departments

career perspectives of the applicant
For this year's Research Opportunities Week, we do not limit the number of participants as long as the eligibility criteria are matched and the application documents will be evaluated positively. All researchers whose applications are selected by the Selection Committee will be invited to participate.
Researchers who submitted their application until March 21, 2021, will be informed whether they have been selected for the event until March 26, 2021. Applicants who submitted their applicaiton later will be infomed early in April 2021.
Please also refer to the FAQ for questions related to the application process.
The preliminary programme for this year's Reserach Opportuniites week can be downloaded here as a .pdf file. The programme might be subject to change. All timings are Central European Summer Time. To ensure that participants from different time zones have the possibility to participate, we offer the key events twice. It is suffcient to attend one of the respective sessions.
Postdoc Fellowship at TUM
The Research Opportunities Week is the first part of a two-step-program organized by the TUM Talent Factory. Participants have the opportunity to apply for a new 2-year fellowship program shortly after the ROW. Details about the new fellowship program can be found here.