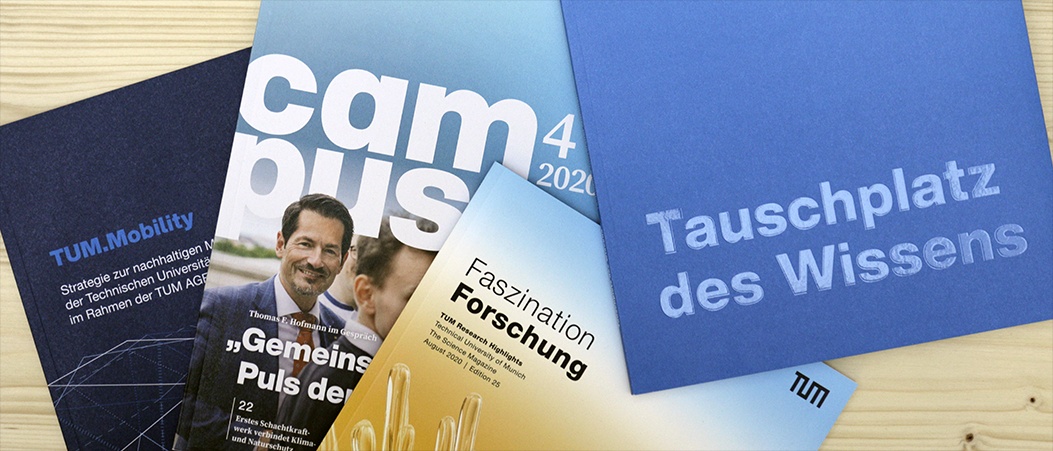 Our magazines and other publications
Living, learning, researching – it's all happening at the Technical University of Munich, and our publications capture this diversity to perfection.
Our image brochure (2020) shows who we are, what will be driving us in the future, and what it is that is defining us. Read online
"Faszination Forschung": TUM's scientific magazine provides insights into the world of science and research at TUM – in English. Read online
TUMcampus: Our campus magazine updates on campus life, university politics, teaching and research. Available in German. Read online
KontakTUM: TUM's alumni magazine focuses on biographies and achievements of our alumni. It also includes an event calendar "Back on campus!" for TUM alumni. In English and German. Read online
News for Students and Staff
Screens on TUM's main campuses keep you informed about upcoming events and news from the university. The content is provided by the Corporate Communications Center, the departments and student representative bodies. See for yourself: newspread live!
Contact:
infoscreen(at)tum.de
Please get in touch if you wish to add content, connect a new screen to the system or if you notice a problem.
150 Years Culture of Excellence: A rich and colorful portrait of our university in its 150th anniversary year . An English version will soon be available, too. Download from mediaTUM
Wolfgang A. Herrmann (ed.), Technische Universität München. Die Geschichte eines Wissenschafts­unter­nehmens (2006) [The history of a science-driven enterprise]. Authors: Martin Pabst und Margot Fuchs. Permalink: university library catalogue
Michael Molls et al. (Eds.): Wissenschaft, Vernunft, Nachhaltigkeit. Denkanstöße für die Zeit nach Corona (Series: TUM Forum Sustainability). Technical University of Munich 2020. Further details and download (in German)
Discover our university with the "TUM INSIGHTS" series. The range of publications of TUM.University press also includes dissertations, conference proceedings and textbooks covering all disciplines represented at TUM.