"Innovators under 35" competition: four TUM spin-offs awarded
Daniel Wiegand of Lilium is "Innovator of the Year"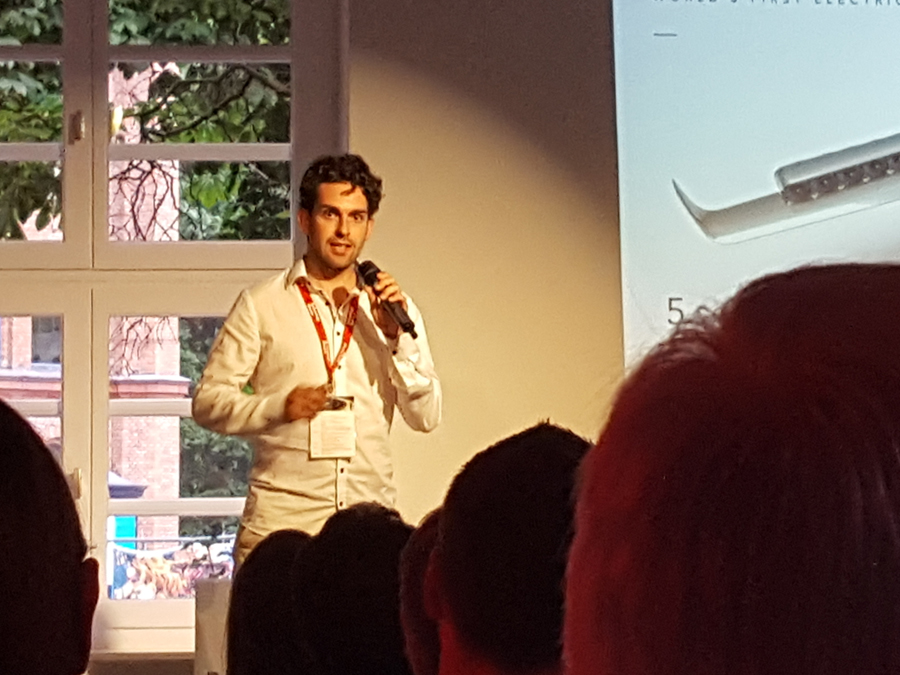 "Innovators under 35" rank among the world's most prestigious awards for young entrepreneurs. Established 17 years ago by the US magazine MIT Technology Review, past winners have included Facebook founder Mark Zuckerberg and Daniel Ek of Spotify. The magazine's German sister publication has honored promising young innovators in Germany for the past four years. The winners are automatically placed on the international list of "35 Innovators Under 35".
The title of "Innovator of the year" went to Daniel Wiegand of Lilium. The young company plans to revolutionize mobility. The idea: a flying taxi that will whisk passengers to their destination at 300 kilometers an hour with no traffic jams – and using climate-friendly energy. The TUM spin-off has just presented a prototype: an ultralight aircraft that takes off and lands vertically. It is powered by 36 wing-mounted propellers and fuelled by batteries with a 300-kilometer range. The two-seater plane is not only quiet, but is also twice as efficient as today's electric cars.
Lilium recently secured 10 million euros in venture capital. The founders, Daniel Wiegand, Sebastian Born, Matthias Meiner and Patrick Nathen, all earned degrees in mechanical engineering at TUM, some completing doctorates. Wiegand was previously included in the Handelsblatt business newspaper's list of "Germany's 100 Innovators", and Meiner made the "Forbes 30 Under 30 Europe" list.
Three other TUM spin-offs stood on the winners' podium at this year's Technology Review event in Berlin:
Georg Schroth, NavVis
Shopping centers, airports, factories: It's not always easy to find your way around in large buildings. To address this problem, the TUM spin-off NavVis has developed a visualization and navigation system for indoor spaces. Within a short time, a small mapping trolley surveys the spaces with laser scanners and 360° photography. NavVis uses the data and images to create three-dimensional views with position coordinates. Users can find their way around in the building with a smartphone or view the locations from home. Companies can also use the data to optimize processes.
Founded in 2013 at the TUM Chair of Media Technology, the company now has customers in such diverse sectors as retail, the automotive industry and museums, and sells its products in several Asian countries, including China and Japan. The NavVis workforce already numbers 70 employees. Alongside Georg Schroth, the founders are Sebastian Hilsenbeck, Felix Reinshagen and Robert Huitl.
Jannai Flaschberger, Hawa Dawa
According to the World Health Organization, around 7 million deaths per year are directly related to air pollution. But how can the air quality in cities be measured cheaply and reliably? The start-up Hawa Dawa, whose name means "air medicine" in several languages, has developed a solution. Using statistical analysis and machine learning, data collected from sensors can be used to generate reliable air quality readings. The concept calls for wide-area measurements to be collected by "sensor sponsors", who install the devices on their balconies. In return they have access to the data.
Jannai Flaschberger is studying mechanical engineering at TUM. Two of the other five founders are current or former TUM students: Matt Fullerton earned a degree in electrical and computer engineering and worked at the Chair of Traffic Engineering and Control, and Karim Tarraf is studying management and technology. They founded Hawa Dawa last year.
Andreas Kunze, Konux GmbH
Where is a machine failing to deliver optimal performance? When does a railway switch need maintenance? KONUX offers companies a system that provides them with real-time information about the status of their industrial facilities or railway infrastructure. Status data captured by sensors is used by AI-based analytics to predict future maintenance requirements and schedule the required work. The analysis can be retrieved from the cloud anywhere and anytime. This enables companies to avoid breakdowns and maximize the uptime of their equipment.
KONUX CEO Andreas Kunze (25) and production managers Dennis Humhal (27) and Vlad Lata (26), who are responsible for technological developments in the company, studied in the TUM faculties of electrical and computer engineering and mechanical engineering and at the TUM School of Management. They formed the start-up in 2014. Today KONUX counts major corporations among its clients, has completed several rounds of funding, and opened an office in Silicon Valley. The founding team was previously honored with this year's Technology Pioneers award at the World Economic Forum and was included in the "Forbes 30 Under 30 Europe" list.
Seed capital and high-tech incubator
The start-ups have benefited from various TUM programs and in some cases have received advice from professors in the development stages. Georg Schroth received a scholarship from the Center for Digital Technology and Management (CDTM), which offers a supplementary degree program in which students work in interdisciplinary teams to design new technologies, turn them into real products and prepare to establish companies.
The other teams participated in various programs at UnternehmerTUM, the Center for Innovation and Business Creation – from Kickstart and the Climate-KIC Accelerator to XPRENEURS. In the latter program, start-ups receive seed capital, office space, access to the MakerSpace high-tech workshop and intensive coaching over a three-month period to position themselves for a market launch. KONUX was chosen for an investment by the UnternehmerTUM venture capital fund.
According to the "start-up radar", a regular survey conducted by the Stifterverband für die Deutsche Wissenschaft – an initiative of German companies and foundations dedicated to improvements in education and innovation – no major German university does a better job of encouraging entrepreneurship than TUM. Every year TUM spawns around 70 new companies.
Technical University of Munich
Corporate Communications Center