VisionAwards: Artificial intelligence, flying taxi, and Hyperloop
Prizes for visionary start-up founders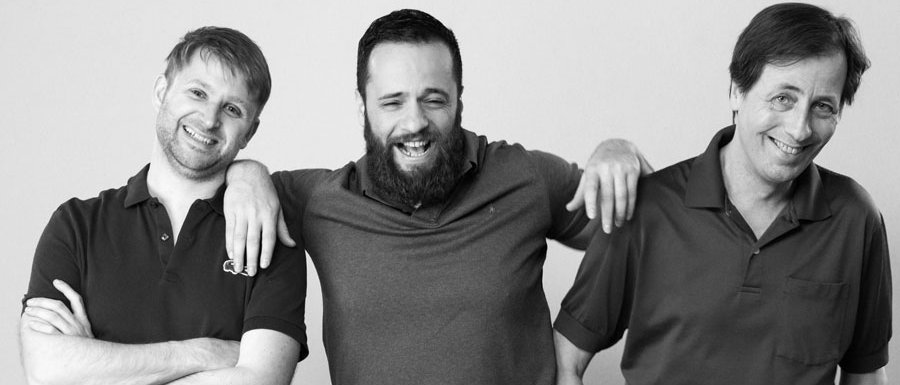 APeter Driessen, Managing Director of the Chamber of Commerce and Industry for Munich and Upper Bavaria, presented the Awards to the winners yesterday. The VisionAwards have been organized by communications agencies c/c/c and Publicis Pixelpark since 2006.
free machines: Artificial intelligence improves web pages
How do Internet users quickly orient themselves on a web page? What information are they looking for and where do they look, for example when they want to take out an insurance policy or close a new mobile phone contract? How can companies draw reliable conclusions about whether or not they have designed their web pages well? "In the past testing web pages was a manual art: painstaking and not always successful," says business economist Uwe Stoll, who founded the company free machines together with Olav Stetter and Hannes Lüling, both of whom earned their doctoral degrees in physics at TUM.
"Our objective was to use artificial intelligence to automate testing and optimization of user interfaces," Stoll explains. The decision-making algorithms developed by the team are currently in testing at partner companies. free machines plans to bring its product to market during the course of this year.
Lilium: The vertically launched flying taxi
Reaching your destination at 300 kilometers per hour without traffic jams – this urban dream could soon become reality with a flying taxi. Developed by the TUM spin-off Lilium, the ultralight electrically powered aircraft can take off and land vertically like a helicopter and switches smoothly between hover mode and forward flight. The prototype jet successfully completed its maiden voyage in April. According to plans, it should be possible to order the flyer as a taxi within the next few years. The start-up recently was successful in acquiring 10 million Euros in venture capital.
Lilium founders Daniel Wiegand, Sebastian Born, Matthias Meiner and Patrick Nathen studied or earned their doctorates in mechanical engineering at TUM. This year Meiner made the "Forbes 30 Under 30 Europe" list, with which the US magazine honors particularly innovative personalities under the age of 30. The German business daily "Handelsblatt" lists Wiegand as among "Germany's 100 Innovators".
rfrnz: Digital paralegal
An attorney's job can be very laborious. Sven von Alemann knows from experience after working as a lawyer for nine years. "For example, when a company is being inspected by potential buyers, under some circumstances attorneys will have to analyze hundreds of contracts in order to detect any possible legal risks."
Three years ago, as a participant in TUM's Executive MBA program, he asked himself whether it might be possible to automate contract analysis. Von Alemann founded the company rfrnz together with Adriaan Schakel, an expert for artificial intelligence, and Markus Demirci, who contributed the necessary commercial knowledge. The team developed an analysis tool that uses machine learning methodologies. A prototype is currently being tested at a partner company, with the market launch of the finished product planned for later this year.
WARR Hyperloop: Through the tube at high speed
Will taking a trip in the future mean being shot through a tube? Elon Musk, head of the space flight company SpaceX, thinks so: He wants to use the Hyperloop, a tube containing a partial vacuum, to transport passengers at close to the speed of sound. This will require cabin capsules referred to as pods. In the "Hyperloop Pod Competition", which SpaceX had announced on a worldwide basis, students competed against one another with their own pod designs. In January TUM's WARR Hyperloop team won the prize in Los Angeles for the fastest pod design – and now they've won the "VisionAward Talents".
Bringing new programs to market readiness in three months
The three spin-offs have received or still receive support from the TUM start-up advising team. Professors assist free machines and rfrnz as mentors under an EXIST scholarship. In addition, the two teams are participating in the new "XPRENEURS" program at UnternehmerTUM, Center for Innovation and Business Creation: Over the course of three months start-ups receive seed capital, office space, access to the high-tech workshop MakerSpace and intensive coaching in order to bring their business ideas to market readiness. Lilium benefitted from the "KICKSTART" program, which provides founders with support for a period of one year.
According to the "Gründungsradar" ("Start-up Radar") of the German business community's innovation agency, no other major German university does a better job of supporting spin-offs than TUM. The university produces approximately 70 companies each year.
More Information:
Technical University of Munich
Corporate Communications Center