TUM Presidential Entrepreneurship Award for energy technology start-up Orcan Energy
Achieving start-up success with recycled energy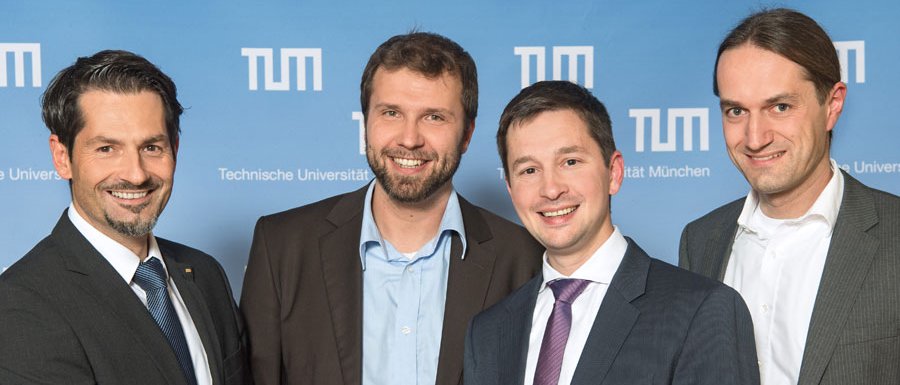 Enormous quantities of energy go unused in industry and traffic each day because of heat loss. In order to be able to recycle this heat, a team from TUM developed a new technology. The device can be hooked up to generate electricity in factories or biogas facilities, in freight trucks and ships, as well as in construction machines. It works much like a steam power station, only with organic fluid used instead of water.
The principle itself, referred to as Organic Rankine Cycle (ORC), is not new, but is already used in large power plants. So far, however, there has not been a technology that could efficiently make use of small amounts of waste heat at low temperatures and that could also operate without a great deal of upkeep while being affordable for a large number of users.
Investor from Silicon Valley
Richard Aumann, Dr. Andreas Sichert, and Dr. Andreas Schuster from the Chair of Energy Systems have solved several technological problems associated with power plants since 2004 – giving rise to 20 different patents. In 2008 they founded Orcan Energy, and in 2013 they introduced their first product on the market. They now have not only the support of a prominent venture capitalist from Silicon Valley, but they have also won over a large energy supplier as a strategic partner. Their technology is already in use in several European countries.
The jury of the TUM Presidential Entrepreneurship Awards was impressed that the team deliberately took a considerable amount of time for product development based on their research results before in-troducing the product to the market. "This has allowed the company to now offer a product with a high level of quality that taps into a previously unutilized CO2-neutral source of energy – with immense poten-tial for society," Prof. Thomas Hofmann, Senior Vice President for Research and Innovation at the TUM, said in his laudatory speech at the TUM Entrepreneurship Day yesterday.
Long-lasting batteries and sensor technology for smart factories
Also nominated for the award were INVENOX and KINEXON.
INVENOX has developed a new design for energy storage devices. It allows the battery modules to achieve very high energy density and a long service life. Production is more cost-effective and defective battery cells can be easily exchanged.
KINEXON has developed sensor networks for locating and tracking the movement of people and objects with precision within centimeters. The wireless technology and an analysis tool make it possible to use the technology in a wide variety of areas, from process monitoring in smart factories, through to training evaluation in sports and monitoring of events.
800 spin-off companies
TUM presents its Presidential Entrepreneurship Award every year to one outstanding spin-off whose business concept is mainly built on research outcomes. Other criteria include high growth potential and success in early-stage funding. The award is endowed with a 10,000 euro prize donated by the "Bund der Freunde der TUM" (Friends of TUM). This award is meant to motivate students and scientists to found their own companies.
Together with UnternehmerTUM, the Center for Innovation and Business Creation, TUM supports start-ups throughout all phases with consulting, training and infrastructure. According to the latest "Start-up radar" of the Stifterverband für die Deutsche Wissenschaft – the business community's innovation agency for the German science system – TUM promotes start-ups better than any other large university. More than 800 companies have emerged from the TUM since 1990, more than 70 last year alone.
Many founders pass their experience on to the next generation. This is why the boards of Orcan Energy come to UnternehmerTUM events today, with several employees acting as mentors for students.
More Information:
Technical University of Munich
Corporate Communications Center