TUM spin-off company ParkHere wins Munich Business Plan Competition
A guide to free parking spaces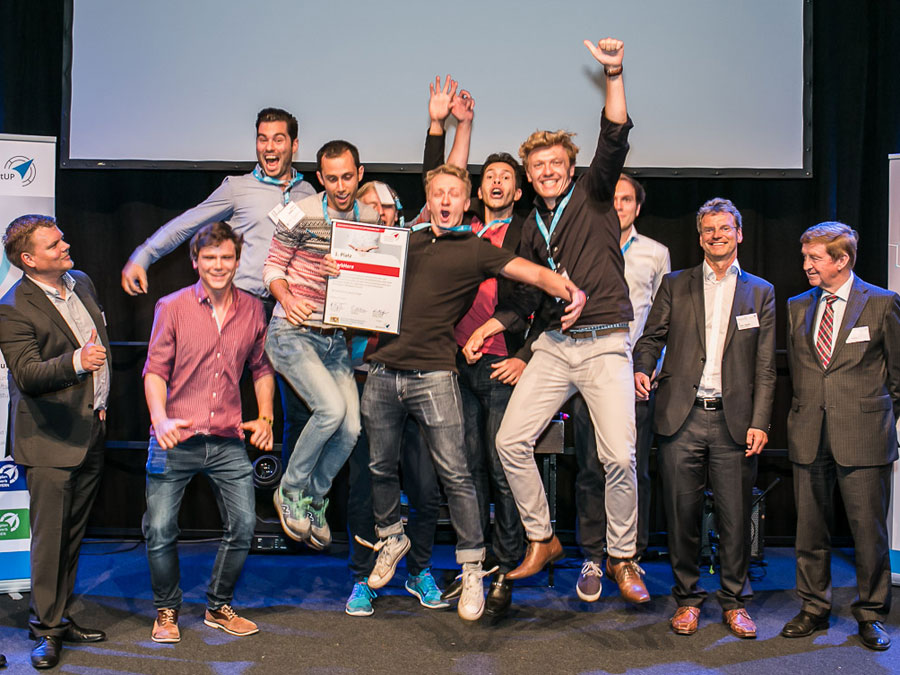 A significant part of inner-city traffic results from the search for a parking space, causing high levels of pollution, noise and wasted time. Until recently, large-scale parking space management remained a pipe dream. It would have been too elaborate and therefore too costly to supply car parks with the electricity required in order to capture their occupancy.
But Felix Harteneck, Jakob Sturm and Clemens Techmer found a solution during their studies at TUM: They developed a sensor technology that captures free parking spaces without being connected to the energy supply. The ultra-thin sensors to be installed in parking areas deform slightly when a car drives over them. This generates the necessary voltage for the sensors to send a signal. Navigation systems can use that signal to transmit the parking space status to car drivers in real time.
Pilot project to start in Ingolstadt
The trio had the technology patented and founded ParkHere GmbH in 2015 – still in their early twenties and during their Bachelor studies. Today, the entrepreneurs already have 15 employees, have convinced first investors and are planning to internationalize their business. A pilot project will start in Ingolstadt shortly. Now, ParkHere has also convinced the jury of the Munich Business Plan Competition and stood its ground against 76 other start-ups from Southern Bavaria. The competition is organized by start-up promoter BayStartUP GmbH, which is supported by the Bavarian Ministry of Economic Affairs and private enterprises.
Investor contacts, office space, mentoring
Felix Harteneck studied Management & Technology, Jakob Sturm and Clemens Techmer studied Electrical and Computer Engineering. When starting their company, they received intensive support from TUM: The start-up consultation helped them in developing their business model, initial office space was made available at the Entrepreneurship Center, and in Entrepreneurship Researcher Prof. Holger Patzelt, they had an experienced mentor.
At UnternehmerTUM, the Center for Innovation and Business Creation at TUM, the start-up team attended the "Manage&More" training course and the "TechFounders" program, which facilitates initial financing, contacts with potential investors and industry partners, and the use of the "MakerSpace" high-tech workshop.
Since 1990, more than 800 companies have emerged from TUM. According to the most recent "Start-up radar" of the Stifterverband für die Deutsche Wissenschaft – the business community's innovation agency for the German science system – no other large university promotes start-ups as successfully as TUM.
More Information:
Technical University of Munich
Corporate Communications Center