TUM Presidential Entrepreneurship Award 2018 for NavVis
Navigating indoors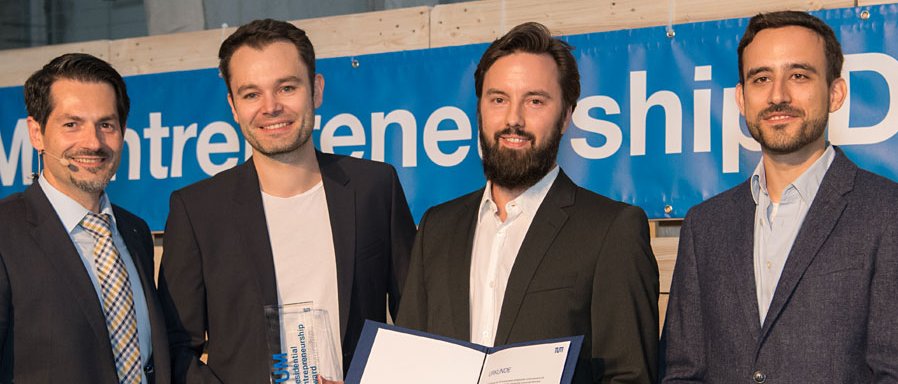 On a smartphone NavVis lets users find their way easily in complex building units such as plant halls, convention centers, airports, train stations and shopping centers. It also makes it possible to experience entire exhibitions online. To do this, the company digitalizes indoor spaces using mobile trolleys equipped with a variety of cameras. The footage is used to create photo-realistic 3D maps of buildings exact to the centimeter. This data is supplemented with a navigation system and interactive location-specific services.
basic research and start-up consulting at TUM
The technology for a camera-based navigation system was developed by Georg Schroth, later one of the company's founders, during his doctoral studies at the TUM Chair for Media Technology. The first to join the subsequent research project were the doctoral candidates Sebastian Hilsenbeck and Robert Huitl, followed by Economics PhD graduate Felix Reinshagen. The four founded NavVis in 2013 with the support of TUM and UnternehmerTUM, Center for Innovation and Business Creation, for example in the KICKSTART program for entrepreneurial qualification.
In addition to basic research and start-up consulting, TUM also played a role in the majority of technical developments. Thus for example the trolley prototypes and the company's corporate design were created in collaboration with the Chair for Industrial Design.
NavVis won out over two competitors who had also been able to take advantage of the wide range of support available from TUM and UnternehmerTUM in the form of start-up consulting, qualification and research cooperation:
ParkHere – Digital parking
ParkHere simplifies the parking process for drivers and parking lot operators alike with a combination of smart hardware and software that learns. All three ParkHere founders are TUM graduates and worked on the development of the sensor and business planning in their Bachelor's thesis projects. The EXIST start-up grant gave them the opportunity to continue developing their idea to a mature business concept and ultimately to spin it off. Today the company has a headcount of 30 employees and has already equipped more than 10,000 parking spaces with sensors.
Customized Drinks – Do-It-Yourself beverages
Bored by the classic assortment of available beer, Dominik Guber, Ping Lu and Wolfgang Westermeier came up with the idea of marketing a do-it-yourself beer brewing kit. As part of the UnternehmerTUM Manage&More subsidy program the three TUM students initially developed the concept of the "Braufässchen" or mini-brewing keg. Today the company also sells other kits for producing foods and beverages at home.
After the awards ceremony, a large number of start-ups created by students, employees and alumni presented themselves as a part of the TUM Entrepreneurship Day yesterday. Visitors were also able to develop their own products in a very short period of time during a prototyping workshop.
More Information:
Technical University of Munich
Corporate Communications Center