Start-up KONUX selected as recipient of the 2017 TUM Presidential Entrepreneurship Award
Everything under control with smart sensors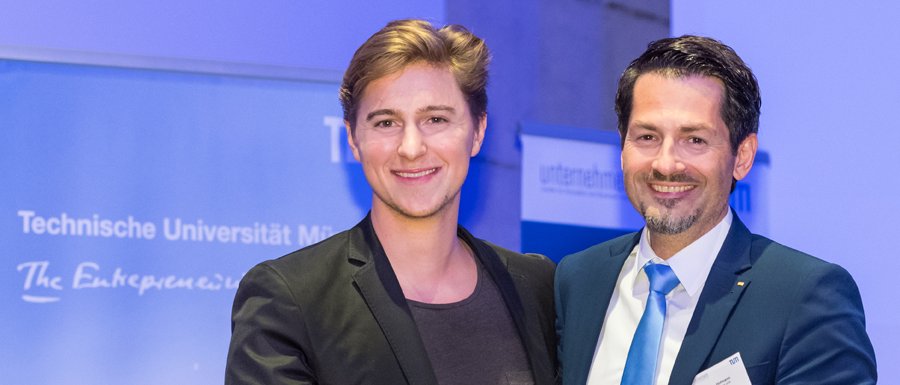 The track network of the German railway system has 66,454 switches. If just one of them fails, the effects can ripple through the entire system. To avoid this, the switches require regular maintenance. But how is it decided which one is due for a visit? And what happens if a malfunction occurs long before the scheduled maintenance date? The systems offered by KONUX could be the answer.
The three founders of the start-up, Andreas Kunze, Dennis Humhal and Vlad Lata, met while studying at TUM. They worked together to create highly precise and robust smart sensors. Combined with analysis software based on artificial intelligence, their sensors make up a system that can monitor switches in real time and predict maintenance requirements. This helps to avoid downtime through unscheduled repairs and delays caused by unnecessary maintenance work. The principle can be applied to many types of industrial facilities.

KONUX, which was established in 2014, has defined the networking and digitization of railway structures as a key business area. The company has since attracted major corporations as customers, completed several rounds of funding, and received numerous awards.
Support at TUM
While Andreas Kunze and Dennis Humhal took part in UnternehmerTUM's Manage&More program, Vlad Lata was a student in the elite graduate program Technology Management offered by CDTM, TUM and LMU's joint Center for Digital Technology and Management. As they progressed from their initial idea to the launch of their own company, the founders utilized many opportunities offered by TUM and UnternehmerTUM, the Center for Innovation and Business Creation. The cornerstone was laid in a business plan seminar where Kunze, Humhal and Lata met for the first time. Along with TUM's Start-up Advising Team, they took advantage of coaching programs and other offers and used the resources of the MakerSpace high-tech workshop to build prototypes. The Unternehmertum Venture Capital Fund also provided the young company with seed capital. According to the "start-up radar", a survey conducted by the Stifterverband für die Deutsche Wissenschaft, no major German university does a better job of encouraging entrepreneurship than TUM.

At the Entrepreneurship Day hosted by TUM in the Audimax auditorium on Friday, the pitch by the KONUX founders won over the jury adjudicating the TUM Presidential Entrepreneurship Awards. The award comes with a 10,000 euro cash prize, donated by Bund der Freunde, an association dedicated to supporting science, research and teaching. It is presented annually to an outstanding spin-off whose business idea is largely based on research findings at TUM. Other criteria are the winning company's growth potential and the successful completion of a first round of financing.

KONUX prevailed against two strong competitors:
eGym – new ideas for strength training
The start-up eGym produces fully electronic strength training equipment now installed in more than 650 fitness studios in Germany and other European countries. With software specifically developed for the equipment combined with mobile apps, athletes can develop customized, highly efficient training programs. Florian Sauter, one of the founders of eGym, who is now in charge of the company's research and development, studied at the TUM Department of Electrical and Computer Engineering.
ProGlove - wearables for industry
ProGlove develops work gloves with built-in scanners that can be used by workers in industry and logistics. The gloves deliver optical, acoustic and haptic feedback, eliminating the need to carry an extra sensor, thus leaving both hands free to work. They are already being used by several major industrial customers.

After the awards ceremony, visitors had the opportunity to learn more about start-ups and entrepreneurship at around 50 stands. Some were manned by service providers in the entrepreneurship sector, while others presented start-ups launched by TUM students and faculty members.
Technical University of Munich
Corporate Communications Center