Teacher training: new portal offers digital media on teaching practice
Learning for school profession with online videos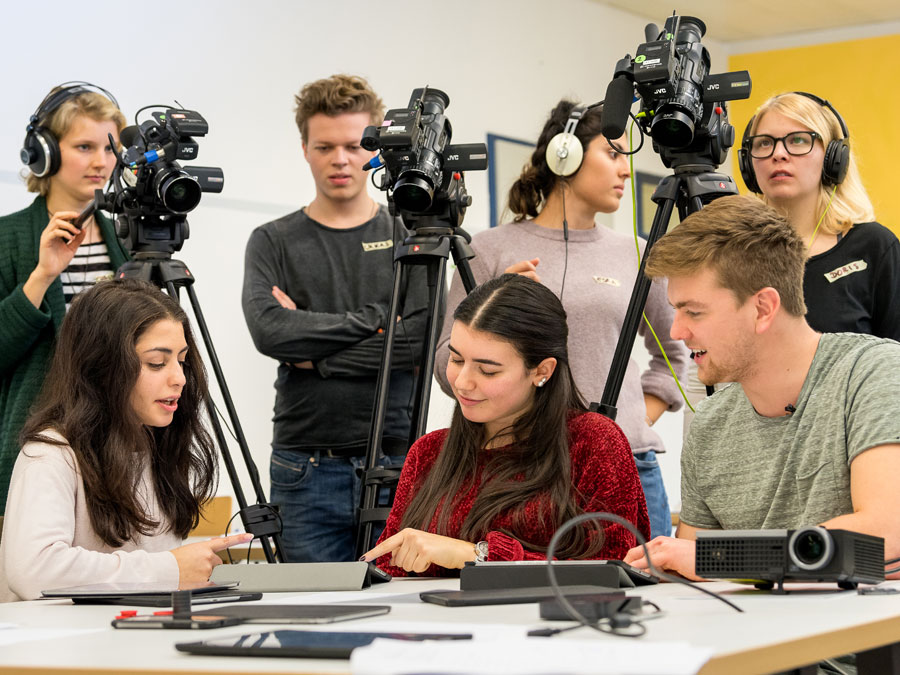 How do I explain the Pythagorean Theorem to my students? How do I teach the class to evaluate a proof? What's the best way to provide young adults with effective feedback on their performance? Questions like these from actual teaching practice make it clear: Teachers have to be qualified in their subjects as well as in terms of specialized didactics and general teaching skills. They are usually trained separately in these three areas during their professional education. In the reality of their teaching careers however these three aspects can hardly be separated – much more, these various skills are often called for in one and the same situation.

Accordingly, the new teacher training platform "Toolbox Lehrerbildung" conveys important educational content in a manner that corresponds with classroom practice. For example, there is a module that combines the Pythagorean Theorem, mathematical proofs and argumentation as well as feedback. All of the web portal's content is available to the public free of charge, so that it can be used by vocational and continuing education facilities as well as for independent studies by teachers and teachers in training. The first version of the Toolbox is available for the subjects mathematics and informatics.
Applicable in any phase of study or career
Videos depicting actual classroom situations are one important tool in the training units. There are also video tutorials and interactive visualizations that illustrate complex mathematical topics, teaching both fundamental concepts and application examples. Tests help the user monitor learning progress.

The modules are designed so that they can be used independently of one another, for different objectives and in any phase of study and career: Students in the first semester are given an impression of the everyday professional world, teachers in training can discuss didactic topics and working teachers can use the visualizations in the classroom.

"Good teaching works when teachers are optimally prepared for the reality of the classroom," says Prof. Doris Lewalter, head of the project. "This is why we're integrating classroom practice more strongly in teacher training and continuing professional education, leveraging the many advantages offered by digital media."
Support from teacher training quality campaign
The "Toolbox Lehrerbildung" is a part of the TUM School of Education's "Teach@TUM" concept which was successfully received by the quality campaign for teacher training "Qualitätsoffensive Lehrerbildung". The German federal and state governments recently decided to continue support for the program.

In 2017 the TUM School of Education's "Clearing House Unterricht" platform went online, providing a clear and easily understandable summary of the current state of educational research. This portal is also available at no cost for use in teacher training and continuing education curricula.
More Information:
contact:
Prof. Dr. Doris Lewalter
Technical University of Munich
Professorship of School Education Science
Tel.: +49 89 289 24370
doris.lewalterspam prevention@tum.de / toolboxspam prevention@edu.tum.de
Technical University of Munich
Corporate Communications Center