TUM spin-off Retorio develops software for communication coaching
Communication training with artificial intelligence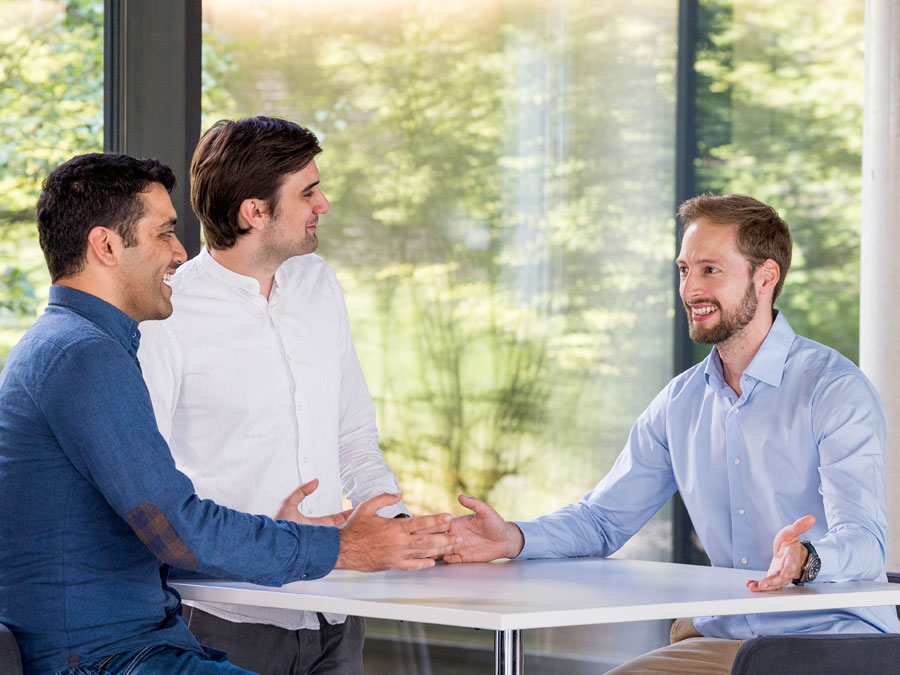 It's a scenario many people can relate to – standing all alone in front of an audience, clutching a microphone with clammy hands and finding one's mouth has gone dry. Whether it's a job interview or a wedding speech: for many people, the idea of speaking in public is associated with anxiety and uncertainty. And preparation and practice doesn't always help if there is no feedback. Patrick Oehler is no exception: "As a doctoral candidate I often had to give talks. At first I used to suffer from stage fright," recalls the management scientist, who until recently worked at the Chair for Strategy and Organization at TUM.

Together with Christoph Hohenberger, a psychologist who completed a doctorate at the same chair, and the IT specialist Abdurrahman Namli, he therefore decided to pool their knowledge from research and teaching to find a practical solution to the problem. They developed an online communication training tool – and established the start-up Retorio.
Algorithm draws on 10,000 videos
The program records the users and analyzes their performance, including their voice, language, facial expressions and gestures with artificial intelligence. It provides users with real-time feedback, for instance by alerting them if they are speaking too fast. At the end of the presentation it provides detailed feedback on what was effective and which aspects of the delivery need improvement. It also generates an extensive personality profile, including recommendations for different career groups.

To work properly, the algorithm first had to be fed with data. "Machines can already analyze voices, facial expressions and gestures," explains computer scientist Namli. "But we have to teach them about how other people respond to those expressions and whether they find the presentation authentic." The Retorio team achieved this by creating a database with 10,000 video clips from various research projects showing people from various cultural groups in a variety of situations speaking on a wide range of topics. Test subjects watched the videos and answered questions such as "Would you like to work with this person?", or "Would you trust this person?". The algorithm then derives patterns from the responses.
"Artificial intelligence is brutally honest"
Users of the program can rehearse their speech at their own computer, whenever and wherever they want. They can also prepare for specific situations, from a company presentation to a first date. Professionals in situations where effective communication is crucial to their success, for example sales representatives, can work intensively with the program. "Artificial intelligence is brutally honest," says Patrick Oehler. "But people might still find it easier to work with AI than being watched by people." The founders also see HR departments as potential customers. A major German aviation company is already using the technology as a tool for spotting talent at an early stage in the recruitment processes.
Funding under the European Venture Program
The team launched the company last year in the TUM Incubator, which provides intensive support to start-ups. Moreover, Prof. Isabell Welpe from the Chair for Strategy and Organization served as a mentor under the terms of an EXIST scholarship grant. Under the European Venture Program of the EuroTech Universities Alliance, the founders also had the opportunity to make pitches to investors in four different countries at an early stage in the start-up process. And at UnternehmerTUM, the Center for Innovation and Business Creation at TUM, they received coaching and had access to a large network, including contacts with potential customers.

As the year progressed, things moved ahead very quickly: The first investors got on board and – as Retorio continues developing the beta version – the second round of financing is underway. The first product is expected to be launched on the market in 2019.
More Information:
Technical University of Munich
Corporate Communications Center
Corporate Communications Center

presse @tum.de
presse @tum.de