"IKOM Award for Employers of the Future" presented to five medium-sized companies
Students honor outstanding employers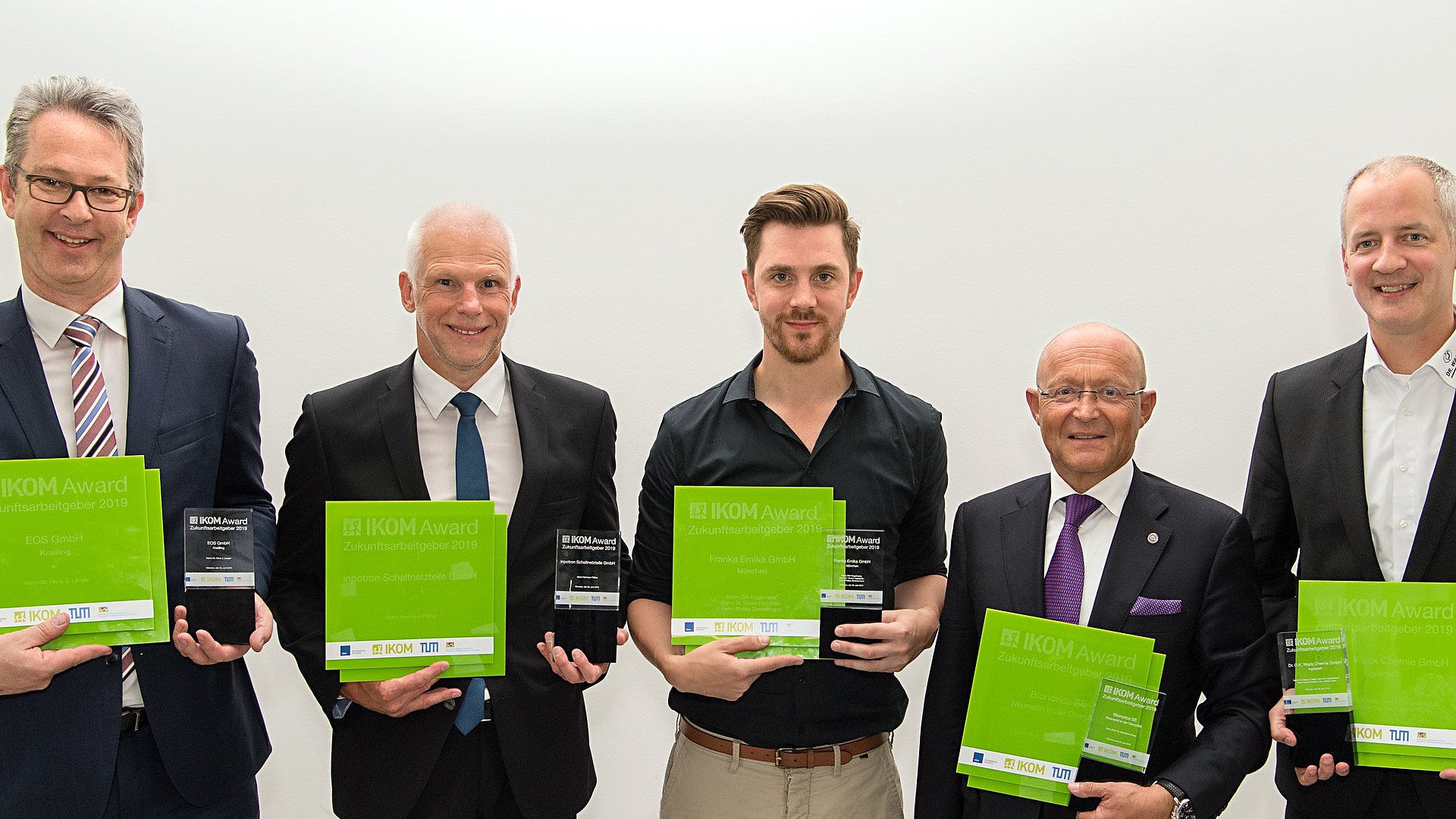 The "IKOM Award for Employers of the Future" is Germany's first student-initiated award for employers. The members of IKOM noticed how difficult it is during the job search to find medium-sized companies that place a priority on ethical and sustainable actions. This was not because these companies didn't exist, but because, in contrast to major corporations, they don't have the same opportunities to showcase this attitude. As a result in 2018 IKOM joined with TUM and vbw to create the award, which has the honorary sponsorship of the Bavarian State Minister of Economic Affairs Hubert Aiwanger.
The criteria are: Focus on values and sustainability, commitment to Germany as a business location, entrepreneurial continuity as well as good entry-level opportunities and development possibilities for those just starting their careers. The jury, composed of representatives from the student body, science, business and media decided to present the second year of IKOM Awards to the following companies:
inpotron Schaltnetzteile GmbH, Hilzingen
Category: "Companies with up to 250 employees"
Inpotron develops and manufactures high-tech switched-mode power supplies and power supply solutions for LED lighting, medical technologies, telecommunications and other applications. According to the jury, the company places a high value on honesty and reliability as a business partner as well as on placing trust in its employees and taking their personal life situations into consideration: "inpotron GmbH lives out the classical virtues of the ,Mittelstand' in an exemplary manner."
Dr. O.K. Wack Chemie GmbH, Ingolstadt
Category: "Companies with 250 to 500 employees"
Dr. O.K. Wack Chemie GmbH is the world leader in many segments of the cleaning agent market. It produces not only for the consumer market, but also makes precision cleaning products for electronics, medical technologies and other areas. The company rigorously concentrates on environmentally-friendly products. "Quality, sustainability and innovative strength have become a competitive advantage over rivals who focus on low-priced products at the expense of a greater burden on the environmental," the jury said.
Category: "Companies with 500 to 1,500 employees"
EOS is a worldwide leading manufacturer in industrial 3D printers for metal and plastic components. Their printers are used for example in the production of lightweight components for the aerospace and aviation sector and for individual protheses and ortheses. Even though the family-owned company is active on a global scale, it stays true to its local roots, having doubled its headcount to over 800 in Germany between 2013 and 2017 and investing continuously in its hometown of Krailling, the Jury said.
Bionorica SE, Neumarkt in der Oberpfalz
Category: "Companies with more than 1,500 employees"
In its third generation as an owner-operated business, Bionorica has developed into a worldwide leading producer of plant-based medicinal and health products. "Responsible contract cultivation of plant-based raw materials strengthens both local agriculture and qualified farmers and suppliers around the world while contributing to biodiversity," the jury observed, adding that the Bavarian company was also a dedicated supporter of primary education and university studies.
Franka Emika GmbH, Munich
Special award: Technology
This young company has developed learning-capable, "intelligent" robots which can interact directly with humans. They enable the automation of many complex processes and can support humans in sensitives areas, for example in geriatronics. The jury pointed to the fact that Franka Emika is particularly responsible in its treatment of the associated social issues. They added that the company has decided to keep its headquarters in Munich and locate its manufacturing activities in the nearby Allgäu region, in spite of alternative offers from around the world.
"Include social-ethical aspects in all subjects"
"For an increasing number of graduates, responsible actions towards employees, society and the environment are important factors in the choice of an employer," says Niclas-Alexander Mauß of IKOM, co-initiator of the award. "The positive reaction at the Award's debut last year proved to us that the IKOM Award can motivate and can help draw attention during the job search to medium-sized companies with exemplary records in this respect."
At the award ceremonies vbw Managing Director Bertram Brossardt said: "The Bavarian economy needs qualified young individuals, especially in the STEM subjects. Publicly visible initiatives such as the IKOM Award give companies the opportunity to present themselves as attractive employers to potential candidates – an aspect of increasing importance in times when qualified staff is in short supply. The employers can convince sought-after qualified young individuals with their dedication in areas such as sustainability, a focus on values and loyalty to the local community. This is why we are glad to support the IKOM Award as main sponsor."
"TUM integrates social-ethical questions in all subjects and topics in both its curricula and its research," said TUM President Prof. Wolfgang A. Herrmann. "We are pleased to see that this basic posture is also represented by our students. The IKOM team is just as exemplary as the companies it honors, organizing this award with original ideas, much effort and excellent judgement."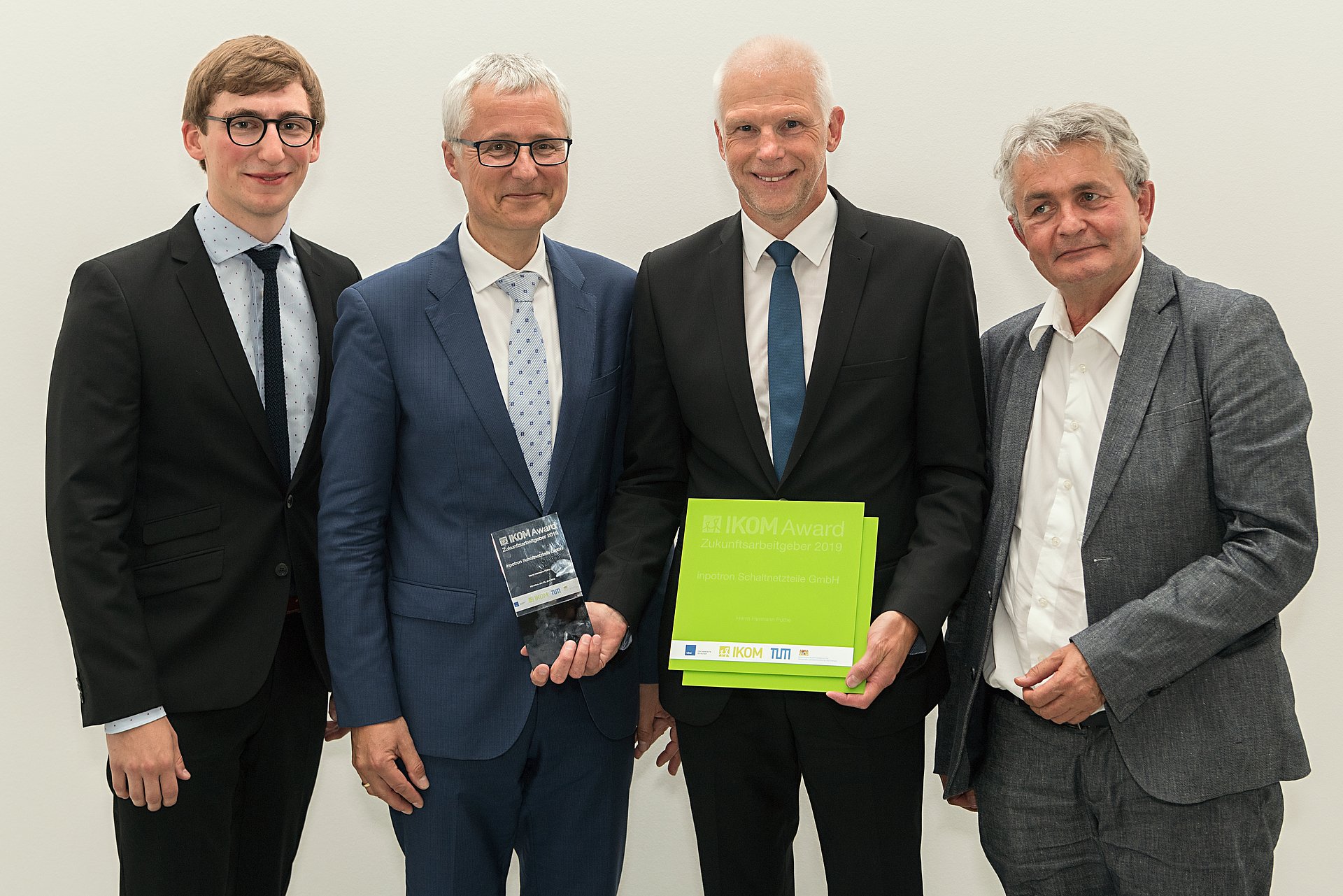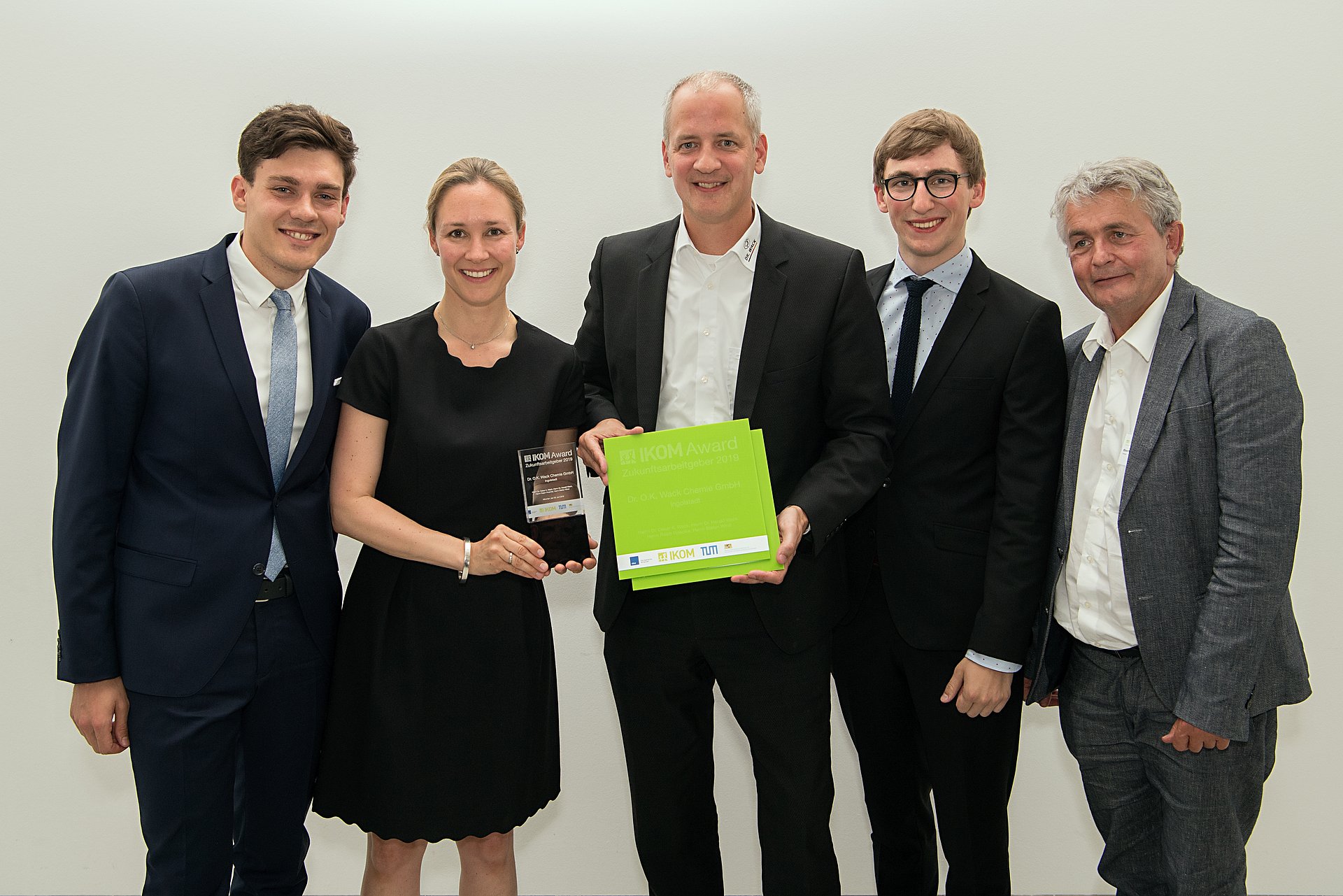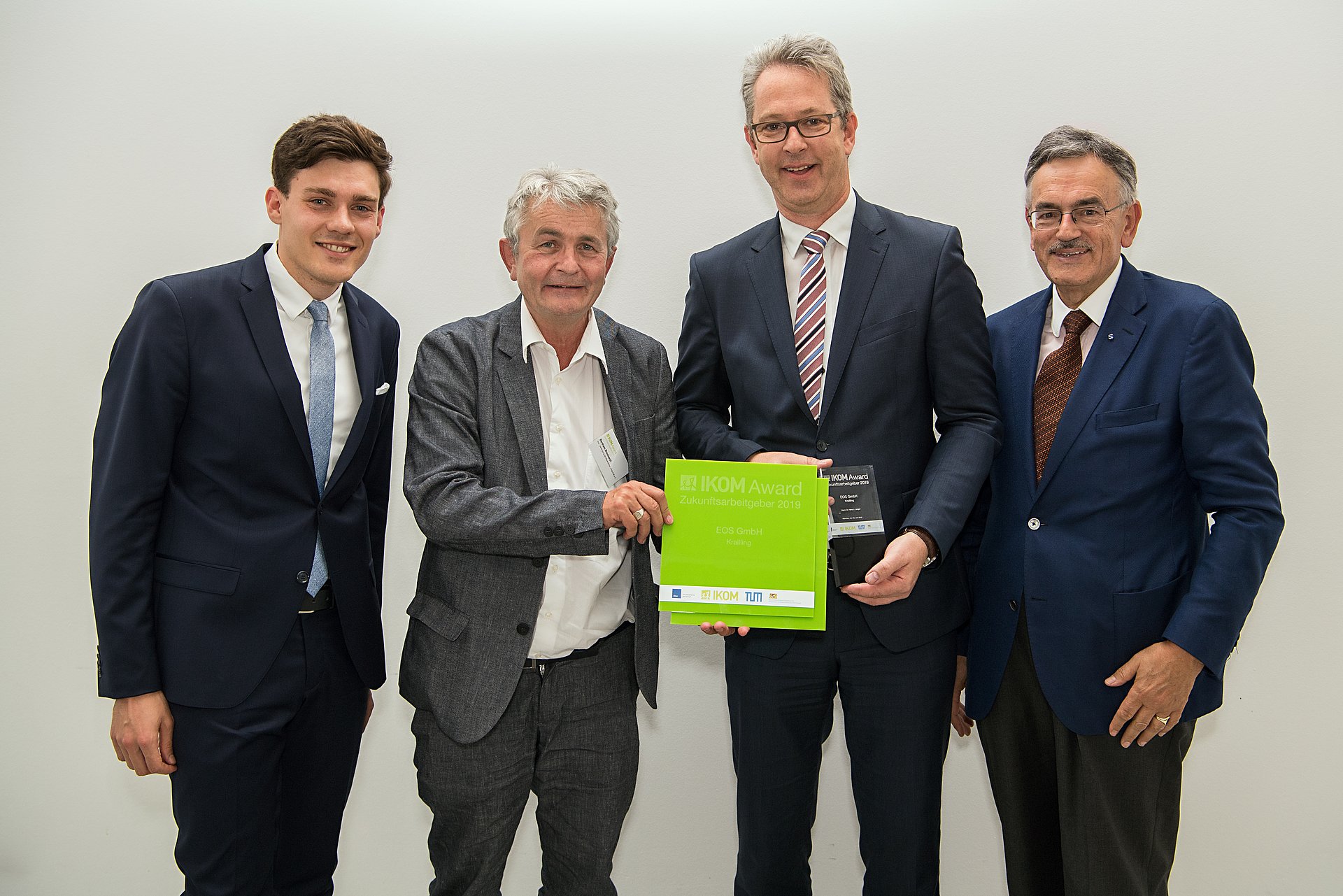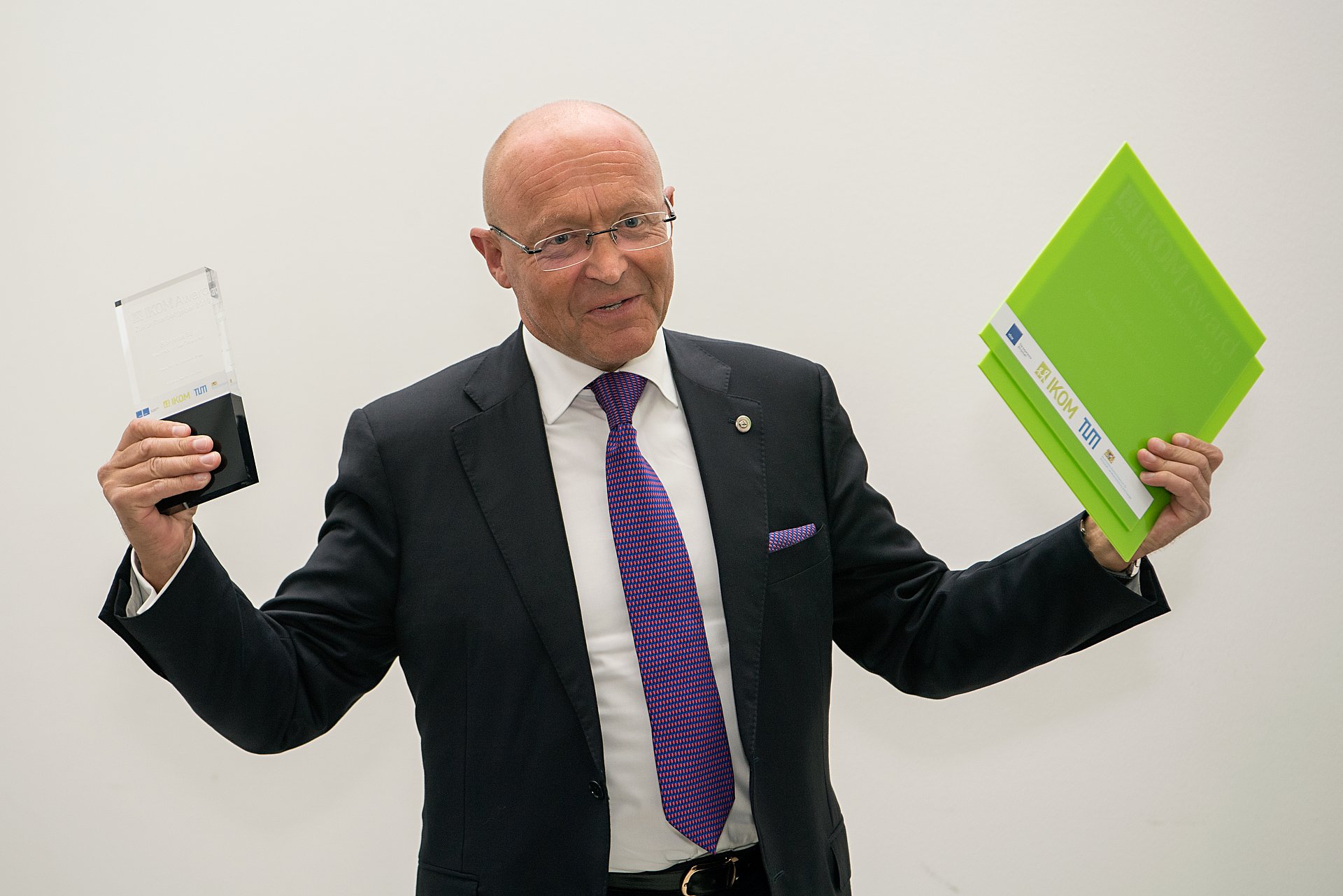 The winners of "IKOM Award for Employers of the Future"
Further information and links
In IKOM approximately 130 TUM students work on a voluntary basis to organize career forums, seminars, excursions and other events. With more than 300 exhibitors, the main event bearing the same name is Germany's biggest career fair supported entirely by students. IKOM has been fostering the transfer of knowledge and experience from generation to generation since 1989.
The next IKOM event is scheduled on the Garching campus for June 24–27, and the IKOM Start-up fair will take place on June 25.
Technical University of Munich
Corporate Communications Center