Start-up Hawa Dawa evaluates data on air quality
Fighting air pollution with artificial intelligence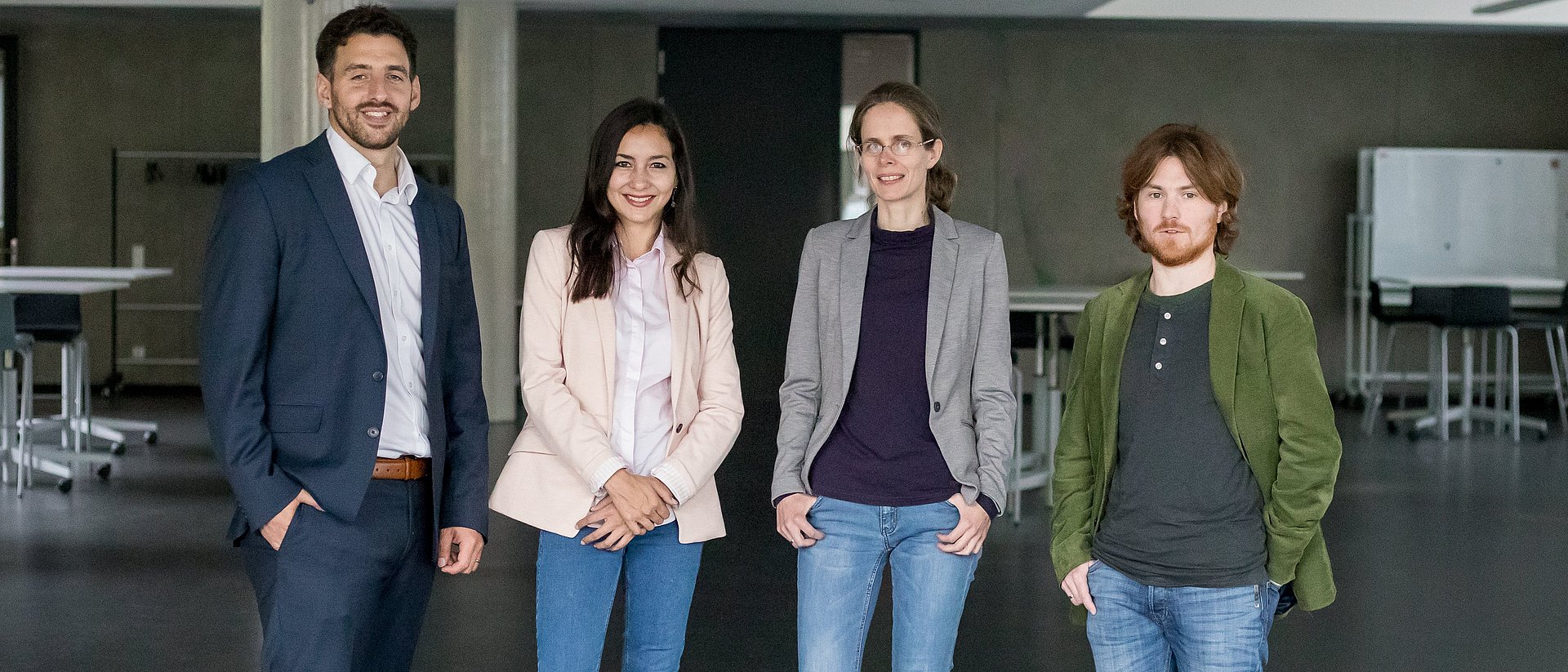 The name sums up what the company is all about: Hawa Dawa basically means "air purity" – in seven different languages. "We have a global focus," explains Karim Tarraf, who co-founded the company in 2016. The vision: combining big data and artificial intelligence to help build a sustainable future for cities. "We want to prove that modern technologies can be implemented in harmony with the environment."
Tarraf became keenly aware of the issue of air purity at an early age. He grew up in Cairo – a city where air pollution is a serious concern. Tarraf's parents are both specialists in respiratory medicine and his brother suffers from asthma. During his M.Sc. studies in management and technology at TUM, Tarraf participated in the interdisciplinary hands-on innovation course THINK.MAKE.START, in which students develop a product in 14 days. As their project, Tarraf and his team chose a portable measurement air pollution sensor for asthma sufferers.
From an idea to a company
The disadvantage of a portable device soon became obvious: It measures the air quality only at the current location and must be carried by the user at all times. Consequently, the Hawa Dawa founders took their idea a step further: Their goal is to provide citywide mapping of air quality in real time.
Hawa Dawa uses data from existing sources such as satellites and public measurement stations and integrates these readings into its online platform. The measurement network is complemented by the company's own air quality nodes. In contrast to the public data collection stations, in which the air undergoes extensive treatment prior to analysis, Hawa Dawa deploys small, low-cost sensors based on a different approach: "We use AI-based calibration algorithms that take into account the cross-sensitivity of the pollutants as well as the influences of temperature, relative humidity and air pressure in order to exclude environmental factors from the data," explains Hawa Dawa cofounder Yvonne Rusche. The CE-certified sensors perform highly accurate measurements of common parameters such as nitrogen oxides, fine particulates and ozone.
Cities showing strong interest in the air quality data
The Hawa Dawa software can integrate additional data layers into the analysis such as traffic or weather to offer deeper insights into the interrelationships. This can help to identify potential starting points for countermeasures. In addition, the company integrates satellite-based data from the European Space Agency (ESA) and NASA into its model. ESA is also providing financial support to the start-up under its "Kick-start Activity" program.
Demand for Hawa Dawa's air quality data is especially strong among cities looking for new concepts in traffic management and other areas. A major factor driving this interest is the debate surrounding the manipulation of emissions testing of diesel vehicles in 2015, which has led to ever-increasing public interest in the issue of clean air in Germany.
Calculating the best route
The formatted data are also of interest to other customers who use it for their own applications. These include the calculation of environmentally friendly driving routes for commuters and applications for detecting contaminants relevant to specific high-risk groups. Hawa Dawa has around 35 customers in Germany, Switzerland, Ireland and the UK.
The company, which now employs over 20 people, is planning to expand its international presence.
TUM supports entrepreneurs
TUM and its affiliated institute UnternehmerTUM, the center for innovation and start-ups, has a unique program to support start-ups – from the initial idea through to a possible IPO. Hawa Dawa received support from the TUM start-up advisory unit. The founders used Europe's largest publicly accessible high-tech prototype workshop – the UnternehmerTUM MakerSpace – and participated in the TechFounders, Climate KIC and Xpreneurs Incubator programs. Hawa Dawa is currently receiving funding under the RESPOND Accelerator program, initiated by the BMW Foundation Herbert Quandt, with the support of UnternehmerTUM. The program helps start-ups that are developing sustainable solutions for global challenges.
According to the latest "German Startup Monitor" report, TUM leads all German universities for the number of startups generated. Every year TUM spawns more than 70 spinoff companies. The outstanding support provided by TUM is confirmed in the "Startup radar", a survey conducted by the Stifterverband für die Deutsche Wissenschaft, where TUM also placed first.
Technical University of Munich
Corporate Communications Center