Racing victory as the basis for the science of the future
Autonomous driving is the focal point of mobility research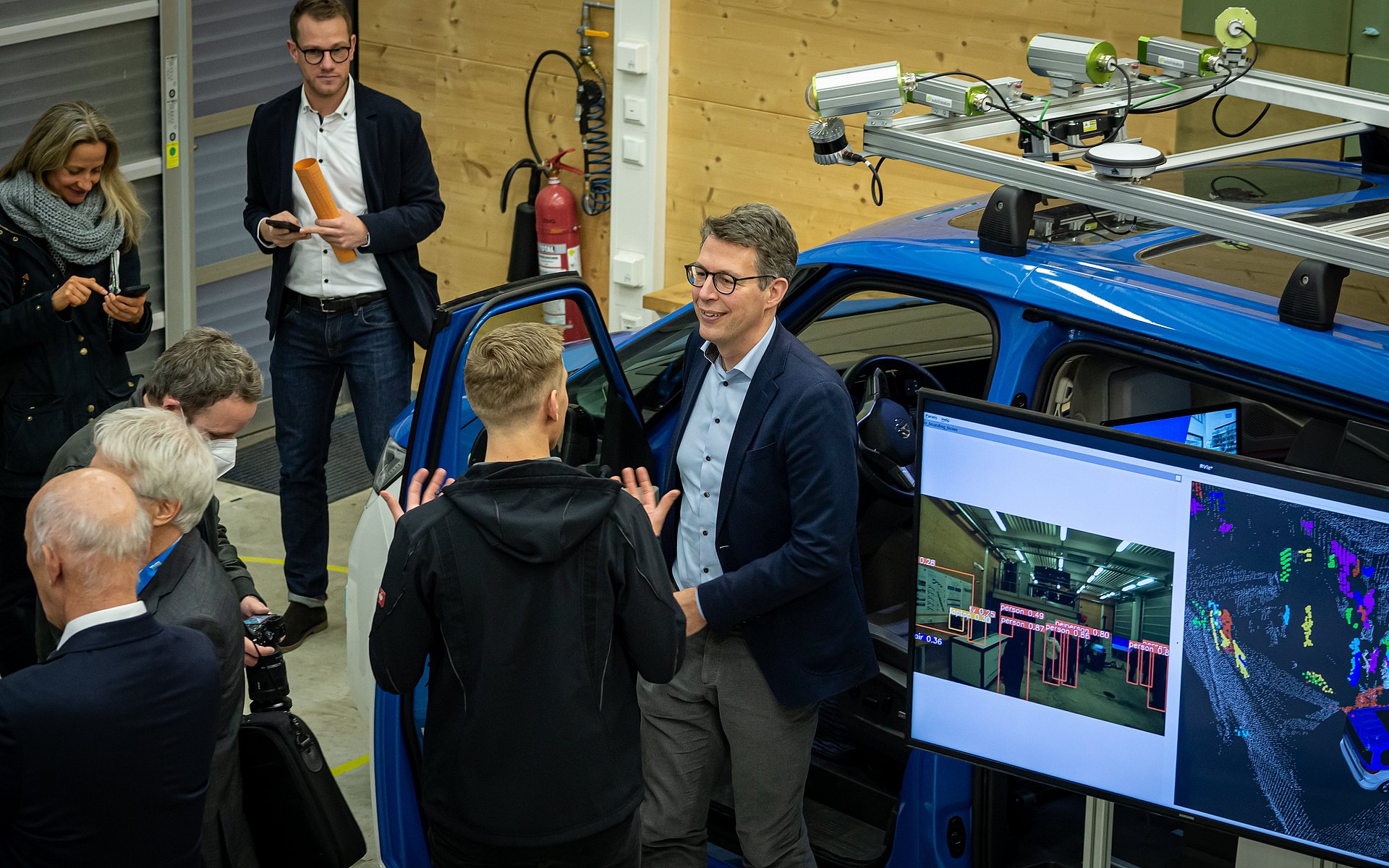 A variety of different stations gave visitors from politics, business and the media an impression of vehicle concepts which will either run on a completely autonomous basis or will be operated by remote control. Among the presenters were two TUM spin-offs who illustrated how knowledge transfer from the university to new companies can succeed.
Experience gained in the Indy Autonomous Challenge
In the Indy Autonomous Challenge racing series, launched in 2021, teams from international universities compete with one another using robot race cars in a number of different disciplines. The TUM team started off by winning the debut race last year. The knowledge gained in the competitions is to be directly implemented on behalf of street traffic. Accordingly, TUM plans to develop an open-source software platform which is accessible to all researchers and whose algorithm is intended to serve as a platform for self-driving passenger cars and trucks. Prof. Markus Lienkamp of the TUM Chair for Automotive Technology: "At the Indy Autonomous Challenge we were already able to prove that our software works reliably, even at very high speeds. Now we want to put the knowledge we gained on the street. The new EDGAR research vehicle will help us better understand autonomous driving under street-traffic conditions and will be an important tool in the development of the open-source software."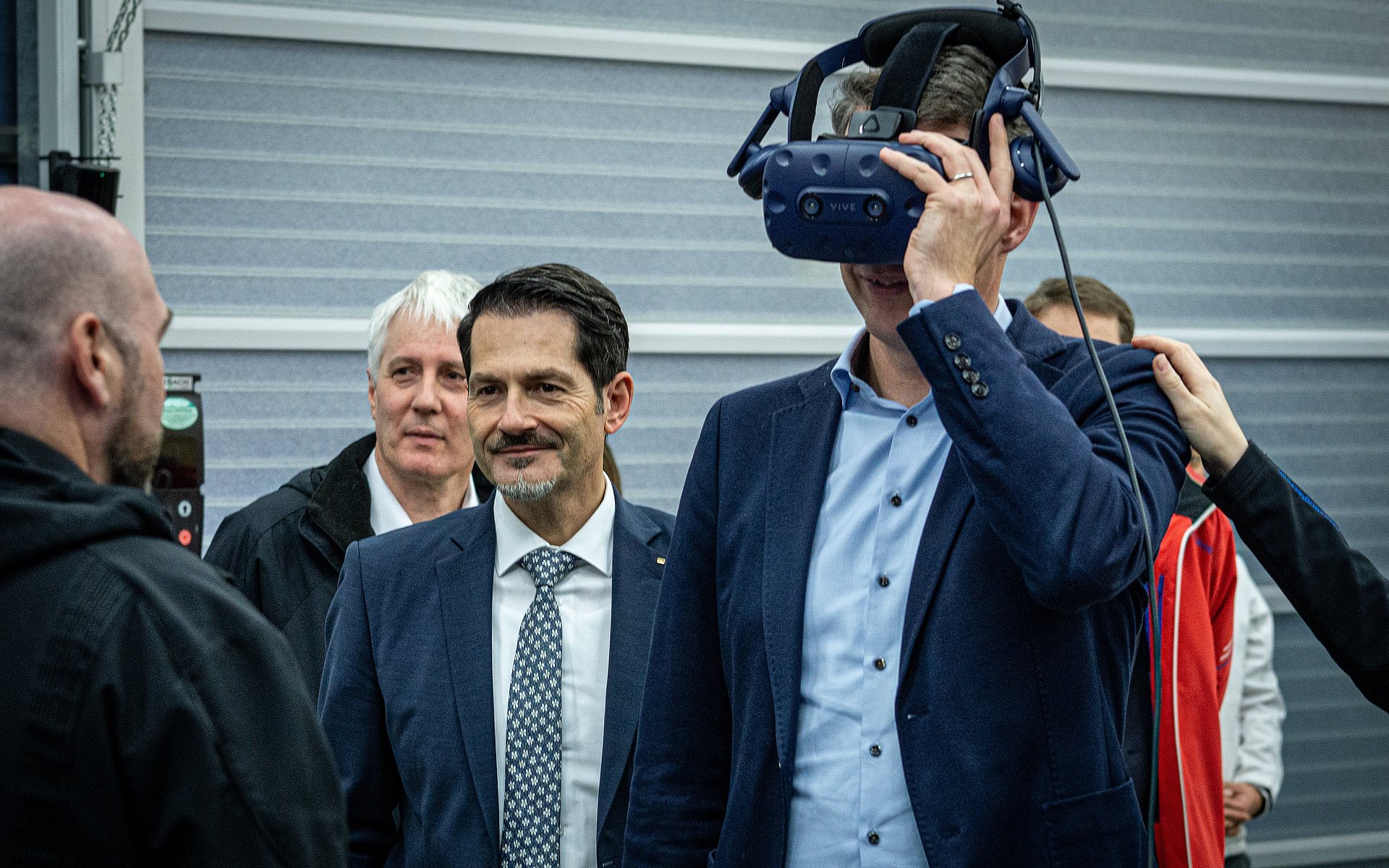 Premiere appearance for autonomous research vehicle EDGAR
The research vehicle EDGAR is a van equipped with the latest modern sensor technologies. Among other things it will be used in real traffic in the Munich city center. EDGAR is the first member of a small fleet of autonomous test vehicles which will soon be used cooperatively by other institutions and universities. Here research will focus on the control software used.
One of the first research partners in this context is the Technische Hochschule Ingolstadt (THI). THI focuses its autonomous driving activities on critical urban scenarios and the expansion of intelligent infrastructure. At the exhibition THI presented a variety of different sensor technology systems and the associated software. Prof. Michael Botsch, Scientific Director Institute AImotion Bavaria at THI: "Automated vehicles can already handle autonomous driving well in many scenarios today. However, intelligent infrastructure and AI processes are essential to provide an external perspective in situations that the vehicle itself cannot detect through its sensors. If both systems work together, the vehicles and the stationary side, the road safety and comfort of maneuvers in automated and connected vehicles will increase."
Driveblocks and Fernride as exemplary founding entrepreneurs
TUM research on autonomous and tele-operated driving has already produced two start-ups. Driveblocks was founded in 2021 by six doctoral candidates on the first winning Indy team. At the exhibition they presented a truck which no longer has a mechanical steering column, but is instead steered using electronic signals. The Steer-by-Wire principle is already familiar from airplanes. Fernride is working on the realization of remote-controlled cars. Here the primary focus is on being able to take over control remotely in difficult situations when the vehicle's software itself can no longer handle the situation.
Science minister and TUM President praise the commitment
After his tour of the exhibition, Bavarian Science minister Markus Blume said: "This is tangible mobile passion! THI and TUM are our alliance for the mobility of the future. Autonomous driving is a future-oriented promise of prosperity, quality of life and safety. Thanks to these talented young individuals and their great fascination with new technology, we in Bavaria are already in the pole position today."
TUM President Prof. Thomas F. Hofmann stated: "The mobility of the future is a strategic research focus area at TUM. And our teams show how creativity, commitment and the drive to discover can ultimately lead to great advances. Winning competitions releases enormous amounts of motivational energy which makes it possible to put the expertise gained into everyday implementation. TUM is showing its strengths here once again."
Further information and links
Technical University of Munich
Corporate Communications Center
Contacts to this article:
Prof. Dr. Ing. Markus Lienkamp
Technical University of Munich (TUM)
Chair of Automotive Technology
Tel: +49 89 289 15345
sekretariat@ftm.mw.tum.de
www.tum.de