Deutschlandstipendium recipient Jana Walz committed to "Talente spenden"
Book collection for the Pfennigparade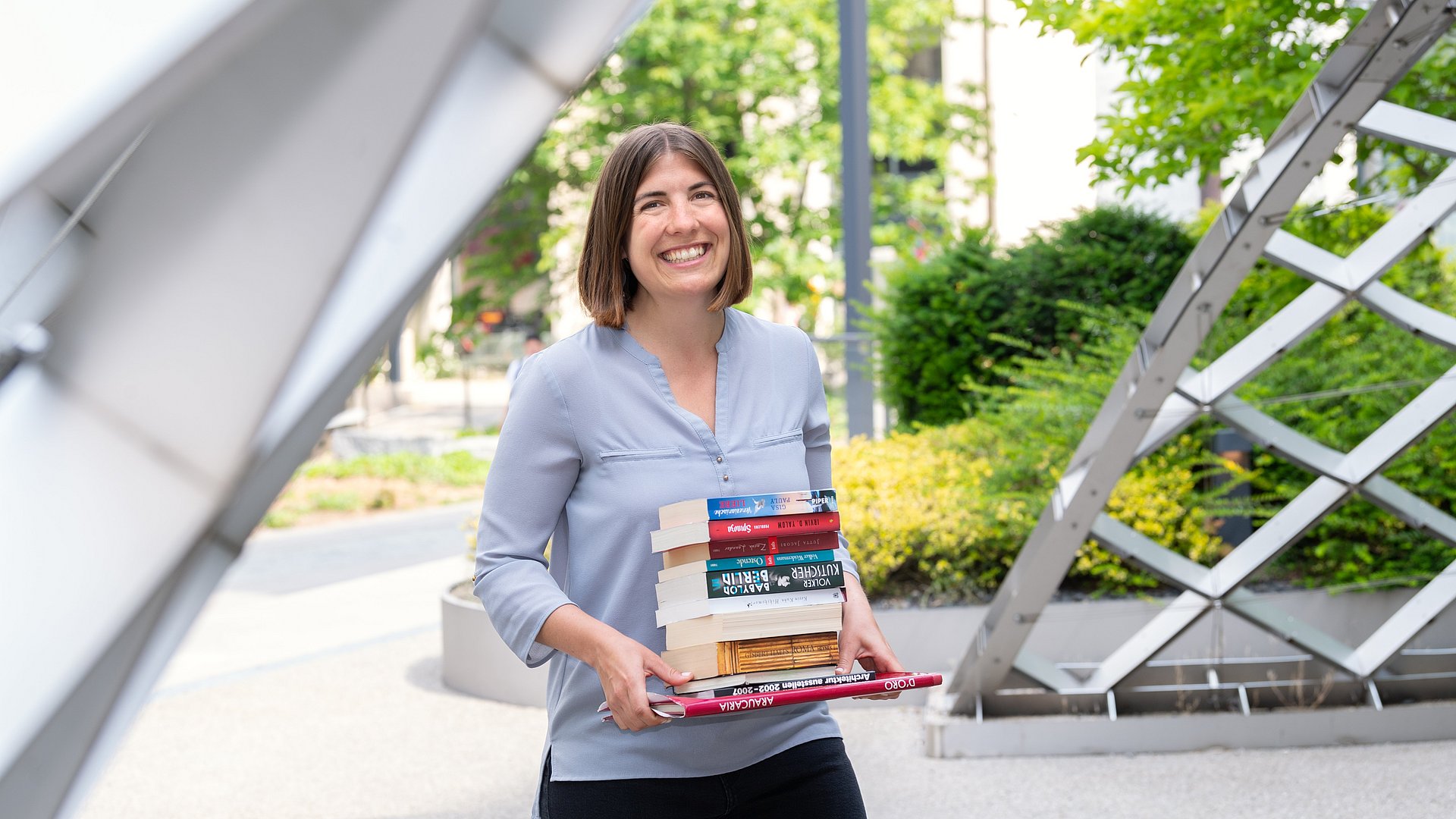 Book donation for the Pfennigparade Foundation
June 13 to 15, 2023, 10 a.m. to 3 p.m.: MW, Hall 0 Garching or in Munich in the passage hall to the "Immatrikulationshalle".
"What do you want to be?": How would you have answered this question as a child?
Jana Walz: Pilot. My mother was a stewardess, my father an electrician for Lufthansa Technik and I always wanted to be a part of that. After my graduating from high-school I took the test for pilot training, but I failed, I didn't really study enough. In retrospect I'm really glad I didn't become a pilot. Right now I'd say I'd like to become the director of a nature park, in Berchtesgadener Land or the Bavarian Forest.
You studied a different subject before starting your current Forest Science degree program….
I studied Theater and Media Science together with German Language and Literature in Nuremberg. I started in the field of Journalism and then moved to Marketing. During the Corona period I noticed: Without my colleagues, without the excitement of being on location, I didn't really like it much at all. And the job no longer really fit in with my personal values.
What are your values, what's important to you?
I want to help slow down climate change, to protect nature, to help make sure that animals and the people around them are doing well. I was also always very interested in Biology and I did an internship with a forester in the 9th grade. At the time I thought, wow, that's really a lonely job. In the meantime I think: Great, I can spend the whole day in the forest.
That's a courageous step, turning your life in a completely different direction.
It wasn't easy. After suffering from burnout during my first job at an agency, I began to rethink everything. The therapy was a great help in making the decision. My partner gave me a lot of support, so did my family, the feedback from my environment helped as well. It didn't matter whom I told I wanted to become a forester, everyone was totally thrilled. I took a lot of walks and did a lot of hiking, then I decided that was what I was going to do.
You're currently receiving the Deutschlandstipendium, which is explicitly intended to also support those in their second degree program. How did you apply?
I'm not sure why I got the scholarship (laughs). It wasn't primarily because of my grade point average, which wasn't so bad, A-. But I always thought you needed straight As to get a scholarship. My change in direction was certainly also a deciding factor – I wrote that now I finally knew what I wanted to do, that the burnout had really made me work on myself intensively. I also said that I had to work since I wasn't receiving financial support from my parents anymore for my second degree program, and I wanted to concentrate on my studies instead. I mentioned my support for social projects with the BayWa foundation as project manager and in marketing. And of course I hope my application is accepted again for the upcoming semester.
Who exactly is funding you?
The Margarete Ammon Foundation, which among other things supports the equality of women in professional life and society. "Forester" used to be a classic male-dominated profession; now approximately 47 percent of forestry students are women.
And now you're working with the "Bücherspende" book donation project for the "Pfennigparade" foundation. How did that come about?
At the inaugural event for the Deutschlandstipendium, the university initiative "Talente Spenden" ("Donating Talent") presented itself and its various projects. The idea is to work on a volunteer basis to give back some of the time that we gain when we receive the Deutschlandstipendium, for example because we don't have to work as much at our jobs.
And how does the book donation project work at TUM?
Once a semester we organize a campaign in which anyone interested can donate books, games, DVDs and Blu-Rays. Pfennigparade then sells these used items at its own small stores. The proceeds go towards the work of the Pfennigparade foundation.
You're in the middle of the advertisement for the upcoming campaign…
Yes, the next book drive will take place from June 13 to 15 with two stands at the TUM main campus and in Garching. Last year's campaign we collected enough to fill six moving boxes shortly before Christmas. In the meantime there are four of us on the team: Luana Kaiser and I are new members, Hanna Laurisch and Mohamed Elrefaie are much more experienced.
It's fantastic that you're committed to helping in addition to your studies.
In general I've gotten to know great people, not only in our project, but also in "Talente Spenden". It's a wonderful feeling to see people really taking the time to make little changes happen, a source of hope in the midst of wars and climate change.
Good luck with your repeated application for the Deutschlandstipendium in June. Do you have any advice for applicants?
You can't get a scholarship if you don't apply for it! (laughs). There was no one particular factor that qualified me for the scholarship, it was due to a number of different aspects. Just give it a try! And please give us your support in the next book drive!
Further information and links
Jana Walz (28) has a favorite kind of tree, the English oak, Quercus robur. She says she's learning more and more how "oaks can be totally amazing," adding that they can withstand a lot of heat, don't need much water and are an important habitat for a wide variety of animals. "They're very important for the ecosystem."
The book drive on behalf of the "Pfennigparade" foundation will take place from June 13 to 15 2023, 10:00 am until 3:00 pm, MW, hall 0 Garching and on the main campus in the corridor leading to the matriculation hall.
Donate books, DVDs, Blu-Rays and games in good condition.
The Deutschlandstipendium scholarship provides students with financial and non-material support – the decisive factor is not the applicant's grade point average, but rather active social commitment.
Applications for the Deutschlandstipendium at TUM are possible until 2023, June 18.
Technical University of Munich
Corporate Communications Center
Barbara Link / Verena Meinecke

presse @tum.de