High-tech platform munich_i at automatica
munich_i and the future of intelligent machines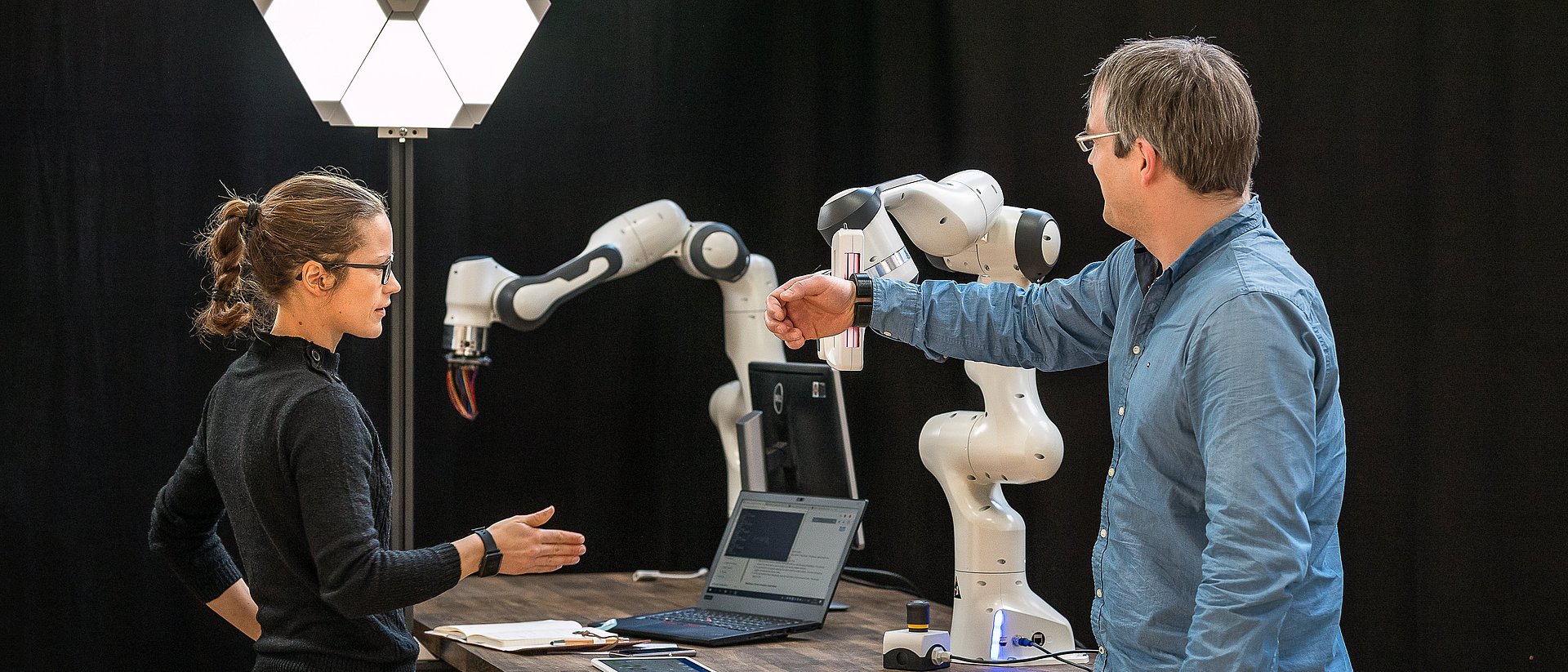 The EU project Sea Clear at TUM is a prime example of how robots can support human endeavors. Sea Clear (SEarch, identificAtion and Collection of marine Litter with Autonomous Robots) does what it says, namely identifies and localizes litter on the ocean floor. Using the information, a second intelligent robot then heads to the spot to pick it up. Through machine learning, the collection robot becomes increasingly efficient over time. Another concept dedicated to environmental protection is A-RIFT (Accessible Robot Interface for Telemanipulation), a project of the TUM Munich Institute of Robotics and Machine Intelligence (MIRMI), in which environmental data are collected and transmitted to experts via telepresence technology. These are just two of some 30 practical demonstrations presented in the AI.Society exhibition space. The 500 square meter space will have sections dedicated to "Future of the Environment" (with Sea Clear and A-RIFT) as well as Work, Health and Mobility.
i_space: Ethics Round Table and KI.FABRIK with Markus Blume and Hubert Aiwanger of the Bavarian State Cabinet
Also located in the AI.Society space is the i_space stage, which will feature a varying program of daily demonstrations as well as various public event formats. These will include an Ethics Round Table with Prof. Alena Buyx from TUM and Markus Blume, the Bavarian minister of science and the arts. The stage will also host a panel discussion in which the Bavarian minister of economic affairs Hubert Aiwanger will discuss the KI.FABRIK as a "guarantor of future-ready jobs and stable value chains" with TUM professors Prof. Birgit Vogel-Heuser and Prof. Klaus Bengler, among other speakers.
Robothon® with 20 international teams: breaking up and sorting e-waste
In another i_space highlight, the awards will be presented for Robothon®, a competition for young robotics enthusiasts. The honorary patron of this year's Robothon® is Bavarian State Minister for Digital Affairs Judith Gerlach. Since the kickoff on April 29 2022, 20 international teams with a total of 80 developers have been tackling five challenges involving the scrapping and sorting of e-waste – including unsolved problems such as the automatic removal of batteries from TV remote controls. Among the contestants are two teams from TUM: Team Pandaria 2.0 and Team Wall-E 3.0. The finalists will be announced on June 9 and the awards will be presented on June 21 at i_space.
munich_i high-tech summit: Nature as role model, smart networks and graceful robots
A highlight for the world of science will be this year's high-tech summit, which will explore four key topics under the heading "intelligence empowering tomorrow": What will next-gen robots look like (Topic 1: Next Generation Robotics)? What is networking intelligence and what role does AI play (Topic 2: Networking Intelligence)? Why does sensory technology have to be optimized before industrial robots can operate autonomously (Topic 3: Industrial Perception and Autonomy)? And why is communication between humans and robots so important and how can it be further optimized (Topic 4: Learning, Understanding and Interaction)? Summit participants will include scientists and business leaders such as Prof. Cecilia Laschi of the National University of Singapore, who will ask what robotics can learn from nature, Dominik Metzger of SAP, who sees network awareness as a key factor in responding faster and more effectively to supply chain bottlenecks, and Dr. Alfred Rizzi, Chief Scientist with Boston Dynamics, whose robots mimic the gait of humans and animals.
Schedule of presentations at the munich_i high-tech summit (day 3).
Tickets and prices for the high-tech summit at munich_i.
Further information and links
The munich_i high-tech platform is a joint project of TUM MIRMI, Messe München and the automatica trade fair. The directors of munich_i are Prof. Sami Haddadin, a professor of robots and system intelligence and head of the Munich Institute of Robotics and System Intelligence (MIRMI) and Prof. Alena Buyx, a professor of the ethics of medicine and healthcare technologies at TUM.
Quotes

Prof. Sami Haddadin: "At munich_i we will present real insights into developing technologies and the next megatrend in the AI transition: intelligent robotics. We will join together with pioneers from industry, the world of research and start-ups to look ahead to the future. Our priorities are leadership, responsibility and a forward-looking approach."
Prof. Alena Buyx: "The best innovations combine big advances in technical feasibility with ethically and socially responsible development and implementation. A platform that reinforces the exchange between industry and universities should therefore promote cooperation between various disciplines and actors, too, and help to ensure that not only the best technologies are found, but also the most beneficial solutions for society."

Download Flyer AI.Society (pdf, 70 KB)
Technical University of Munich
Corporate Communications Center