Prototype of a clinical CT device combines dark-field X-ray and conventional technology
New technology for clinical CT scans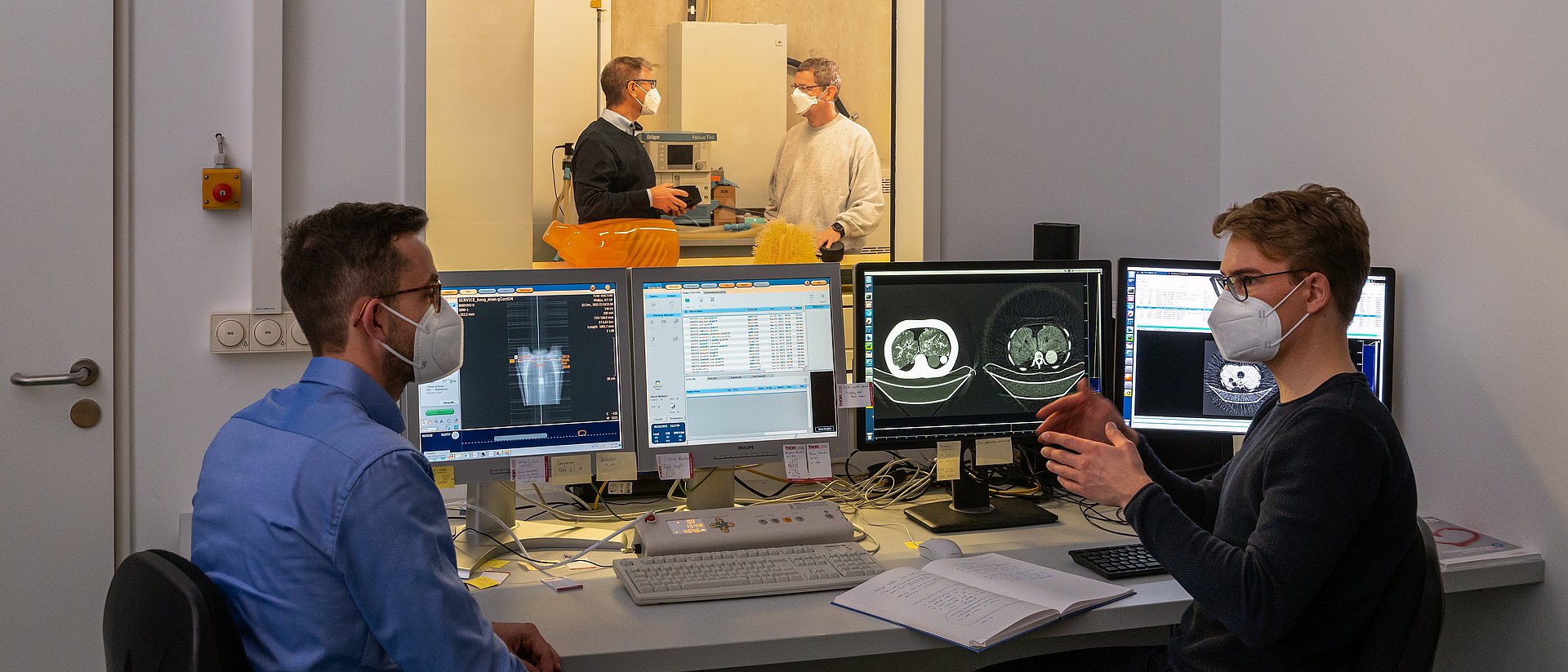 Computed tomography (CT) is one of the most important clinical methods for precise and fast diagnostics. By combining multiple X-ray images three-dimensional images of the patient are generated.
Dark-field computed tomography reaches the human scale.
Manuel Viermetz, Nikolai Gustschin, Clemens Schmid, Jakob Haeusele, Maximilian von Teuffenbach, Pascal Meyer, Frank Bergner, Tobias Lasser, Roland Proksa, Thomas Koehler andFranz Pfeiffer. PNAS, Februar 2022. DOI: https://doi.org/10.1073/pnas.2118799119
Further information and links
Co-author Thomas Koehler (Philips Research) is a Rudolf Diesel Industry Fellow of the TUM Institute for Advanced Study (TUM-IAS), which is funded in part by the Excellence Initiative of the German federal and state governments and by the EU Marie Curie COFUND program.
The work was supported by the European Research Council through an Advanced Grant and Philips GmbH Market DACH.
A portion of the work was carried out in collaboration with the Karlsruhe Nano Micro Facility (KNMF), a Helmholtz research infrastructure facility at the Karlsruhe Institute of Technology (KIT).
Prof. Franz Pfeiffer is the Director of the Munich Institute of Biomedical Engineering (MIBE). MIBE is an Integrative Research Institute (IRI) within the Technical University of Munich (TUM). At MIBE, researchers specializing in medicine, the natural sciences, and engineering join forces to develop new methods for diagnosing or treating diseases. They also work on improving technologies that compensate for physical disabilities. The activities cover the entire development process – from the study of basic scientific principles through to their application in new medical devices, medicines and software.
Technical University of Munich
Corporate Communications Center
Contacts to this article: