Neutrons show effective lithium and electrolyte distribution in lithium-ion cells
Captured lithium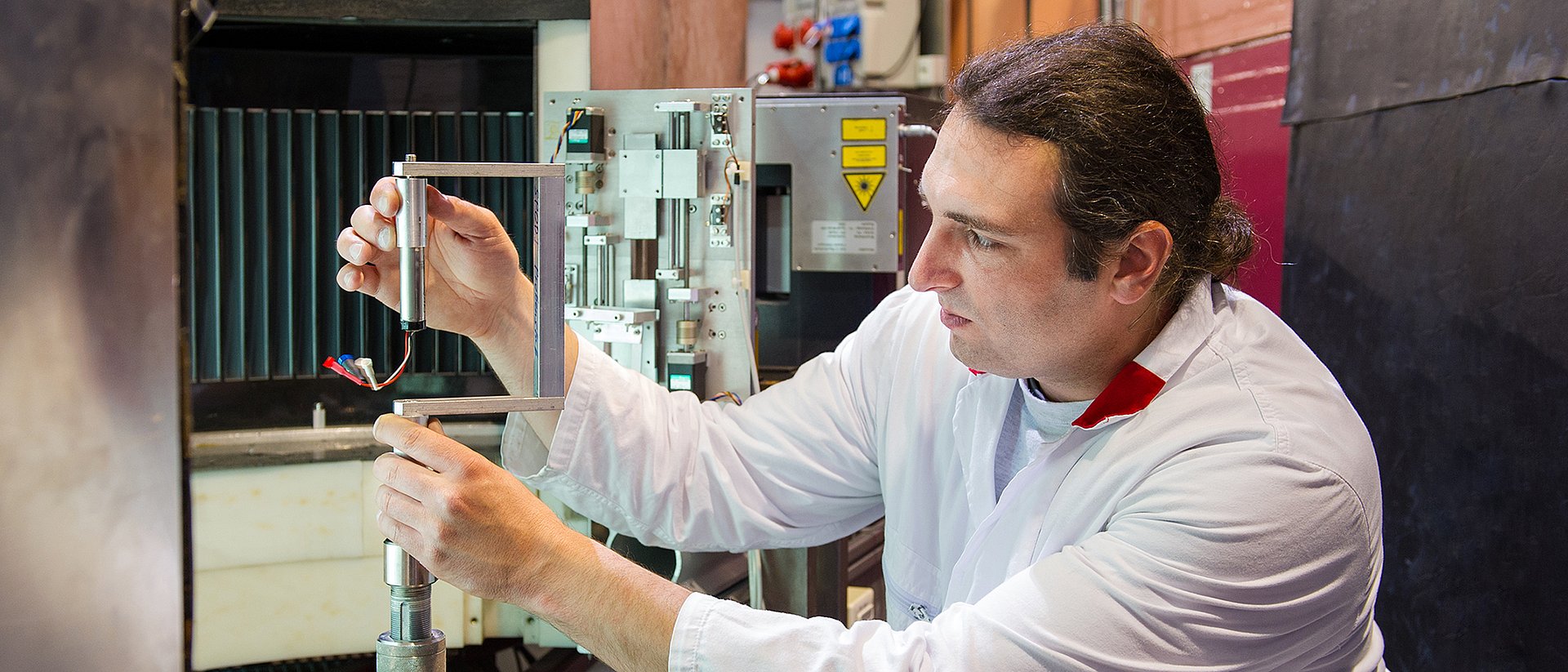 The outstanding characteristics of the lithium-ion battery have changed our everyday lives as only very few other inventions have. However, over time various effects occur which gradually reduce the great storage capability of these batteries.
At the Technical University of Munich's Research Neutron Source Heinz Maier-Leibnitz (FRM II) Dr. Anatoliy Senyshyn, instrument scientist at the high-resolution powder diffractometer SPODI, used neutron scattering to investigate the cause of these effects in cylindrical lithium-ion batteries.
Together with other scientists he is searching for answers to fundamental questions on the structure and behavior of rechargeable lithium-ion batteries: Why does the available capacity drop over time? How is the lithium distributed in the battery?
Dominik Petz, Martin J. Mühlbauer, Alexander Schökel, Klaus Achterhold, Franz Pfeiffer, Thilo Pirling, Michael Hofmann, and Anatoliy Senyshyn
Heterogeneity of graphite lithiation in state-of-the-art cylinder-type Li-ion cells
Batteries and Supercaps, Oct. 28, 2020 – DOI: 10.1002/batt.202000178
M.J. Mühlbauer, D. Petz, V. Baran, O. Dolotko, M. Hofmann, R. Kostecki, A. Senyshyn
Inhomogeneous distribution of lithium and electrolyte in aged Li-ion cylindrical cells
Journal of Power Sources, 475 (2020) 228690 – DOI: 10.1016/j.jpowsour.2020.228690
Further information and links
The work was funded by the Heinz Maier-Leibnitz Zentrum (MLZ), the German Research Foundation (DFG), the German Federal Ministry of Education and Research (BMBF) and the Bavaria California Technology Center (BaCaTeC), as well as by the U.S. Department of Energy, as part of its research activities on advanced battery materials.
In addition to scientists at the Heinz Maier-Leibnitz Zentrum and the Technical University of Munich (TUM) Department of Physics, researchers from the Karlsruhe Institute of Technology, Iowa State University's Ames Laboratory (USA) and Lawrence Berkeley National Laboratory (USA) were also involved in the publication.
The measurements were carried out at the Heinz Maier-Leibnitz Research Neutron Source (FRM II) of the Technical University of Munich, the Institute Laue-Langevin (ILL) in Grenoble (France) and at the German Electron Synchrotron (DESY) in Hamburg.
Technical University of Munich
Corporate Communications Center
Contacts to this article: