Robots to support industrial work from home
Cornerstone laid for artificial intelligence-based factory KI.FABRIK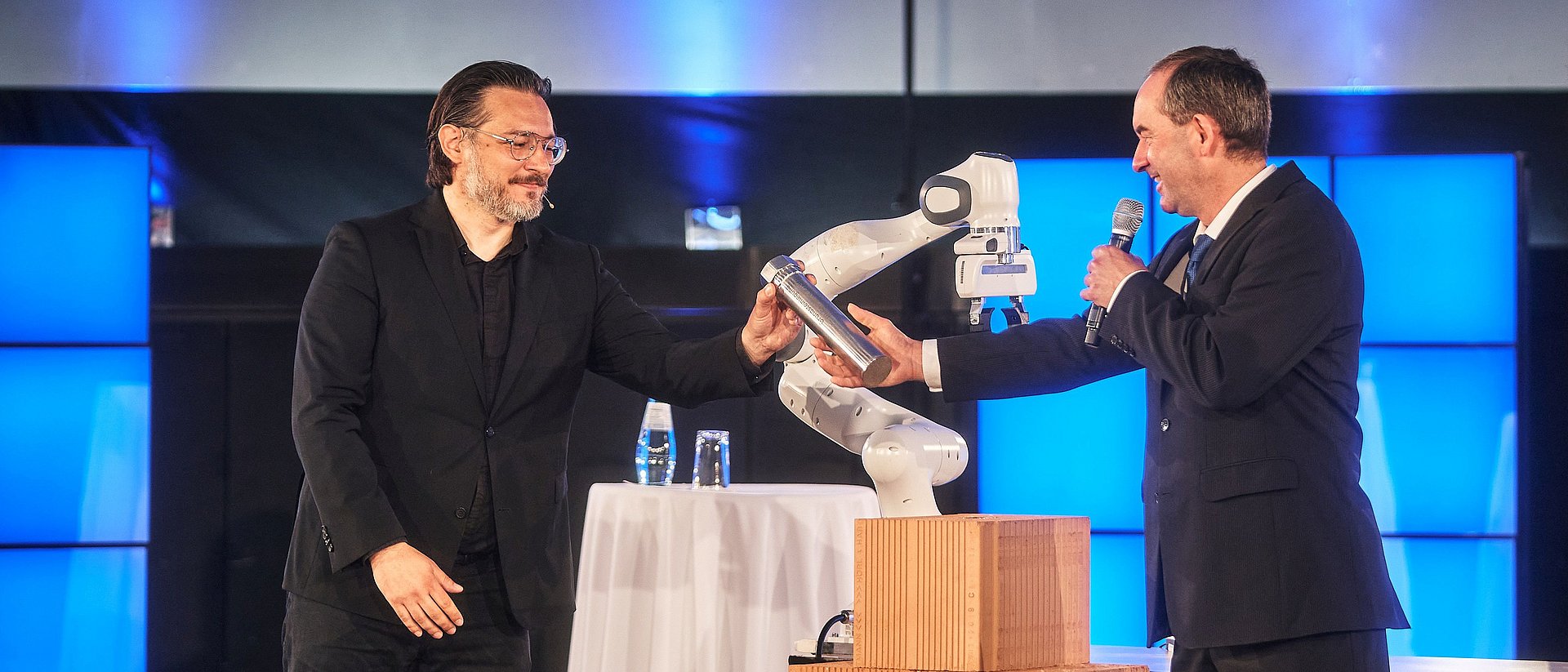 Bavarian Deputy Minister-President and Minister of Economic Affairs Hubert Aiwanger and TUM President Thomas F. Hofmann participated in the robot-supported laying of the KI.FABRIK cornerstone in Munich's Deutsches Museum. This Lighthouse Initiative, a part of the Hightech Agenda Bavaria, has a planned duration of ten years and will be implemented at the TUM Munich School of Robotics and Machine Intelligence (MSRM), led by Prof. Sami Haddadin, Director of the MSRM.
Consortium of industrial partners
An initial four-year research and development alliance project at the KI.FABRIK unites BMW, Franka Emika, Linde Material Handling, Reactive Robotics, TQ-Systems and Wittenstein as consortium partners. The KI.FABRIK, using artificial intelligence, will take shape in the Deutsches Museum and will work on a networked basis with other locations, showcasing "Hands-On AI" in society. The KI.FABRIK differs significantly from previous concepts with regard to the direct physical interaction of the factory's central AI function in the factory environment involving robots and similar systems. Another difference is the intuitive and transparent connection of humans and machines in the KI.FABRIK, using wearable technologies, among other things.

TUM President Hofmann said: "In times of rapid change in the working world, the KI.FABRIK creates an enormous opportunity for Bavaria as a technology hub. In the future AI robots will function as an extension of our laptops and will be controlled remotely. This kind of decentral production reduces the workload placed on humans in increasingly complex, more tiring procedures and at the same time makes it possible to achieve higher precision and consistent product quality."
Outstanding investment in the future
Minister of Economic Affairs Aiwanger stated: "Bavaria is becoming an AI location. This means our 15 million euro contribution as part of the Hightech Agenda Bavaria is an outstanding investment in the future. A KI.FABRIK for developing new product ideas and production methods using the latest AI-driven robot technologies takes the Bavarian economy to an entirely new level. This will create unprecedented perspectives for research, development and production, making production more flexible. New products will no longer mean a constant need for new machines and production halls or for shifting capacities abroad. Easy-to-use apps will be able to transfer every production order to the adaptive KI.FABRIK and individually control its fulfillment. This is an important contribution to local, crisis-proof, economical manufacturing of the most modern products here in Bavaria."

Minister of Scientific Affairs Bernd Sibler also sent a video message: "Artificial Intelligence is the key technology of the future. TUM's MSRM consolidates outstanding expertise to conduct research among other things on the meaning of new digital technologies for the work we do. Bringing the findings of science to society is a decisive factor in the broad exploitation of these new opportunities. The new KI.FABRIK with its showroom in the Deutsches Museum does exactly that: Here we can experience future-oriented research first-hand and gain an undertanding of how these technologies work. I am very pleased that we can lay the cornerstone for this future-oriented project today with funds from the Hightech Agenda Bavaria."
In the symbolic cornerstone ceremony a robot arm placed an engraved stainless steel time capsule into the cornerstone. The robot was controlled remotely by a human using teleoperation – symbolizing the future home workstation for factory workers. Prof. Haddadin said: "We see the AI factory as both a prototype and a research laboratory at the same time. It offers scientists and companies the opportunity to test and further develop their technologies under 'real' conditions." One special characteristic of the KI.FABRIK initiative in comparison to established production halls is the multifunctionality of the highly-sensitive machines and robots it uses. They can make a very wide variety of products even in small quantities and are not restricted to clearly defined sequences of motion.

The cornerstone ceremony took place in parallel with the automatica sprint fair as a part of munich_i, the new AI and robotics high-tech platform for politics, business, science and society.
Further information and links
Technical University of Munich
Corporate Communications Center
Contacts to this article: