"AG Nachhaltigkeit": Climate change, resource consumption and waste generation
"We know what's at stake"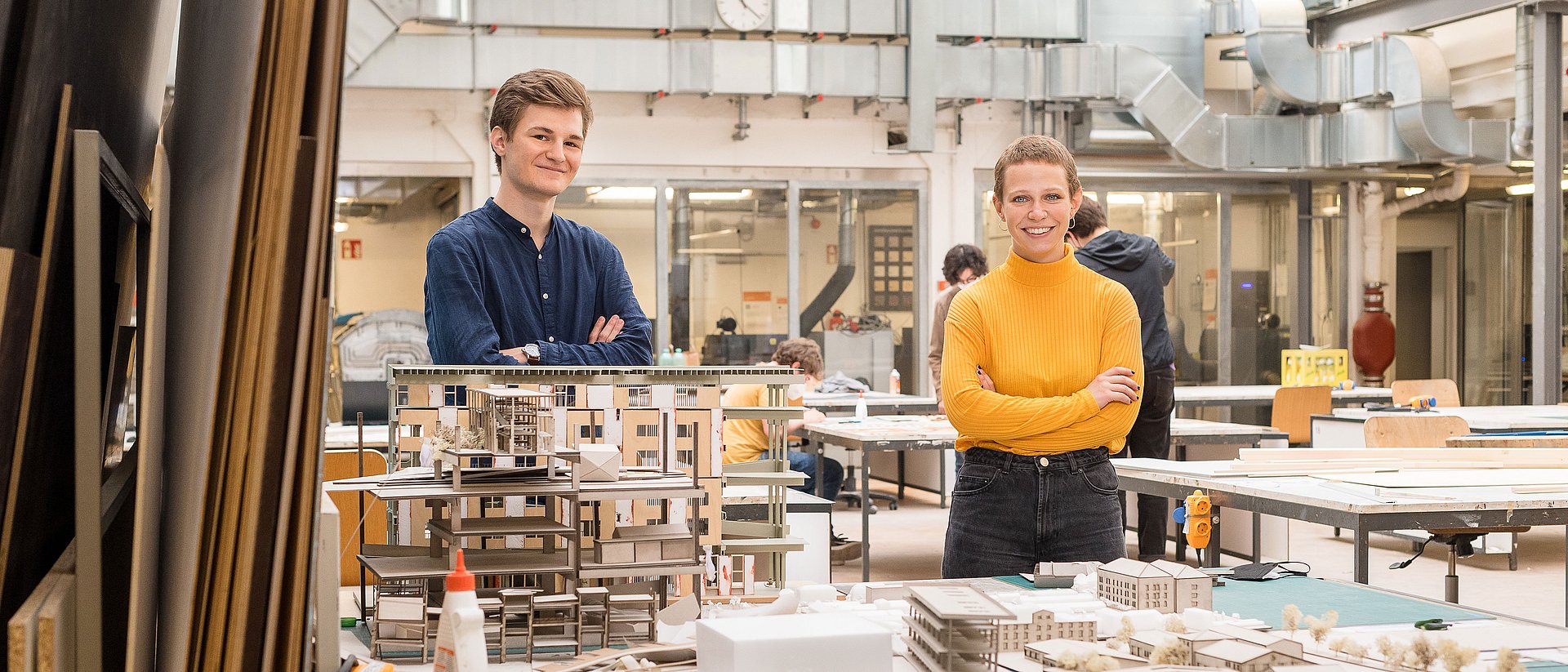 Why do you see a need for a sustainability action group in the Department of Architecture?
Michelle Hagenauer: A lot of things could be more sustainable in our department. On the teaching side, for example, there is the studio work that produces huge amounts of garbage. And we also happen to have all kinds of specialized knowledge – for example about buildings and energy consumption. We know what's at stake.
Is the garbage from architectural models really such a big problem?
Michelle Hagenauer: Definitely. Because a lot of our activities depend on design projects in the studios and workshops. We draft and print plans and build models. That is an important part of studying architecture that nobody wants to live without. But it does produce a lot of waste – and not just cardboard – also Styrodur, metal, glue and solvents.
Jakob Ohlenmacher: When I helped to clean up our workroom after my second semester – when my studies were still following the normal path – there was a 40 cubic meter dumpster set up in the courtyard. We filled it with the garbage from our model buildings. All of it was hazardous waste that couldn't be recycled.
What does sustainability mean in architecture?
Jakob Ohlenmacher: During our studies we learn that it relates to reusability and the circular economy. And of course we need to use some material for our work. But there's a gap between what we are taught and how we actually work. Sustainability means more than just being aware of the issue – you have to act accordingly: And that means thinking about which material to use, where it comes from and where it ends up afterwards.
Sustainability is a vast and multi-faceted area. What aspects is your group addressing?
Michelle Hagenauer: Another important issue, along with waste disposal, is mobility. For example, we want to purchase a cargo bicycle to transport material on campus. And we want to encourage travel by train or bus, as opposed to flying, for excursions and research trips.
Jakob Ohlenmacher: There's room for improvement in the university building, too. In winter we often have the heating on while the windows are open in the corridors. It would also be important to improve waste separation and the use of ecological cleaning products. I worked on a sustainability guide for students in our department, for example. The goal was to close the gap between the existing awareness of sustainability issues and their implementation in everyday life at the university.
To what extent is sustainable and climate-friendly construction already an integral part of teaching?
Jakob Ohlenmacher: I'm actually pleasantly surprised to see the level of awareness among the lecturers. After all, we architects will have a special responsibility in our future careers. But in the design projects in the bachelor's program, sustainability is not one of the most important grading criteria. I find it troubling that sustainability is often seen as optional. The motto seems to be: Okay, let's do some sustainable construction. Just like: Now we're going to build with steel and now with wood.
Michelle Hagenauer: Sustainability is often treated as just an optional subject that you can pick as an elective. That's the wrong approach. It should be one of the central areas right from the start. Or you end up with a contradiction: As if you can either create an environmentally friendly building or one with an impressive design.
Sustainability in architecture is obviously very important to both of you. Do you plan to do something in that direction in your future career?
Michelle Hagenauer: In my master's I have spent a lot of time on sustainable urban development. I find it exciting that you can combine ecological and social sustainability and all kinds of other issues.
Jakob Ohlenmacher: I've just finished my fourth semester in my bachelor's program. So it will be a while before I start my career, but I really liked the urban development semester and I see a lot of potential for more sustainable architecture in that area. But the concept of construction that preserves and incorporates existing building stock is also very interesting. After all, the most sustainable form of architecture is the kind that uses what is already there.
Further information and links
Michelle Hagenauer, 26, co-founded AG Nachhaltigkeit with two professors and two research associates in early 2020. The group now has around 15 active members.
AG Nachhaltigkeit brings together students, faculty members and researchers from the TUM Department of Architecture. According to the team, there is plenty of work to do with regard to climate change, resource consumption and waste management – and the university is no exception.
In the winter semester 2021/2022 they will be pleased to welcome new members who are interested in the topic and prepared to contribute ideas. The only requirement: Members should be students or staff members in the Department of Architecture.
Technical University of Munich
Corporate Communications Center
Katharina Horban / Verena Meinecke

presse @tum.de
Contacts to this article: