Student tunnel boring team takes the title in Texas
TUM Boring wins for the second time in a row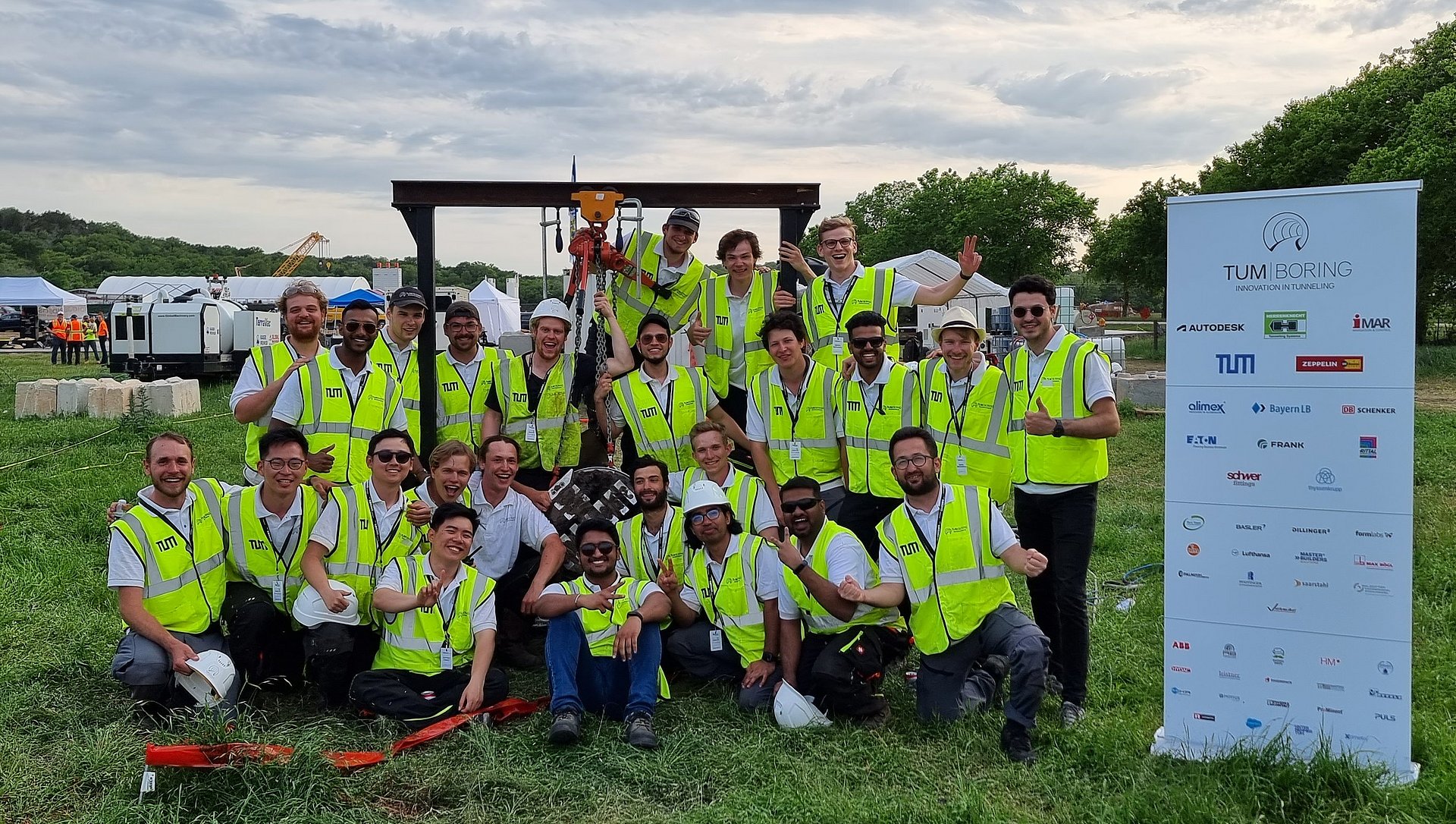 The TUM Boring team's bore head sped through the earth at over 14 times the speed of a conventional tunnel boring machine. That was enough for a repeated victory in the "Not-A-Boring Competition", which was conducted for the second time by Elon Musk's "The Boring Company". The student team from the Technical University of Munich (TUM) prevailed over competition from the other universities with its maximum boring speed of 7 mm/s (approximately 25 m/h) and an average speed of 3.1 mm/s (approximately 11 m/h). By way of comparison: Large tunnel boring machines make their way through the soil at an average of only 1.7 m/h.
New boring technology is the key to success
The TUM boring team chose a new tactic in the 2023 competition. Instead of excavating an initial pit and letting the boring head make its way through the side wall of the pit, the TUM students started out horizontally on the surface. By swinging the bore head, the team was able to dig into the underground and then bore in a curve, rather than just a straight tunnel. They were able to bore a 12 meter tunnel. "We're very pleased that we were able to bore out the tunnel with this approach. Such a simple solution to such a complex problem took a lot of work and experience gained in multiple test boring rounds. Radii are a particular challenge, but the team was highly motivated and that's what made us succeed," the team says. The boring machine from TUM Boring weighs a total of 22 tons and consists of a 12 meter long container in which the components, including the boring head, steel tubes and propulsion system are all installed.
Tunnel for Hyperloop tubes
The US company's reason for holding this competition is related to the development of Hyperloop systems. This innovative means of transport for people and goods uses "pods" which are to move at tremendous speeds through tubes containing an almost complete vacuum. These tubes can also be routed underground, calling for new skills in tunnel building. TUM has consistently won past student competitions held for the Hyperloop system. In the meantime, based on the student's dedicated efforts in the past, the TUM Hyperloop research project has been launched.
"It's simply wonderful to see the motivation and technical expertise our students have once again shown in winning an international competition. This once again underlines the high quality of studies at TUM and the innovative spirit which thrives in our university community," says TUM President Thomas F. Hofmann, sponsor of TUM Boring. "My sincere thanks also go to the TUM University Foundation for the intellectual and financial support for this fantastic team of entrepreneurially-minded students.
Further information and links
Technical University of Munich
Corporate Communications Center