Presidential Student Lunch
At the Presidential Student Lunch, students can discuss with President Thomas F. Hofmann about topics related to their studies.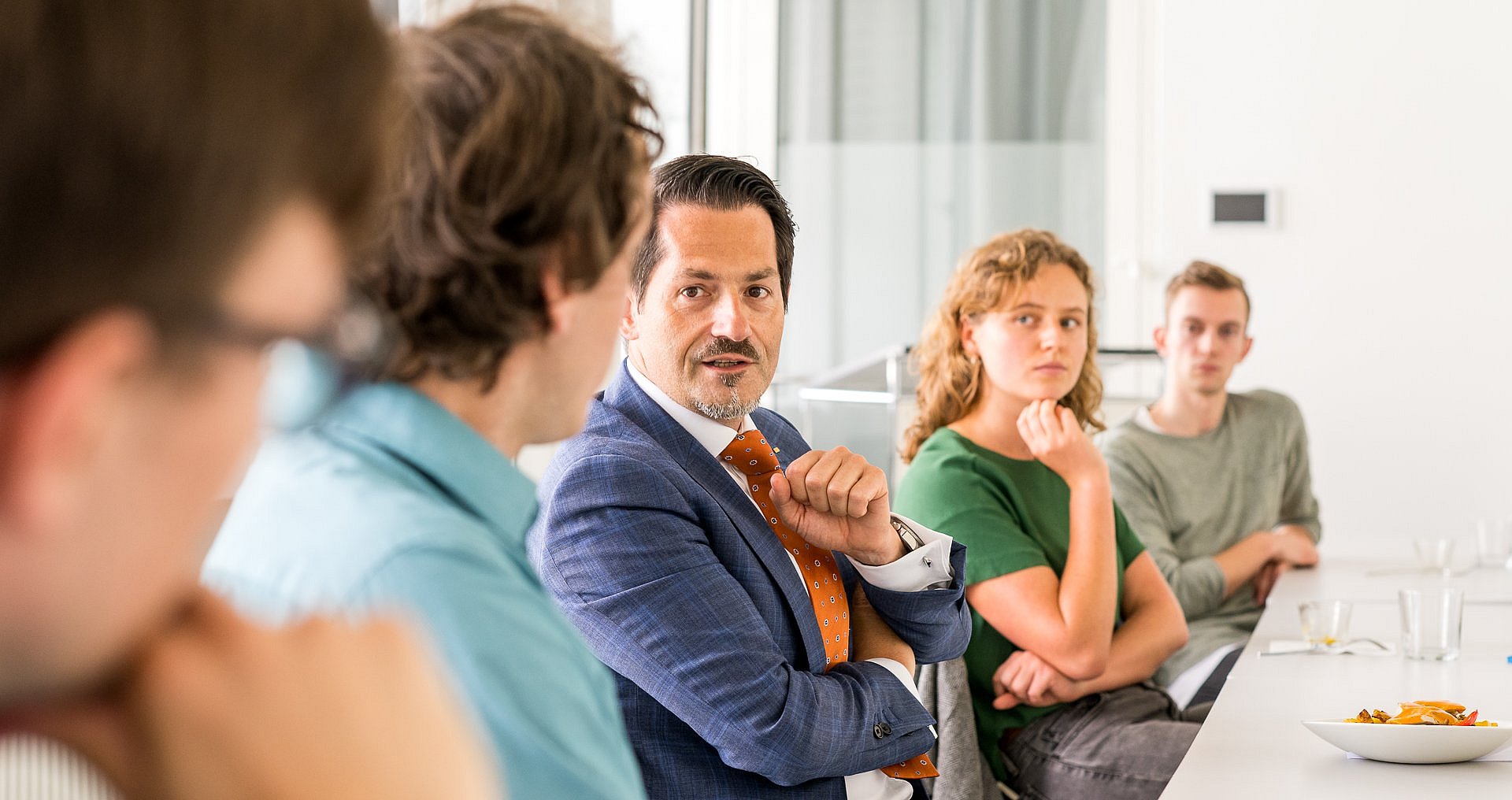 Discuss with the President
President Thomas F. Hofmann has introduced the TUM Presidential Student Lunch to promote the uncomplicated, direct exchange with students from all subjects. Making studies at our university a unique learning and life experience requires an interactive and trusting relationship between teaching staff and students no less than a culture of appreciation and the open exchange of opinions and ideas with the younger generation.
Dates for the winter semester 2022/23
October 27, 2022: 12 - 2 pm Downtown Campus
On TUM Sustainability Day, students will have the chance to specifically discuss sustainability topics with the President. TUM students of all subjects and degrees are invited to apply.
Please apply by October 16, 2022


November 17, 2022: 12 - 2 pm Downtown Campus
Students at TUM School of Social Sciences and Technology, at TUM School of Management and of study courses at TUM School of Engineering and Design located at the TUM main campus.
Please apply by October 31, 2022
To apply, please fill in the registration form. Please also briefly describe topics and ideas you would like to discuss with the president. Please note that the topics should be of interest to a larger group of students.
Applications are now open!
Important information:
The events will take place at the respective TUM locations. If the pandemic does not permit a face-to-face event, we will switch to an online meeting at short notice. The current regulations for prevention of the spread of Covid-19 apply.
Number of participants: max. 10 students
Time: from 12:00 pm to 2:00 pm
The events will take place in English
We encourage all applicants who are not selected this time to apply again for one of the following lunches for their departments.
The next events will take place in sommer semester 2023.
Only if we understand what drives our students, what motivates them and what they need, we can develop their talents to the fullest.
Technical University of Munich
Strategy and Excellence Development
Dr. Anna-Katharina Wirth
Arcisstr. 21
80333 Munich
wirthspam prevention@zv.tum.de