Online Application via TUMonline
Studienkolleg
Please select the semester you would like to apply for. The menu item select degree programs will only display those programs for which you may apply in the selected semester.
As type of studies, select Studienkolleg.
As degree program, select the program you wish to apply for after completing Studienkolleg. This determines the studienkolleg course you are assigned to. Please note that you can only choose degree courses which allow an application for the semester you have chosen.
Entrance semester is manual admission, form of studies is no degree.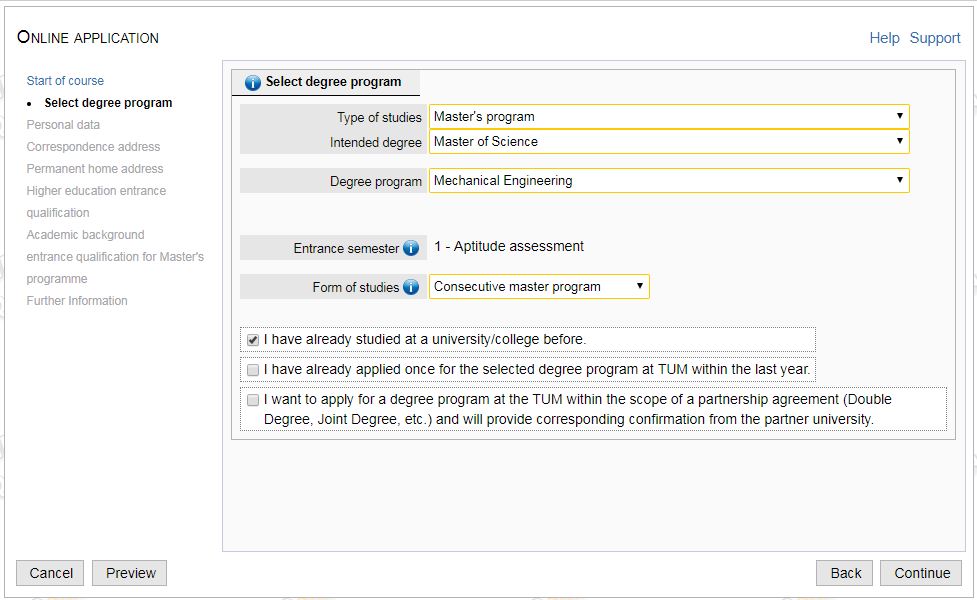 This is where you can check the personal data you have entered upon registration. Any mistakes or typos will be corrected upon review of the submitted documents. Please wait until your application has been processed before contacting us. If your application has been processed and your personal data is still incorrect, please contact our Hotline.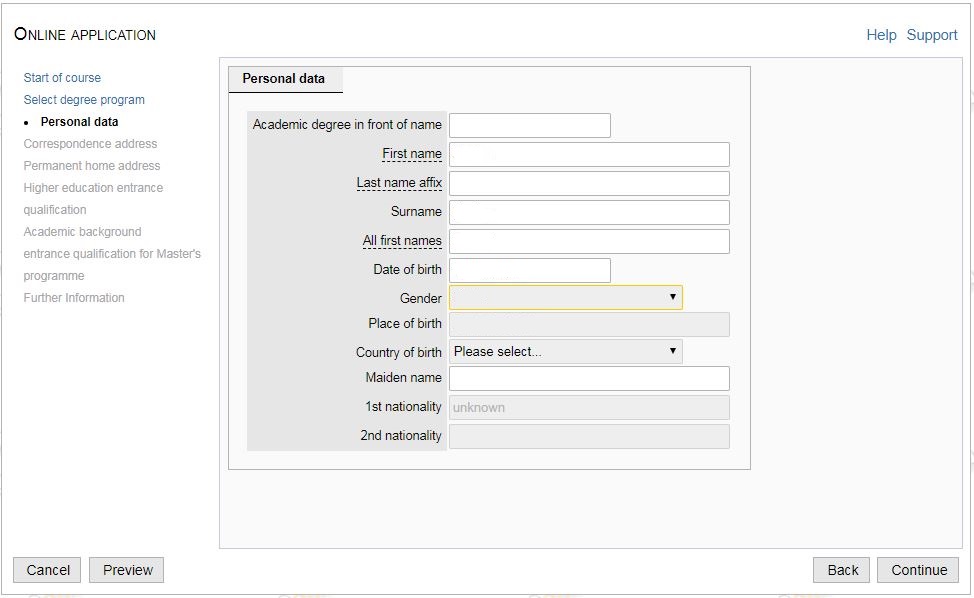 Here you will be asked to enter your correspondence address. Your correspondence address is the address to which we send important information about your application and your studies. Please ensure that it is always up to date. You can update your correspondence address in your account at any time by clicking on the Study/home address link in your TUMonline business card. The address does not have to be in Germany.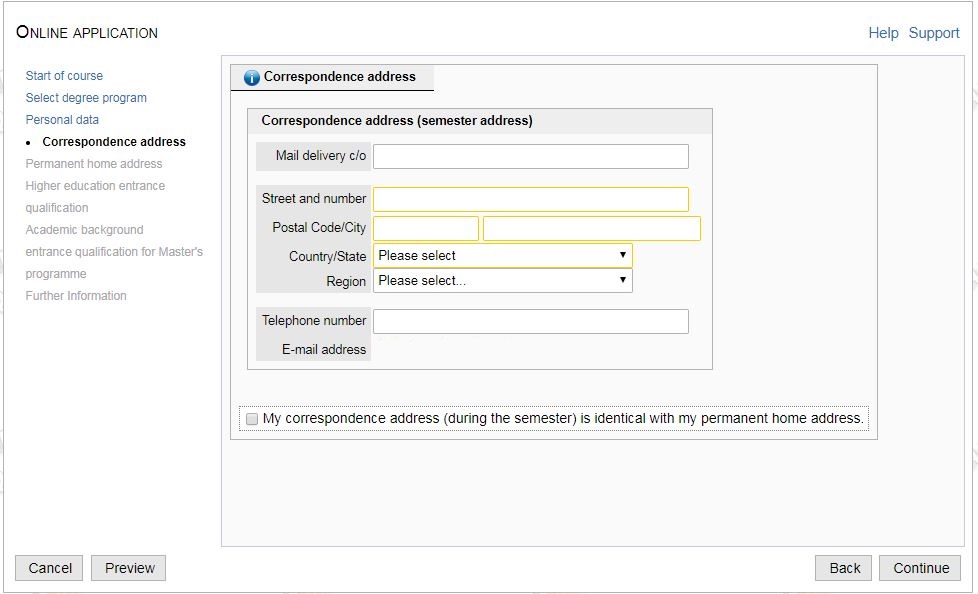 This refers to your secondary school qualification (higher education entrance qualification) allowing access to German university education. In most cases, this will be a subject-specific higher education entrance qualification. Please fill in the fields based on the official document relating to your entrance qualification, e.g. your school leaving certificate.
Enter the grades (or points) from your higher education entrance qualification here. If you only have a final grade, please enter that grade only. If you cannot fill in all fields, e.g. because you do not have the grades yet, skip this step. We will verify and fill in this information based on the certificates you submit, as soon as all documents are available.
Select I have obtained a foreign higher education entrance qualification. Then fill in the form based on your certificate. The International Baccalaureat Diploma (IB) constitutes an International Higher Eduation Entrance Qualification, even if it was acquired in Germany.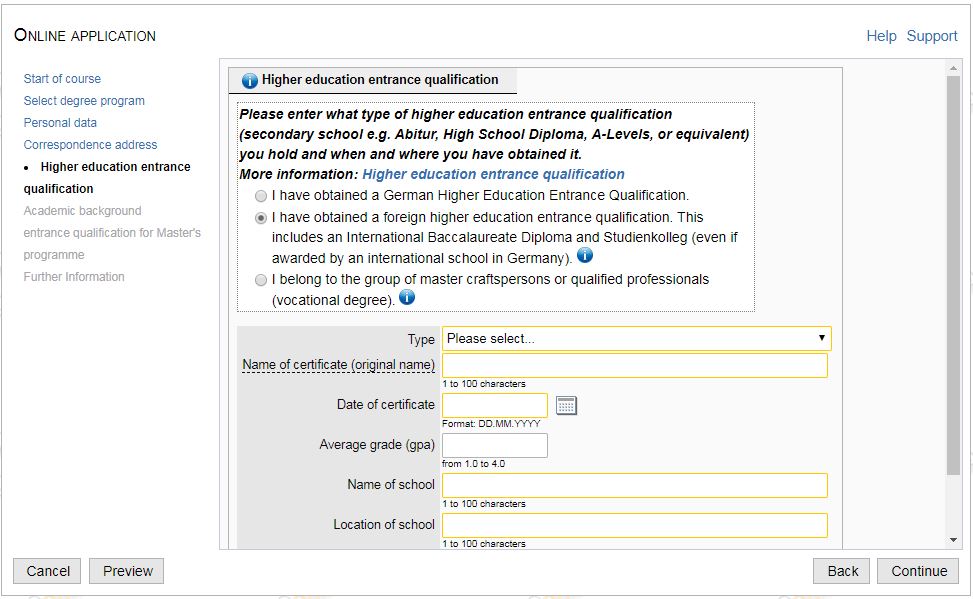 This step is only relevant if you have selected I have already studied at a university / college before in step 2.
If you are applying for your first undergraduate program, you can skip this step.
If you are currently enrolled in or have already completed several programs, please enter the information separately for each program. This can be done via "add degree".
Please enter the country, the location and the name of the university or institution you have studied or are currently studying at. A completed or current bachelor's program is usually a first degree. You enrollment number from your previous or current institution is optional. If your institution is not listed, please select another one – we will correct the information upon review of your documents.
1st subject under Major refers to the name of the respective degree course. You can leave 2nd and 3rd subject empty if they do not apply to you. The list of programs available is based on a list provided by the German Federal Statistics Office. If your course or program is not listed, select one that is similar.
Under Semester, enter the dates in which you completed this degree program, i.e. the semester/year in which you began under from and the semester/year in which you completed your studies under to. Leave the other fields (Leaves of absence, practicum, clinic internship, interruptions) empty.
Under Status, fill out the section Final examination. Here, select passed on the whole. You may leave the option Intermediate Exam empty if it does not apply to you.
Under Grade, enter your final grade point average as indicated on your degree transcript.
Under Date, enter the date of issue of your transcript or degree.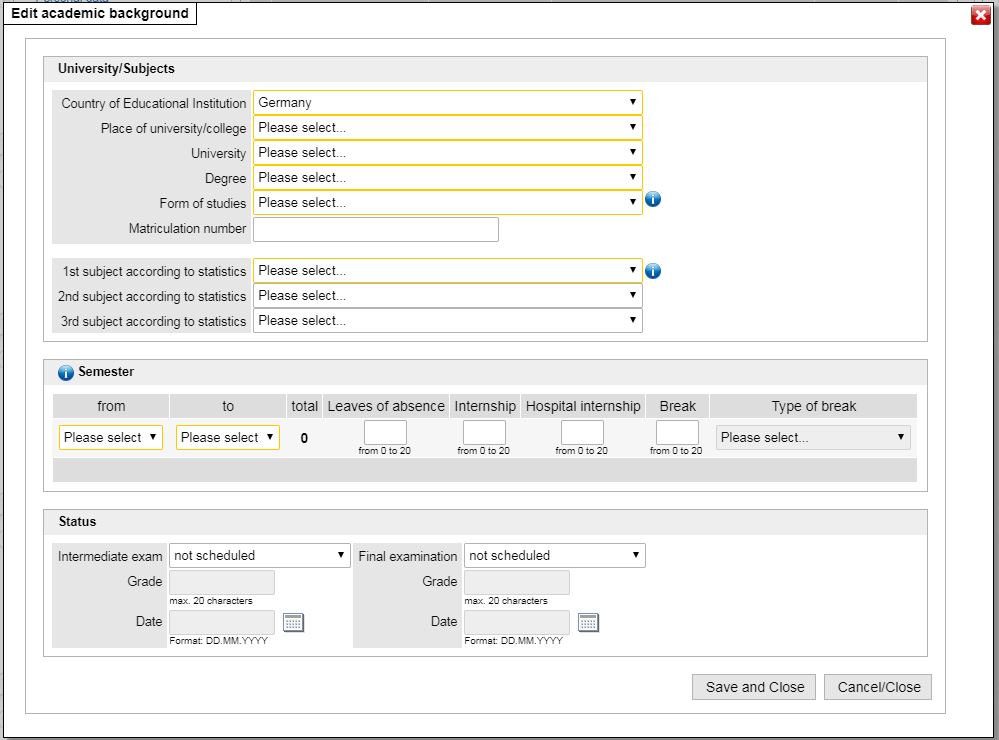 If you apply for Studienkolleg, you can skip this step.
The application for admission will be generated as a PDF document in your applicant account once the online application has been submitted electronically. You can only download it then.
It is therefore not possible to upload the application for admission at this point.
Please skip this page!
After sending the online application, please print out and sign the application for admission and upload it to your TUMonline applicant account. Only then will your application be complete.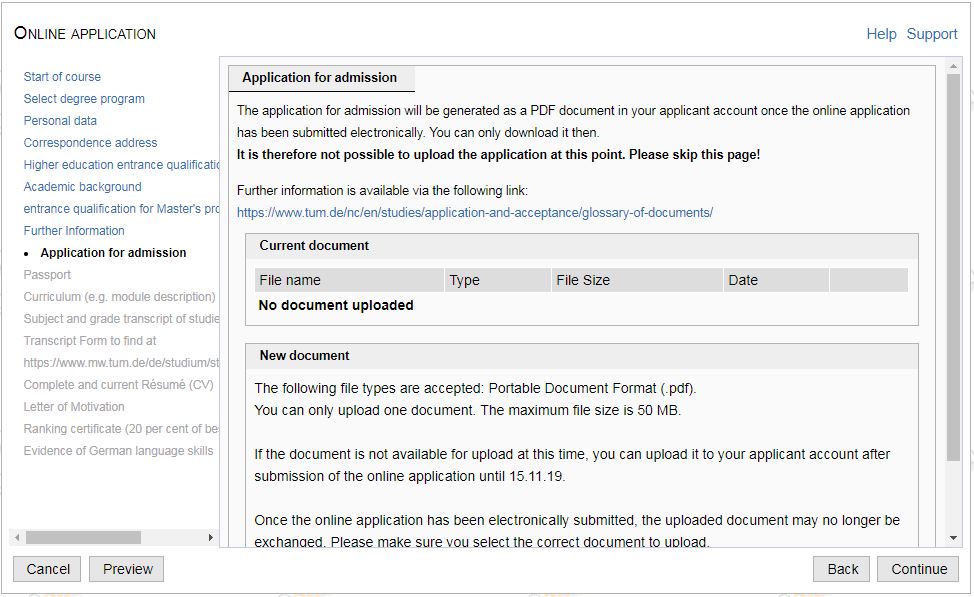 This is only a preview of your application. The application has not yet been electronically submitted. You can still exchange uploaded documents before sending! Once the documents have been sent, however, they may no longer be exchanged.
Please review the data you entered and ensure that you have uploaded the correct documents. Should you have chosen the wrong degree program or selected the wrong semester, you will have to start a new application.
Once you are certain everything is correct, click the SEND button to submit your application electronically, after you have ticked the appropriate box (at the bottom of this page).
If you cancel at this point, the incomplete application will be saved and you are free to submit it at a later point within the application period.
Sending the online application is the first step towards starting a degree program at TUM. You can view the status of your application in your TUMonline account. Here, you can also download and print your Application for Admission.
In the next step, please print out and sign the application for admission and upload it to your TUMonline applicant account.
Here, you can also upload any missing documents until the end of the application deadline. Click on the individual documents to display the respective upload deadlines.
Only complete applications can be processed. An application is complete when all documents have been uploaded on time.