TUM Center for Functional Protein Assemblies launched
Opening the door to the biomedicine of tomorrow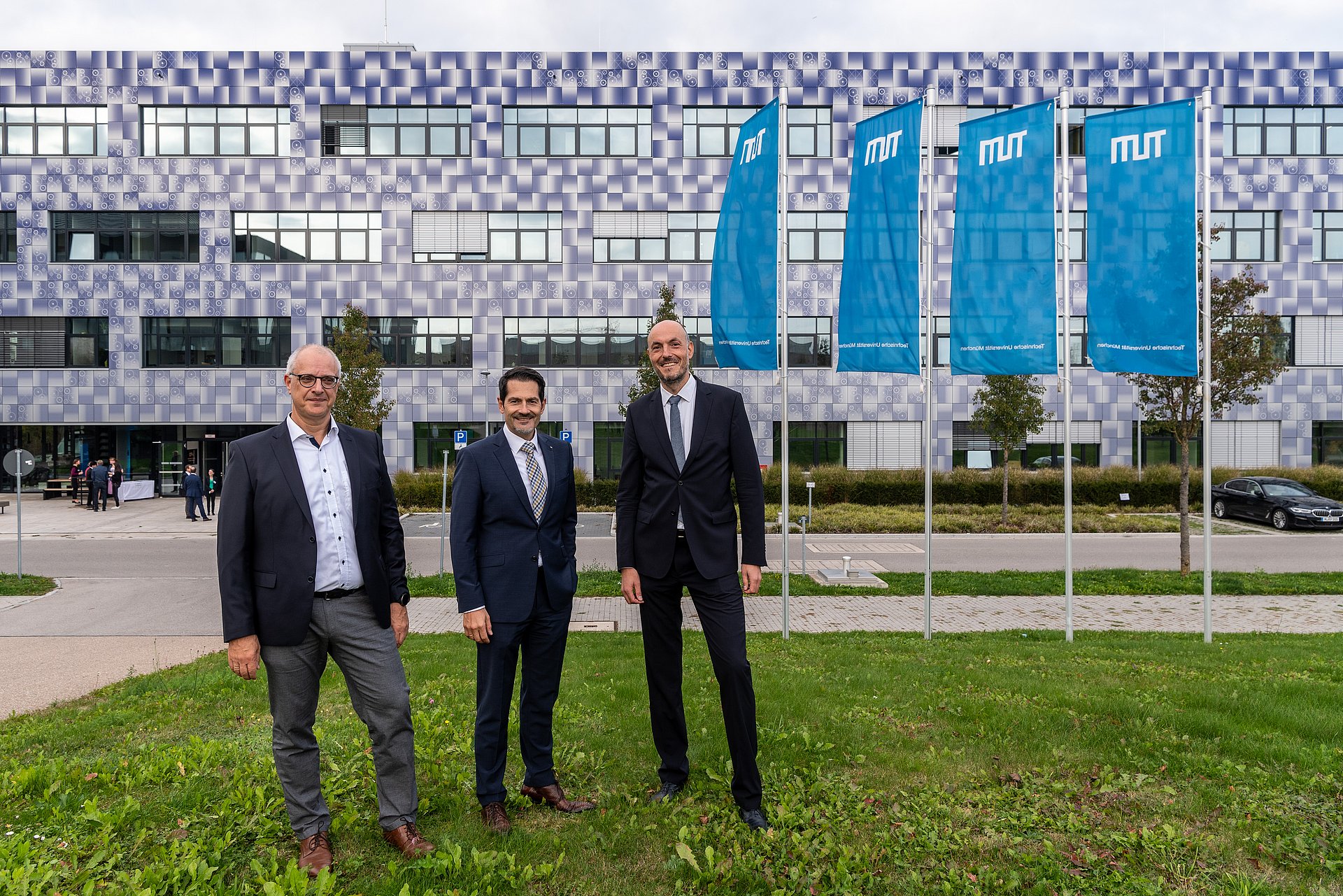 The highly diverse range of functionalities found in biological systems result from complex and dynamic protein interactions which go far beyond the functions of individual molecules in both qualitative and quantitative terms. Groundbreaking new biomedical applications require a better understanding of the specific interactions among proteins at structural and cellular levels and in the context of living organs. The new TUM Center for Functional Protein Assemblies (CPA) is dedicated to tackling this highly demanding research agenda.

As a TUM central institute, the CPA realizes the spatial convergence of excellent working groups and technologies across the boundaries of traditional faculties such as organic chemistry, biochemistry, biophysics, medicine and the engineering sciences. 130 scientists from 13 working groups will come together in approximately 4000 square meters to jointly decode the principles underlying the complex protein machinery of living systems and will thus lay a foundation for new biomedical applications.
Bavaria's Minister of Research Markus Blume said: "TUM is High Protein for all of Bavaria - it is logical that the new Central Institute for Protein Research has been established at the TUM campus in Garching. Research into the function and effect of proteins is elementary for us. Because behind this lies the question: How do we actually function? In the fantastic new research building, several international research groups are providing answers to this question - they are decoding the building blocks of life. The building is a real high-tech platform - and it's also highly energy-efficient!"

TUM President Prof. Thomas F. Hofmann comments: "Our new CPA will delve into the understanding of molecular fundamentals in a new qualitive sense. By living out an alliance of the natural and engineering sciences with medicine, we are focusing the effectiveness of our gifted scientific experts on a single common objective – the biomedicine of tomorrow."

CPA Director and cellular biophysics professor Andreas Bausch says: "The challenges of biological complexity call for a new quality of intermeshed multidisciplinary teamwork. This new research complex creates an ideal collaborative environment, with the latest modern laboratories and central technology platforms needed to continue working at the leading edge of international research. Creative fundamental research conducted among the scientific disciplines is a prerequisite for identifying new solution strategies and applications in biotechnology and thus being able to completely exploit their innovation potentials."
High-technology equipment and specialized laboratories
The newly built complex features large-scale high-technology equipment and specialized laboratories which all the researchers can use jointly and thus very effectively. This includes vibration-isolated measurement rooms with constant ambient temperatures for high-resolution optical experiments as well as high-security genetic technology laboratories. The CPA is a key component of TUM's global Munich Institute of Biomedical Engineering concept, which networks medicine, natural sciences and engineering sciences in a widely varied fashion to leverage potentials for diagnosing, treating and curing illnesses.
Further information and links
Technical University of Munich
Corporate Communications Center
Contacts to this article: