Scaffolds created by melt electrowriting aim to support new tissue formation
3D printed, bioinspired heart valves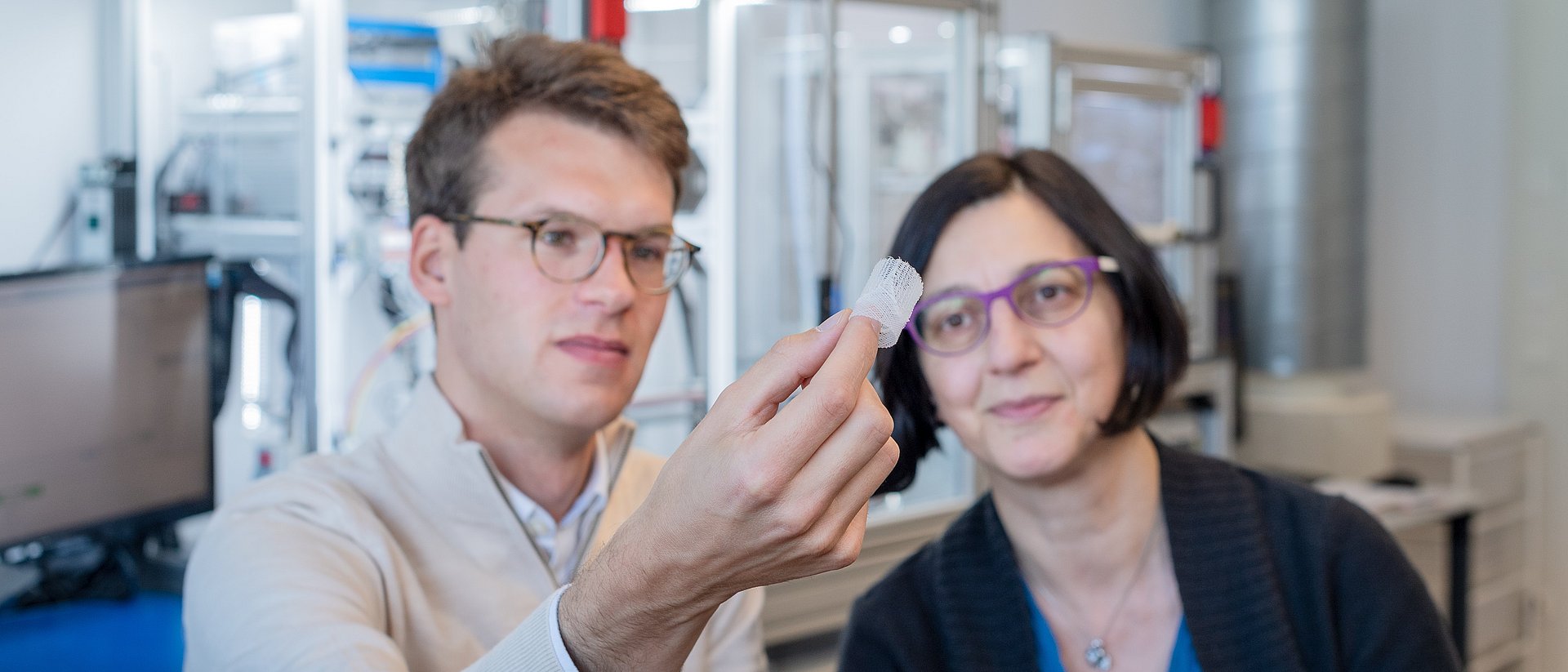 In the human body, four heart valves ensure that blood flows in the correct direction. It is essential that heart valves open and close properly. To fulfil this function, heart valve tissue is heterogeneous, meaning that heart valves display different biomechanical properties within the same tissue.
A team of researchers working with Petra Mela, Professor of Medical Materials and Implants at the Technical University of Munich (TUM), and Professor Elena De-Juan Pardo from The University of Western Australia, have now, for the first time, imitated this heterogeneous structure using a 3D printing process called melt electrowriting. To do this, they have developed a platform that facilitates printing precise customized patterns and their combination, which enabled them to fine-tune different mechanical properties within the same scaffold.
Saidy, N. T., Fernández-Colino, A., Heidari, B. S., Kent, R., Vernon, M., Bas, O., Mulderrig, S., Lubig, A., Rodríguez-Cabello, J. C., Doyle, B., Hutmacher, D. W., De-Juan-Pardo, E. M., Mela, P., Spatially Heterogeneous Tubular Scaffolds for In Situ Heart Valve Tissue Engineering Using Melt Electrowriting. Adv. Funct. Mater. 2022, 2110716. doi.org/10.1002/adfm.202110716
Mueller, K. M. A., Topping, G. J., Schwaminger, S. P., Zou, Y., Rojas-González, D. M., De.Juan-Pardo, E., Berensmeier, S., Schilling, F., Mela, P., Visualization of USPIO-labeled melt-electrowritten scaffolds by non-invasive magnetic resonance imaging, Biomater. Sci. 2021, 9, 4607-4612. doi.org/10.1039/D1BM00461A
Further information and links
Prof. Petra Mela and Prof. Franz Schilling are Principal Investigators at the Munich Institute of Biomedical Engineering (MIBE). MIBE is an Integrative Research Institute (IRI) within the Technical University of Munich (TUM) that fosters interdisciplinary cooperation and synergies between researchers from the broad field of Biomedical Engineering. At MIBE, researchers specializing in medicine, the natural sciences, and engineering join forces to develop new methods for preventing, diagnosing or treating diseases. The activities cover the entire development process – from the study of basic scientific principles through to their application in new medical devices, medicines and software. www.bioengineering.tum.de/en/
Prof. Mela also carries out research at the TUM School of Engineering and Design, Department of Mechanical Engineering.
Researchers from the following institutions contributed to the studies: the Technical University of Munich (TUM), Queensland University of Technology (QUT), RWTH Aachen University, The University of Western Australia and the University of Valladolid. SEM imaging of melt electrowriting scaffolds was performed at the Central Analytical Research Facility operated by the Institute for Future Environments and supported by Science and Engineering Faculty at QUT.
The research was funded by the Australian Research Council, the Centre in Regenerative Medicine, the German Research Foundation (DFG), the START-Program of the Medical Faculty of RWTH Aachen University, the Spanish Government, Junta de Castilla y León, Interreg V España Portugal POCTEP and Centro en Red de Medicina Regenerativa y Terapia Celular de Castilla y León. Open access funding was enabled and organized by Projekt DEAL.
Technical University of Munich
Corporate Communications Center
Contacts to this article: