Gifty Baffour Awuah – student, doctor, DAAD prize winner: a portrait
Expanding horizons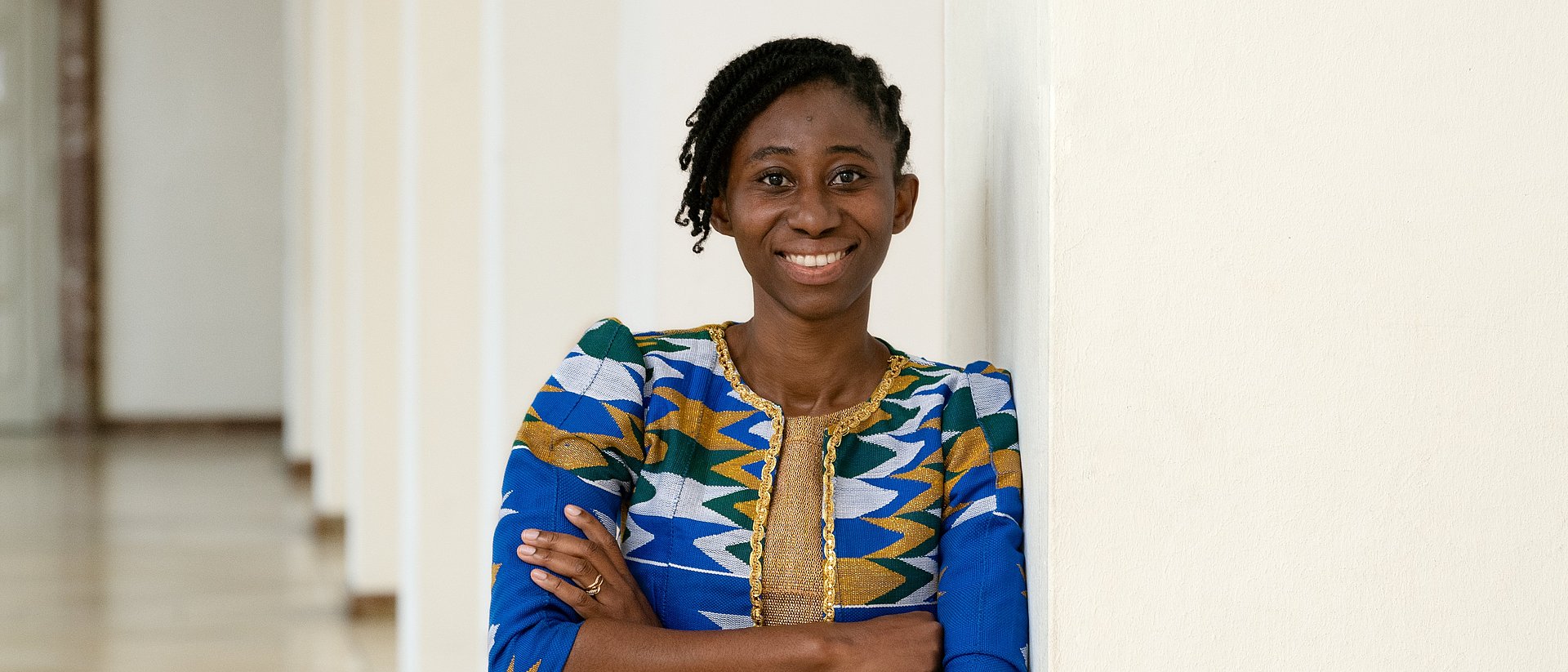 Gifty Baffour Awuah has no time for boredom. After completing medical studies in her home country of Ghana, she began learning German as a hobby. The young doctor made such rapid progress that her teacher advised her to go to Germany. Since entering the master's program Health Science – Prevention and Health Promotion of the Department of Sports and Health Sciences at TUM two years ago, 32 year old Dr. Awuah has stood out in lectures and seminars for her dedication and her valuable insights.
The German Academic Exchange Service (DAAD) has now recognized her outstanding work in the field of public health. By honoring students and researchers who take on responsibility, the DAAD Prize helps to build lasting networks with contacts around the world. In her heart, Gifty Baffour Awuah is at home in both countries: Ghana and Germany. The understanding between the two cultures is important to her.
Different healthcare systems
As one of the few students from sub-Saharan Africa in her program, in class discussions she often raises the needs of countries where healthcare systems are barely developed. There is too much focus on high-income countries and their perceptions of healthcare systems, she says. "I'd like to encourage people to look beyond their own world and show them that public health in other countries, for example in Africa, looks very different. In Germany there is this wonderful system of statutory health insurance plans – which creates more possibilities for preventive medicine. In Ghana the top priority is to provide medical treatment."
It is fair to say that Gifty Baffour Awuah was born into her passion for medicine: her mother worked as a nurse until she retired and trained midwives. Her father is a lab technician and the family lived in the staff quarters of a hospital. Gifty Baffour Awuah completed her medical studies in the Ghanaian capital Accra, where she received the Prof. H. H. Philips Prize for Physiology and the David Scott Prize for Community Health. She now hopes to have her qualifications recognized in Germany so that she can practice medicine here. She has already passed the German language exam for medical professionals. "I'd like to do something for women and work in oncology or obstetrics." She invests a lot of time and effort in her passion. "But I don't see it as work. I love improving my skills."
She is also active outside her studies: as a student assistant, she coordinates the course "Current social and political topics of sports in Global Societies" in the department of Sports and Health Sciences. She also supports the activities of the TUM graduate student center, volunteers with a food bank, and gives her friends free lessons in coding. In her home country of Ghana she was a voluntary member of the health board, the Korle-Gonno S.D.A. Church and at St. Theresa's Hospital in Nkoranza.
Gifty Baffour Awuah was presented with the DAAD Prize on November 25, 2021. She is thrilled: "I was genuinely surprised – and like everything here, it was a real adventure." She is particularly pleased that her husband – who lives in Ghana – was able to attend the ceremony. Until now, he had only known Germany from stories. Now she could show him her place of work in Munich and let him try her favorite German dish: a baked casserole topped with cheese.
Technical University of Munich
Corporate Communications Center