The "Deutschlandstipendium" at the TUM
"These young people are incredibly motivated"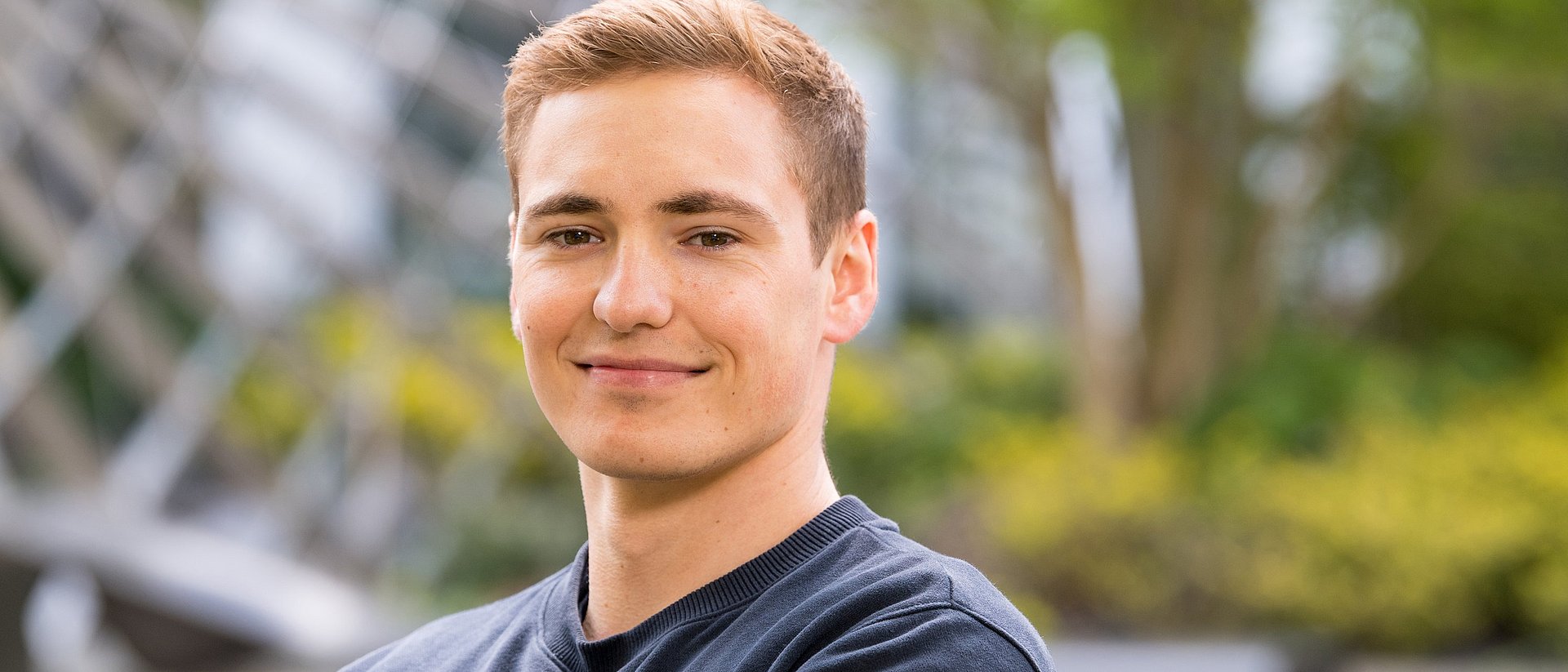 What are you students trying to achieve through mentoring? Why is it even needed?
What makes it special is that the teens we are mentoring can relate to us in much different ways than to mentors or social workers who might be decades older than them, for example. The mentees need to break out of their shell. The mentors are TUM students, most of them still undergraduates. Our mentees are generally 14–18 years old. They have come to Munich alone and are living in the Salesianum at Rosenheimer Platz, a residence for apprentices that now provides a home for young refugees. The idea behind the project – and my task as the project leader – is to match students with teens from Syria, Iraq or Ukraine. There are huge payoffs for both sides.
How much time and effort does this mentoring require on the part of the students?
I wouldn't put it that way. A mentor meets their young mentee once or twice a week. What they do is up to them. One of them recently told me: "I went to the Deutsches Museum with Samir (Note: All names of the participants have been changed). It was really fun." Others meet in the city for ice cream or learn German together. And some of our mentees are catching up with their high school education here. We can do a lot to help them with math or English.
So you give the young people a break from everyday life in the hostel and at school.
Yes, at least partly. That is the basic idea of our project. It's a lot more than just tutoring. It's about establishing a personal connection with the teens. And some cases the mentoring even leads to real friendships.
That sounds almost too good to be true…
What you should be aware of as a mentor: there are all kinds of personalities and individual situations. You might have somebody who has just arrived in Germany and can only say a few words. In that case, our first priority is naturally to help with the language – also to make it easier to communicate with the mentee. You have some who try to hide behind their friends from the same country in the hostel who speak better German. But others might have been here for three years and are now preparing for the final exams to complete an apprenticeship. In that case we will of course help with the exam preparations. Students at TUM will definitely have no problem with the material.
Do you feel the consequences of Russia's war of aggression on Ukraine in the mentoring project? Are you working with teens from Ukraine?
Until recently all of the teens we were mentoring came from the Near East. But more and more students are approaching us to volunteer. So I met the head of the Salesianum. He said: "It's great that you have more people. We have a new group in the hostel." They are all refugees from Ukraine who were at school there and were about to start university.
To what extent do these mentees pose different challenges for the volunteers?
Of course the ones from Ukraine have other needs. Almost all of them speak fluent German. They want to stay in Munich, finish school and then get accepted to study somewhere – for example at TUM. As the organizer, I match these young people with mentors, too. The main priority is to help them with their university applications.
Can you explain that in detail?
Yes, certainly. For example there is Denis. He is 17 years old and comes from Kyiv. He wants to study information systems at TUM. So I have set him up with a mentor who is in his fourth semester of that program. He can help Daniel better than anyone else and they had something to talk about right from the start.
How do the Ukrainian teens see the future?
They're incredibly motivated. I think that's fantastic. The girlfriend of somebody from the hostel came to one of our sessions because she had heard about the mentoring program. This girl was staying with a local host family. But she wanted to use the opportunity and ask us mentors about studying at TUM. She had concrete ideas and questions and wrote everything down in a notebook. I found a mentor for her, too.
But not everyone finds it that easy to make a fresh start in Munich.
Two young men in the group of Ukrainian refugees are originally from Nigeria. They moved to Ukraine to study and then fled to the west along with everyone else. They have quite a journey behind them. Tayo, for example, was studying in Kyiv and wanted to stay there. But when the air raid warnings became more frequent and his building started shaking, the Nigerian student packed his backpack. He ended up in Munich and was taken in by the Salesianum. Tayo would like to study here but that is even more difficult for him. Imagine you're already far from home and then have to flee a war because your host country is attacked.
You yourself had experience with mentoring young refugees before you took over as project leader.
Two years ago I had a 19-year-old mentee from Iraq named Zaid. He was doing an apprenticeship as a construction draftsman in Munich. As a civil engineering student, I was the ideal mentor at the time. When Zaid was getting ready for his final exam we met quite regularly. Of course I wanted him to do well and not fail. (laughing) Today he is working at a structural engineering office in Munich. We're still in touch occasionally.
To get mentors and mentees together, you invest a lot of time and effort. What exactly do you do?
Everything lands on my desk – and then I have to coordinate it all. When I match people, I look at the needs and interests of the mentee and then I see whether we have someone suitable at TUM. I organize meetings with the groups from the dorm or with everybody. That might sound simple, but there's a lot of psychology involved. I have to think about the right setting to introduce people who have never met before. Should I do a group session with icebreaking activities? Should I give a presentation? Or should I just get everyone together and see who pairs off? There's a lot to think about.
The Deutschlandstipendium, which you have been receiving for several years, is a big help for you. Would your volunteer commitment be even possible without it?
We Deutschlandstipendium scholarship holders receive 300 euros per month. Of course that takes a lot of pressure off. I've always worked parttime because the rent in Munich is of course not quite cheap. But the 300 euro payment has made it possible for me to work a bit less: where I used to work two days a week I was able to cut back to one. That means that the Deutschlandstipendium gave me the gift of time – that I was then able to use for my volunteer work.
Further information and links
Originally, most participants in the mentoring project were Deutschlandstipendium recipients. However, they have been joined in the meantime by friends and other students.
The experiences of the young people who have fled their countries of origin can have a heavy impact on the student mentors as well. That is one reason why Tom Hicks has arranged with the Salesianum for a point of contact for the students in case they need psychological support.
Technical University of Munich
Corporate Communications Center
Katharina Horban / Verena Meinecke

presse @tum.de
Contacts to this article: