OroraTech is the 2021 winner of The Spark – German Digital Award
Putting the fire lookout in orbit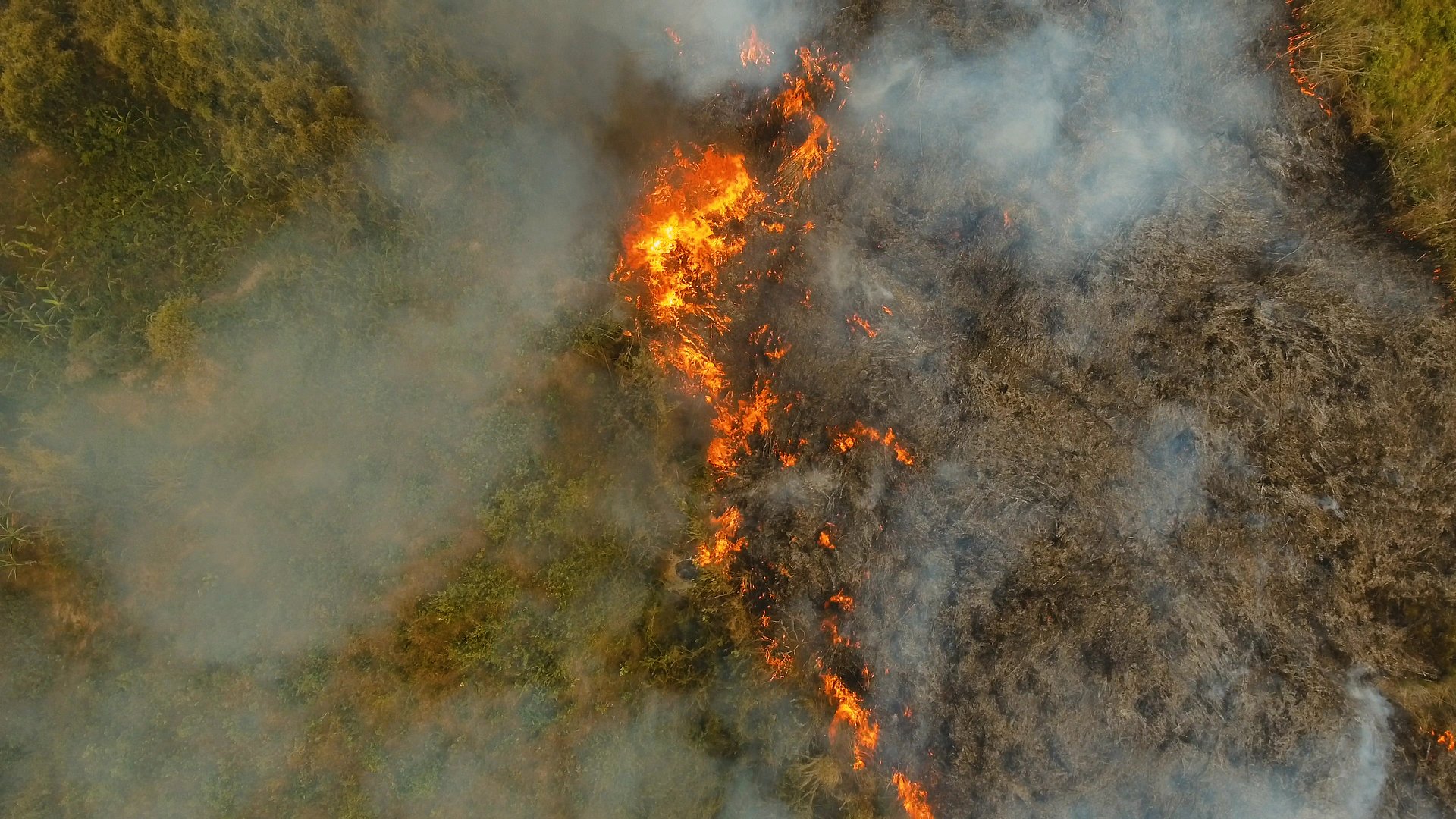 Extreme weather events are becoming more frequent everywhere in the world: Even at higher latitudes where heat waves and droughts were rare in the past, the risk of forest fires is on the increase. Dry conditions and winds cause the fires to spread and go out of control faster. Forest and bush fires not only destroy vegetation − they also fuel climate change.
"If we want to fight forest and bush fires, stop illegal slash-and-burn activity and thus reduce CO2 emissions, we need a global early warning system," says Thomas Grübler, one of the founders of the OroraTech startup. At present it can take several hours or even days before a fire source is identified and reported by ground-based fire watch crews, aircraft or drones, he explains. That may be long enough for a fire to spread over a considerable area. "Satellites facilitate quicker and more targeted tracking of forest fires. With this information, fire crews on the ground can fight fires faster and more precisely," adds Grübler.
From a passion to a career
Three years ago Thomas Grübler got together with Björn Stoffers, Rupert Amann and Florian Mauracher to form OroraTech GmbH. The goal was to set up a satellite-based early warning system for bush and forest fires. Three of the four young entrepreneurs had already worked together at TUM, developing and building small satellites in the student research group WARR – the Scientific Working Group for Rocket Engineering and Aerospace. Grübler gained his first experience in entrepreneurial thinking and action through his participation in the "Manage and More" program.
The founding of the start-up was supported by TUM Gründungsberatung and UnternehmerTUM, the Center for Innovation and Business Creation at TUM. In addition, they received an EXIST scholarship, funded by the Federal Ministry for Economic Affairs and Energy (BMWi) and the European Social Fund. Prof. Alexander Koch from the Chair of Measurement Systems and Sensor Technology and Prof. Ulrich Walter from the Chair of Astronautics assisted them as mentors.
The OroraTech team has since grown to more than 50 employees. The young company has now completed the development of a forest fire alert app that combines satellite-based heat measurements with local weather data or camera system input for any location in the world, seeks fire sources, and sends alerts. The platform is already being used by users all over the world, including fire departments and authorities in Canada and Australia, forest owners in Chile and Brazil and insurance companies and NGOs. In the future the app will also be made available to urban planners, for example to localize regional hotspots in heavily populated areas and check data against archive material.
Company-owned nanosatellites for more precise observations
The algorithms generating the analysis are still using data provided by the big earth observation satellites operated by ESA and NASA, for example. "However, the positioning of these scientific satellites results in an observation gap in the afternoon hours – a high-risk time for forest fires. With small satellites covering new orbital levels, we can close this gap and improve the temporal resolution," explains Dr. Martin Langer, an alumnus of the TUM Chair of Aeronautics and the CTO of OroraTech.
The nanosatellites used to detect forest fires, which weigh less than 4 kg, are now being built in the company's Munich lab. Each will be equipped with a thermal infrared camera. The first satellite will travel on board a rocket launched by a space transport service provider in early 2022. At least one more will follow in the same year. The financing is in place: The company founders have raised 5.8 million euros in venture capital.
"If all goes according to plan, we will launch 14 nanosatellites over the next two years to close the coverage gaps of the large earth observation satellites. This would represent major progress for our customers. From there we can scale up the system to provide 30-60 minutes advance warning," says Langer.
Fourth win for TUM spin-offs
The start-up is already receiving recognition for its idea. The young founders won "The Spark – The German Digital Award 2021". The award was given to companies that make a contribution to combating climate change.
This is the fourth victory for TUM spin-offs in the digital prize "The Spark". In 2018, the spin-off MAGAZINO won. The company develops and builds perception-controlled, mobile robots for intralogistics. In 2019, first place went to Blickfeld. The company has developed a particularly powerful yet cost-effective lidar sensor technology that is considered a key technology for autonomous driving. In 2020, the start-up TWAICE secured first place. TWAICE has developed software that can be used to optimize and analyze lithium-ion batteries.
Further information and links
Every year TUM spawns 70 to 80 technology-focused spinouts. TUM and UnternehmerTUM support start-ups with programs tailored to the various phases of building a business – from creating the business model to management training, and from market entry to a possible IPO. TUM Venture Labs offer an entire research ecosystem for start-up teams working in important scientific fields. Up to 30 teams can use offices in the TUM Incubator to prepare for the launch of their companies. Through its own venture capital fund, UnternehmerTUM invests in tech companies displaying strong potential and offers the MakerSpace, a 1,500-square-meter high-tech workshop for prototyping. According to "Gründungsradar," this support is the best at major German universities.
Technical University of Munich
Corporate Communications Center