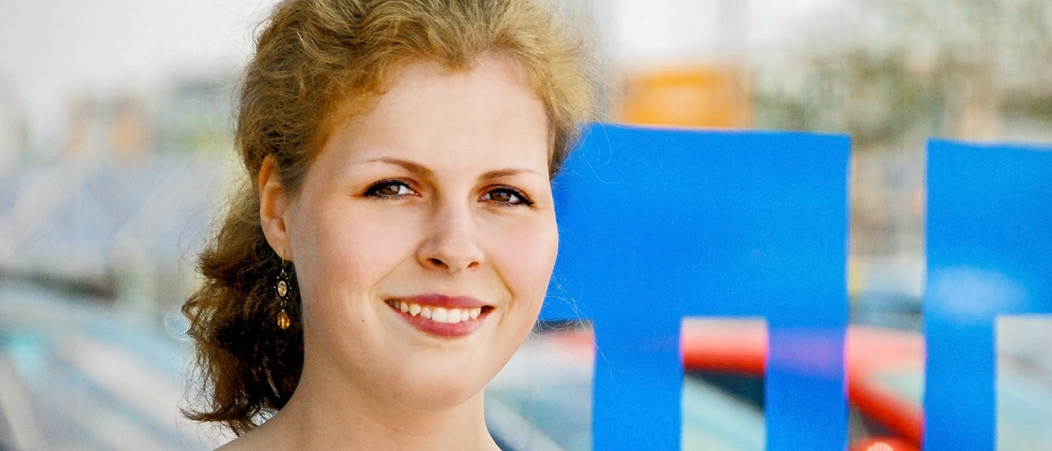 Katharina Kollenda is studying engineering at the Munich School of Engineering (MSE). The Munich native has been sponsored by the Deutschlandstipendium since April 2013. In the interview, she speaks about her involvement in the Student Association, among other things – and why she can only recommend becoming involved in student organizations.
Why are you studying engineering?

Katharina Kollenda: General Engineering Sciences at the MSE provide me with broad scientific and technical basic studies. We learn about approaches to solving problems from different perspectives, from professors from diverse disciplines. That's challenging – and ideal for preparation in interdisciplinary careers. Additionally, we are well taken care of and could co-create a great deal. And it appealed to me that a great part of the lectures are held in English.

And later on...?

Katharina Kollenda: I am mostly interested in electrical engineering. I would like to specialize in the direction of electrical energy supply and would also like to do a Master's degree in this field. Therefore, the sponsorship from Siemens Energy is also a unique opportunity for me to get better acquainted with potential professional fields.

How are studies at the TUM?

Katharina Kollenda: I personally feel very good at the TUM and enjoy my daily student life! One still stands out as a female in a technical field, but the choice of one's field of study should not be influenced by this. I can only encourage future female students to opt for engineering studies. The TUM offers me, as well as every one of its students, many possibilities for further development. Be it for my studies or for my personal development.

How did you learn about the National Scholarship Program Deutschlandstipendium?

Katharina Kollenda: I learnt about it from fellow students at the TUM and from program flyers. Then I got informed over the website and spoke to scholarship holders. When I decided to apply, I was very grateful for the quick and uncomplicated online application. I received my acceptance in the middle of exam preparation period – that was a really special motivational push!

What do you expect as a new scholarship holder?

Katharina Kollenda: I am excited about the award ceremony and look forward to meeting employees from my supporter, Siemens Energy. As a scholarship holder it would be great to be able to get an insight into the company and perhaps to even have a personal contact person there. I really hope that there will also be some active exchange among scholarship holders!

What do you think about the program and about the selection criteria to date?

Katharina Kollenda: I find it appropriate that volunteer student involvement is also valued during the selection process at the TUM, since I find the personal commitment of members for their confraternity to be especially significant. As head of the MSE Student Association, I would like to contribute and do my share in ensuring good years of study for my fellow students and for myself.

What exactly is your involvement in the Student Association?

Katharina Kollenda: For three semesters I have been head of the Student Association at the MSE and responsible for the work and development of the association. I would like to take part in shaping my studies and the Student Association provides me with the best opportunities to do so. We organize activities that promote solidarity among students and we represent their interests to university boards. Thereby we have a share in improving student life at the TUM. I wish that more people could be drawn in because working in a student association is a lot of fun. Developing and implementing new ideas as a team and establishing personal contacts with professors and employees is exciting. Seeing my university from other perspectives is very enriching.