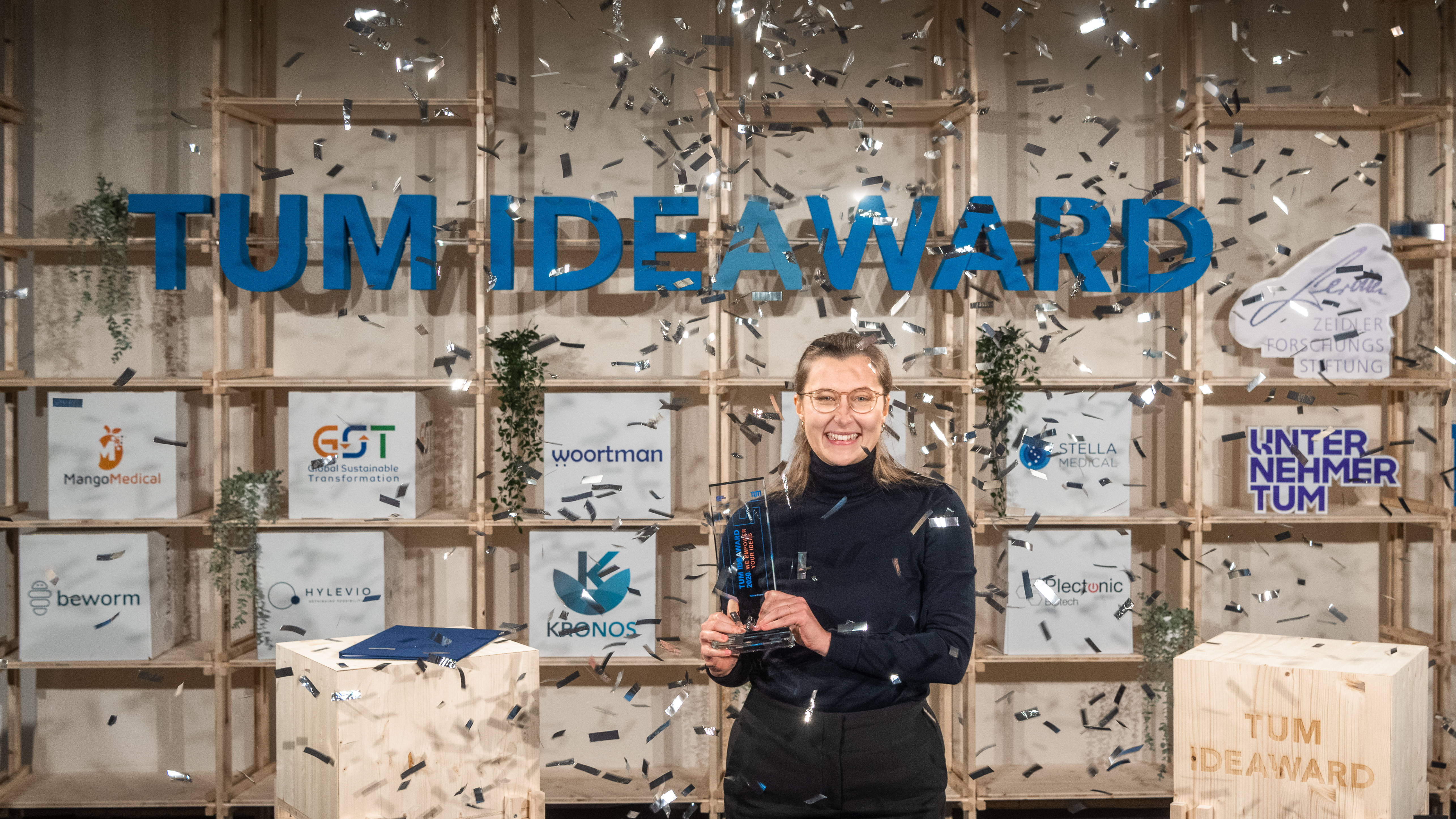 TUM IdeAward 2020
Come and join us for this year's first virtual TUM IdeAward 2020!
On Thursday, 26.11.2020 we will stream the annual idea competition of the Technical University of Munich live to your home.
You can expect ten innovative ideas and/or technologies that have been pre-selected by an expert jury from all competition entries. The participants will once again present these live for you on November 26th.
At the end of the competition, the three most promising start-up ideas from the field of science that are expected to have a large market potential will be awarded prizes, giving them the chance to win prize money totaling 37,500 euros.
Apart from exciting idea pitches, a stage program with a keynote speaker, start-up Q&A and award ceremony await you again this year. In addition, there will be another opportunity to exchange ideas live with the teams in our networking session afterwards.
Note: The event will be held in English. Only registered users will have access to the live event. Registration is open until 26.11.2020, 8 a.m. CET.
Program:
| | |
| --- | --- |
| 5:00 p.m. | Keynote: The start-up journey of Kewazo: how to benefit from an academic environment – Ekaterina Grib, KEWAZO Co-Founder and IdeAward winner 2017 |
| 5:30 p.m. | Ideas arising in times of uncertainty – Q&A with Felix Schwencke, Streavent Co-Founder and CEO |
| 6:00 p.m. | Pitch of the 10 IdeAward finalists & award ceremony |
| 6:45 p.m. | Virtual Networking |
The 10 finalists of the IdeAward 2020 in a short introduction:
Beworm is developing a biotic recycling process to degrade oil-based plastics like polyethylene (PE). PE is the world's most used plastic material and therefore crucial for the pollution of the environment. For a long time, these materials were considered non-degradable, but in recent years research has documented over 90 different organisms, microorganisms and biomolecules that are able to break down these long-chain polymers.
The team is trying to find the right mix of microorganisms to decompose PE into its building blocks, which can be reprocessed into raw material for new plastics or other petrochemical products. Unlike similar projects, Beworm focuses on the industrial application and implementation of the technology as much as on the scientific basic research. This leads to a faster and more market-oriented development. If the process is successfully optimized, it could be a milestone in the fight against plastic contamination and turn plastic production into a circular process.
Plant oils are the most consumed food, after rice and wheat. Palm oil alone acquires 35% of the food-oil market. Due to increased demand, the large plantation of palm trees has associated with the loss of vast stretches of rainforest, endangering biodiversity, and emitting a massive amount of GHGs. Yeast oil has been posed as an alternative oil source that can replace palm oil as both are identical. We, therefore, offer a unique built-in technology platform for yeast oil production that allows, first-time, industrially scalable with high oil-productivity, and low production cost. Accordingly, any waste stream can be converted, by yeast, to high-value oil without resorting to the distractive monocultures. Unlike other yeast oil providers, no GMO is used, no toxic solvents are needed, and no waste streams are generated. Additionally, produced oil is pure, and has high oxidative stability thus it can be directly used without any refining.
The dream of flying – emission free and realized through an innovative and future ready propulsion system. Nowadays, air taxis are powered by batteries. So, what's the problem? Heavy batteries drastically reduce the air taxis' flight range, concepts are complex, and a new infrastructure is needed for recharging. And with batteries being constantly replaced these concepts are not even really sustainable.
At HyLevio we are using an innovative hydrogen propulsion system, which allows us to not only fly more sustainable but also longer and with significantly increased range. Therefore, we create a new kind of air taxi to transport our passengers safely and fast from city to city – not just from the city center to the airport. Using hydrogen, the transport is not only more sustainable but also cheaper. Plus, it is actually safer than batteries.

Our mission: unleash the power of hydrogen to realize the dream of flying – emission free.
How do farmers avoid fertilizer overapplication and protect the environment, when climate change and weather extremes, like droughts, increase and they don`t know how their crops develop? Famers need yield information far before the harvest to make the best management. Kronos develops yield predictions with machine learning and big data clusters. Based on that Kronos provides automated fertilizer recommendations with concrete details about the applications in the season. Kronos manages the fertilizer strategies in an intuitive web application to synchronize the need of nutrients and the yield of every single field. That´s how farmers save money and protect ground water. Competitors use satellite imagery to show biomass differences in the fields, without any explanations or regardless to the complex system of the nature. Kronos works on data-driven knowledge about plant growth. Therefore Kronos connects agricultural Know-how and quantitative datasets for the strength in precise plant growth modeling.
Antibody-based immunotherapies have great potential for the treatment of tumor diseases. However, an over-stimulation of the immune system can lead to side effects that require the therapy to be discontinued. This overstimulation has two causes: First, the target antigens are often present both on the tumor tissue and on the healthy tissue. Secondly, the antibodies are active throughout the body and not only locally on the tumor. In order to solve these problems, the team and its mentor Prof. Dietz have developed an "on/off button" for antibody immunotherapies. This is an ultra-miniaturised nanoswitch made of DNA. The nanoswitch can specifically recognize tumor cells and recruit the body's own immune cells to fight these cells. This enables the immune system to fight tumor cells in a targeted and "on demand" manner and leads to lower activity on healthy tissue and thus to fewer side effects.
Simulations of bone surgeries have long been possible. They make surgery shorter and safer. However, they are rarely used in the clinical routine. The reason for this is the complex preparation. Special knowledge,hardware and software are required. With the new software from Mango Medical, surgeons can prepare bone operations on a standard computer - without a specially trained technician and without expensive hard- and software. Thus, even time-critical trauma operations can be prepared quickly and easily. The use of machine learning enables an intuitive interaction between software and surgeon. Valuable time is saved while surgical safety is increased.
Our strength is the team. We combine expert knowledge in the fields of artificial intelligence and computer-assisted surgery. Furthermore, we are independent. Manufacturers of alternative technolgies force users into a fixed ecosystem. We offer an open platform in which the user can freely decide on the technological implementation.
Urinary tract infections are among the most common hospital-related infections with a share of approx. 25 %. Over 80 % of the urinary tract infections are associated with the use of a catheter. Puray develops a self-sterilizing catheter to prevent CAUTIs (Catheter Associated Urinary Tract Infections). With our device we provide hospitals, especially ICU departments with a not yet existing solution to a severe problem without changing the workflow for the hospital staff. We developed the idea during an on stage observation phase at the hospital with iterative feedback from doctors and Med Tech experts.
Solid-liquid reactions play a key role in all process industries, especially in the pharma and water treatment sector. Thereby, (bio) chemical or physical interactions between a liquid and a particulate solid phase take place by means of material transport. However, established procedures harbor procedural weaknesses limiting the transport rate and thus the techno-economic efficiency: process time, footprint, use of resources and waste generation are currently far too high. This is due to the limited usability of small solid particles, which, however, are desirable due to the higher interaction surfaces. SIDERION solves this problem with a highly efficient rotating bed reactor. The innovative essence is the use of a planetary gear to generate periodic centrifugal forces, which keep the particles in an oscillating motion and prevent clogging of the particle bed while maximizing the transport rate. Therefor the reactor chamber rotates around its own axis while moving on a circular path; like the earth does around the sun.
Surgical navigation systems are for example used during spinal fusion surgeries. Current solutions are costly, large in size and complex to use. That is why we envision a new way of surgical navigation. Our user-friendly, small-size system provides a cost-effective yet precise way of placing so-called pedicle screws into vertebrae.
We use latest computer vision technology and a unique user interface to navigate surgical instruments. By using our system, pedicle screws are placed with enhanced precision. This precision minimizes medical complications for the patient and provides additional assurance for the operating surgeon.
The cultivation of bacteria, yeasts or microalgae on a 100-1000 millilitre laboratory scale is mainly carried out either in simple Erlenmeyer flasks or in more complex bioreactors with extensive peripherals. Woortman manufactures a cultivation system that combines the practical ease of use of a shaking flask culture with the complete process monitoring of bioprocess engineering. The unique unambiguous and self-explanatory combination of a culture vessel and the process control unit saves hands-on time and training effort.
TUM IdeAward 2020 - Application phase closed
Do you have a new idea and/or technology with high market potential? Does it face social challenges and create added value? Then apply for the TUM IdeAward 2020. Convince the jury of experts and the top three win prize money (1st Place: 15,000 Euros, 2nd Place: 12,500 Euros, 3rd Place: 10.000 Euros) as well as an individual start-up coaching that supports your idea until its market entry.
Participation is open for Scientists, graduates (Bachelor, Master, PhD), employees and alumni (up to 5 years after graduation) of the TUM.

Our Cooperation Partners
UnternehmerTUM – the Center for Innovation and Business Creation at TUM – helps enterprises and start-ups seize the challenges of our time and create successful new businesses.
Zeidler-Forschungs-Stiftung promotes research in a number of areas, including the natural sciences and engineering, and nurtures young scientists working in these areas.
Contact
Technical University of Munich
TUM ForTe – Office for Research and Innovation
Arcisstraße 21
80333 München
TUM IdeAward – Award Ceremony
Anna-Sophie Rauschenbach
Projektmanagerin Marketing & Events
Tel. +49 89 289 22636
Fax +49 89 289 25245
rauschenbach(at)zv.tum.de
TUM IdeAward – Competition
Kathrin Söllner
Entrepreneurship Culture
Tel. +49 89 289 25502
Fax +49 89 289 25245
soellner(at)zv.tum.de