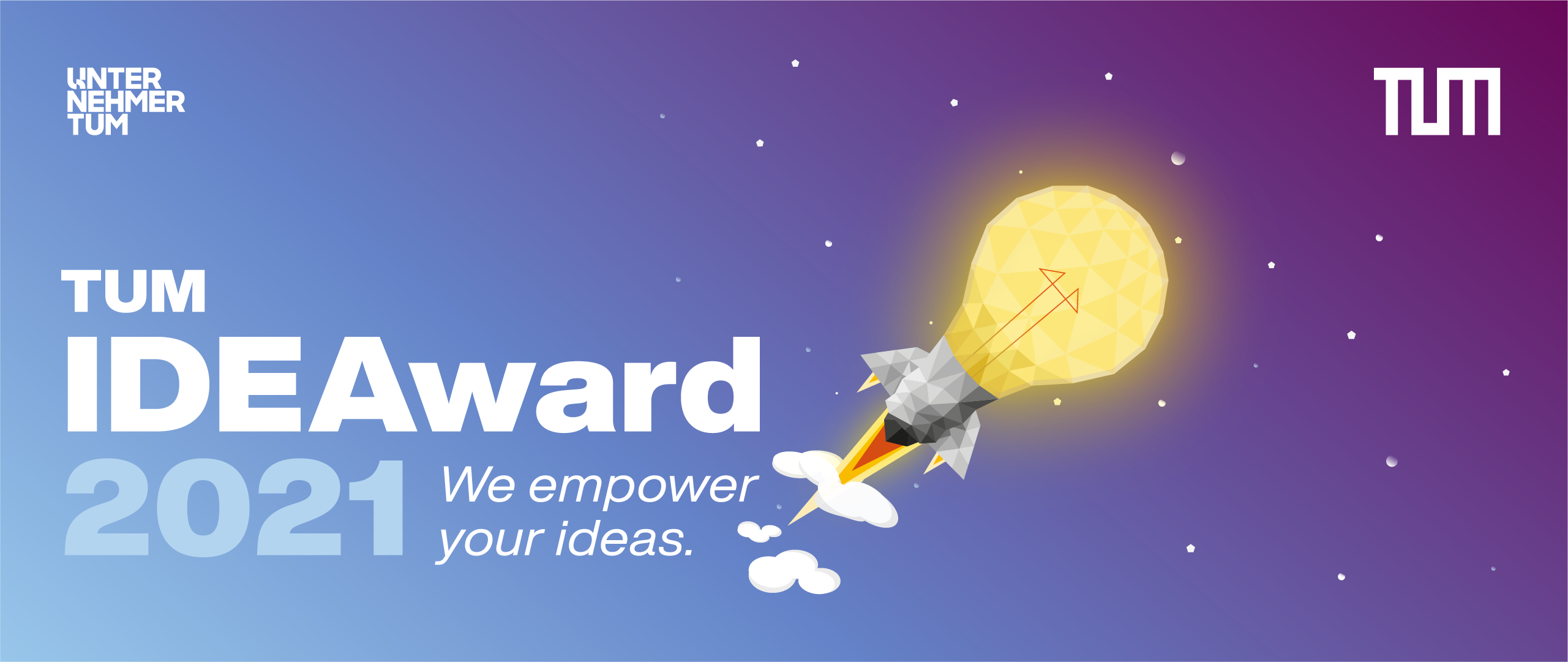 TUM IDEAward
Every year on the last Thursday in November, TUM and UnternehmerTUM host the TUM IDEAward, the annual idea competition at TU Munich, supported by the Zeidler Research Foundation.
Ten founding teams are waiting that day to present their exciting and innovative ideas and/or technologies to the audience. They have been pre-selected from countless competition entries by a jury of experts and have made it to the final round of ten finalists.
In the end, the three most promising start-up ideas from the field of science, which are expected to have a great market potential, will be awarded and thus have the chance to win prize money totaling 37,500 euros.
In addition to exciting idea pitches, the stage program is accompanied annually by keynote speakers, start-up Q&A and award ceremony. In addition, there will be another opportunity to talk live with the teams in the networking session afterwards. In 2021, the new TUM Global Deep Tech IDEAward will also be presented for the first time.
SAVE THE DATE: THE TUM IDEAWARD 2022 WILL TAKE PLACE ON November 24, 2022.
Program 2021:​​​​​
| | |
| --- | --- |
| 05:00 pm | Welcome! |
| 05:05 pm | Keynote: I have an answer, who has a question? – How to transform great research into real customer value (Antoine Leboyer, Managing Director TUM Venture Lab Software/AI) |
| 05:30 pm | Global Deep Tech Venture IDEAward – Finalists & Award Ceremony |
| 06:00 pm | IDEAward Throwback – Q&A with Laura Schütz, Co-Founder Stella Medical & Winner of TUM IDEAward 2020 |
| 06:10 pm | Pitch of the IDEAward Finalists |
| 07:10 pm | Award Ceremony TUM IDEAward 2021 |
| 07:30 pm | Get Connected – Networking Session |
The finalists of the IDEAward 2021 in a short introduction:
Bioplastics stand for an excellent opportunity towards sustainable packaging consumption. However, they are often criticized since they are not always biodegradable. Furthermore, bioplastics are usually produced using land-based agricultural raw materials creating a trade-off between food security and plastic production.
As a response to this issue, we are developing a bioplastic made of Ulva lactuca seaweed. This guarantees a substantial reduction in the usage of fossil fuels, pesticides, and freshwater; and also a decrease in greenhouse gases emissions, and waste production. Our business model aims to grow seaweed in their natural environment in cooperation with coastal communities.
By utilizing the sea potential, we can create a cost-efficient bioplastic packaging that allows our customers to deliver their products safely while reducing their environmental footprint.
There are more than 500 million people suffering from several respiratory diseases globally. 65 million people alone suffer from chronic obstructive pulmonary disease (COPD) and 3 million die from it every year, making it the third leading cause of death worldwide. Patients that are suffering from respiratory diseases are prescribed respiratory physiotherapy by doctors. While these patients perform breathing and physical body exercises in one-on-one therapy sessions with their physiotherapists, they need to continue performing these exercises at home without the supervision of experts. Breathment is a web-based software that digitizes respiratory physiotherapy for physiotherapists and their patients. It guides patients on how to perform their exercises correctly, while monitoring them at the same time through the camera of their mobile device. Breathment gives patients instant feedback based on their performance through its artificial intelligence (AI) technology. In addition, it provides physiotherapists a data-driven tool to optimize and control the treatment based on their patients' individual needs, without physical presence.
The brain activity of gamers is measured with an EEG, translated into emotions and mapped to the elements of a tested game. Brainsight thereby displays accurately and objectively which emotions gamers feel at any moment and any location of the game. Playtesting depicts one of the most important tasks of the entire development life cycle of a game. However, game developers do not have any method yet to test games objectively, which is why they perform surveys with gamers to test and validate their games. This approach is highliy subjective, extremely time-consuming and not informative. Brainsight offers the first and only objective playtesting. The amount of information in the measured data is enormous and thanks to easily accessible visualizations, the data is easy to interpret for the develpers. With Brainsight, game developers are able to identify gameplay problem faster and can therefore create a greater UX. The major innovation lies within the technology that extracts emotions from the measured EEG data and automatically maps them to every moment and location of the gameplay. To do this, Brainsight developed several ML algorithms.
A Paper-based POC diagnostic device for UTI and antibiotic resistance detection
Bacterial infections and the massive increase of antibiotic resistance around the world are already one of the biggest challenges of global health. Around 150 Mio. people, especially women, are affected by urinary tract infections (UTI) each year, which make UTIs one of the most common infections worldwide. At the same time, nearly 1 Mio. patients die from infections, caused by resistant bacteria each year.
BugSense is developing a low-cost, paper-based testing device, which can detect UTIs as well as antibiotic resistant pathogens, analyzed by a smartphone-application. Our easy-to-perform test does not require any medical experts, time-consuming logistics, or laboratories and ist therefore also applicable in rural areas, without access to health care. The test assures that patients will get a personalized treatment, thus decreasing treatment time, the risk of complications and the development of antibiotic resistances. The environmental impact of UTI diagnostic is reduced, as no plastic consumables are needed and transport routes for samples and patients become redundant.
90% of trade is carried by sea, but the vast majority of cargo vessels in use today run on the dirtiest fuel that is out there. At the same time, the shipping industry is not capable of reacting to an increasingly dynamic and decentralized economy. We tackle these problems with an innovative patent-pending, autonomous micro cargo ship that is powered solely by wind energy. You can imagine it as the 21st century version of a sailing ship, just a lot faster, more efficient and above all reliable. The ship's main propulsion is an Airborne Wind Energy system, whose main component is a kite that flies at an altitude of 100 - 300 m. Our newly designed ship hull makes it possible to harvest wind energy in the most efficient manner and directly transform it into forward motion of the ship. In effect, our solution not only eliminates emissions entirely, but also accelerates cargo delivery and enables customized routing given its individualized transport capacity of 16 containers.
Over the last decade, targeted therapeutics became an important cornerstone of the pharmaceutical industry. However, their discovery is time-consuming and expensive. To solve that, we develop a novel molecular sensor that enables affordable and rapid screening of molecules to find new targeted drugs. The idea originates from our PhD-theses at the Chair of Biochemistry (Prof. Michael Groll) of the TUM: In contrast to established methods, our screening approach works without expensive analytical devices and is faster due to a parallelized, fully automatable workflow that generates results after 2 hours. We envision to establish a fee-for-service model to serve pharmaceutical companies for screening their protein targets against our proprietary library of thousands of molecules.
Nepsum is developing a floating offshore wind and wave power platform. One Platform capable of producing power or water for hundreds of thousands of people and so at a scale necessary to complete achieve carbon neutrality. Our Design is simple and scalable in order to be used to both developed and developing countries and so like the effects of climate change our team is international with a global outlook. Students from different universities joined together to work on the project: our home in TU Munich. We volunteer our time to build and walk the path to a future in which all countries can achieve a reliable renewable energy grid and water scarcity is no longer an issue.
Quantum technologies aim to control fundamental properties of matter, such as entanglement or quantum coherence, to use them for computation, communication, or sensing. One crucial quantum platform is the nitrogen-vacancy (NV) centre in diamonds, representing a fully functional qubit at room temperature. The NV centres capabilities have been strikingly demonstrated as an outstanding quantum sensor for magnetic fields, temperatures, and pressure with widespread applications ranging from medicine to aerospace. However, currently, diamonds are only sold according to their crystallographic properties. Thus, research groups and industry must generate the NV centres in a complicated and tedious multi-step process requiring significant time, financial resources, and expertise. We are developing and refining the NV centre generation to produce diamonds with optimized quantum properties - ready to use with their respective quantum application in mind. The commercial availability of such NV diamonds will lay the foundation for a simplified entry and acceleration of research and development in quantum technologies.
Our Cooperation Partners
UnternehmerTUM – the Center for Innovation and Business Creation at TUM – helps enterprises and start-ups seize the challenges of our time and create successful new businesses.
Zeidler-Forschungs-Stiftung promotes research in a number of areas, including the natural sciences and engineering, and nurtures young scientists working in these areas.