Dies academicus: Annual Academic Celebration 2017
A prominent guest and the start of a special year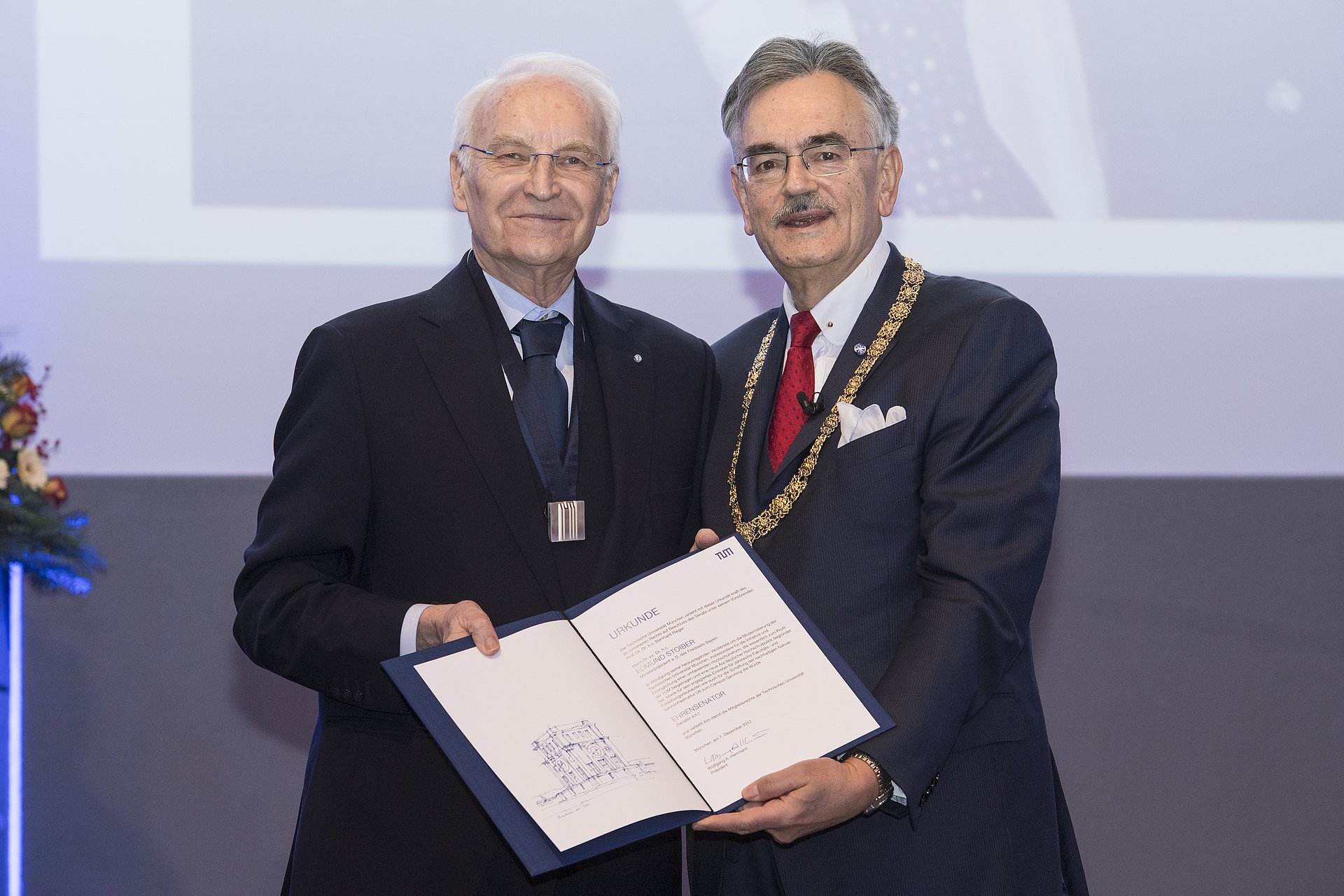 TUM can look back on modest beginnings, boasting 400 students and 24 professors in its first year, 1868. Today, 150 years later, there are over 41,000 students and about 550 professors. "What began 150 years ago as a small royal Bavarian polytechnic school in Munich is today a world-class university," said TUM President Herrmann at the 2017 annual academic celebration.
The university will celebrate its anniversary with a wide variety of activities. The highlights will be a ceremony on April 12 with the German President and the Bavarian Minister President, an exclusive performance of "Die Meistersinger von Nürnberg" ("The Master Singers of Nuremberg", premiere 1868) at Munich's National Theater on September 27, and an open house day on October 13 at all of the TUM sites. In addition to the outlook for the upcoming gala year, Dies academicus was also an excellent opportunity to review the last 365 days:
Constant growth
Whether as the groundbreaking for a new center for protein research, the christening ceremonies for the central infrastructure project "GALILEO" on the Garching campus or the opening of the Center for Translational Cancer Research (TranslaTUM); whether as the opening of the fourth TUM campus in Straubing or in the form of planning for an additional site for the TUM School of Management in Heilbronn: The pace of the university's enormous growth kept stride in 2017.
Two anniversaries
Informatics: Two TUM departments celebrated their 50th anniversaries in 2017. The degree program "Information Processing" was offered for the first time in winter semester 1967/68. Today, TUM is considered one of the world's best teaching and research sites for Informatics. At present 39 professors teach at the Department of Informatics, including five Leibniz prize winners and two Humboldt professors.
Medicine: The TUM School of Medicine has been a phenomenon since its founding in 1967. To this day technical universities with their own medical research facilities remain a rarity. The TUM School of Medicine with its university hospital Klinikum rechts der Isar benefits from this combination: The interaction of leading-edge medicine and strong engineering and natural sciences generates innovative research projects on a regular basis.
New faces and new facilities
As is the case every year, 2017 also saw the arrival of numerous new scientists at TUM. One of them is the world-famous architect Prof. Diébédo Francis Kéré, appointed to the newly created professorship for "Architectural Design and Participation". Kéré also held the keynote at Dies academicus, entitled "Inspired to build". In his address he explained among other things his philosophy of building which relies on the use of locally available materials. He also emphasized the significance of careful architectonic planning for school buildings in regions such as Burkina Faso, the country of his birth.
Another new world-class arrival is Prof. Sami Haddadin, who will join TUM as a Professor of Robotics and Systems Intelligence on April 1, 2018. Only last week, German President Frank-Walter Steinmeier presented Prof. Haddadin with the lucratively endowed 2017 German President's Award for Innovation in Science and Technology ("Deutsche Zukunftspreis "). At TUM Haddadin will help establish the "Munich School of Robotics and Machine Intelligence" as its director. This newly created integrative research center will continue the successful tradition of robotics research at TUM and will consolidate the enormous diversity of expertise present at TUM (approximately 35 professorships) across disciplines. The subjects covered range from robots which help provide care to the elderly all the way to the development of robot assistants in the context of Industry 4.0.
Scientific Achievements
In 2017, TUM was once again placed among the best three German universities in renowned international rankings. In the QS World University Ranking TUM was rated number 1 in Germany for the third time in a row. The Global University Employability Ranking, which surveyed approximately 6,000 managers in 20 countries, ranked TUM in 8th place in terms of the quality of its graduates, once again among the top 10 worldwide.
Awards
A large number of awards for special achievements were presented on the occasion of the annual academic celebration.
Designation as Honorary Senator
This year TUM is bestowing its highest honor, the title of Honorary Senator, on the long-time Bavarian Minister President Dr. Edmund Stoiber for his outstanding achievements in the context of the modernization of the university. Stoiber, who personally accepted the award, said that the honor received from TUM had a particular personal significance for him: "I bear this award in full awareness of the honor of being privileged to represent a world-class university."
The Heinz Maier-Leibnitz Medal
Prof. Dr. Elisa Resconi, Professor of Experimental Physics with Cosmic Particles, was honored for her internationally distinguished research performance in neutrino-astronomy and her successful initiative in the German Research Foundation (Deutsche Forschungsgemeinschaft or DFG) - Collaborative Research Center "Neutrinos and Dark Matter in Astro- and Particle Physics".


The Karl Max von Bauernfeind Medal
Forstoberrat (Senior Forestry Director) Peter Renoth, Deputy Director of the Berchtesgaden Forestry Department, was honored for his outstanding dedication in connection with the currently forming TUM research and teaching station in the Berchtesgadener Land region.

Dipl.-Soz. David Schneider was recognized for his extensive efforts as organizer of TUM refugee programs and activities, including in particular the auditor program for refugees.

Martina Wayand, M.A., MBA, was honored for her exemplary role as a first-aid responder.

The "aCar Mobility" team displayed exceptional commitment and performance on the part of the student members in the conceptually and technically creative development of the "aCar", an electric car custom-tailored to meet the needs of the rural population of Africa.

The student aviation initiative Akaflieg München e.V. was honored for its service in the interest of the scientifically-based development of recreational aviation since the initiative was founded in 1924.

The WARR Hyperloop team was recognized for its achievements in the internationally renowned "SpaceX Hyperloop Pod" competition. The team's impressive victory in the competition solidified TUM's reputation as a leading location in "German Engineering".
The Johannes B. Ortner Foundation Prizes for Young Researchers and Academics
Dr. med. Felix Brandl, TUM School of Medicine, for his doctoral thesis "Intrinsische funktionelle Konnektivität zerebraler Netzwerke bei rezidivierender Depression".

Dr. Florian Groche, TUM Department of Chemistry, for his doctoral thesis "Chemical Oxygen Generation from Peroxo-Compounds for Aviation Purposes".

Anna Hausner, M.Sc., TUM Department of Civil, Geo and Environmental Engineering, for her Master's thesis "Evaluierung und Optimierung einer Fischabstiegsanlage mittels 3D-Simulation im Kontext der aktuellen Forschungsergebnisse".

Dr. Ellen Schmid, TUM School of Management, for her doctoral thesis "Me, Myself And I: Theory and Effects of Self-Interested Leaders".

Dr. Sandra Unterseer, TUM School of Life Sciences Weihenstephan, for her doctoral thesis "Identification of genes under differential selective pressure in temperate maize".

Corinna Wiest, M.A., TUM Department of Architecture, for her Master's thesis "Eine glückliche Beziehung? Das Verhältnis von Kunst am Bau zu Architektur und Nutzer – Eine Untersuchung am Fallbeispiel des Forschungscampus Garching".