Peter Altmaier calls for more venture capital in Germany
UnternehmerTUM welcomes Minister for Economic Affairs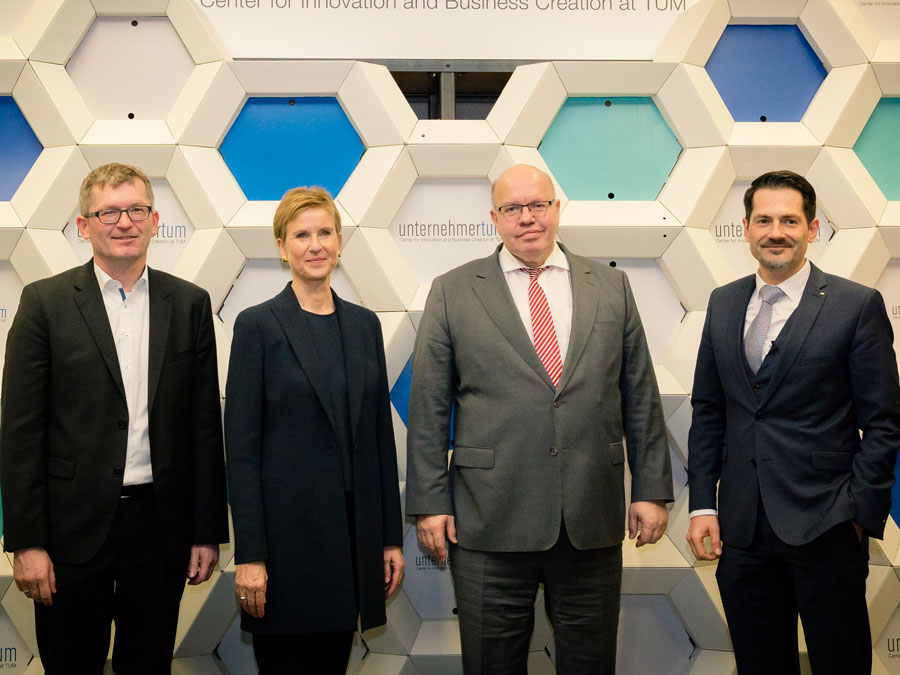 On his visit to UnternehmerTUM, Economic Affairs Minister Altmaier highlighted the importance of successful start-ups for the digital revolution: "For the first time we are experiencing the situation where old companies are falling by the wayside, while new, financially sound companies are no longer necessarily created in Europe, but in China or the USA." In those countries, he added, there are more start-ups that grow so big that they change the world.

"We have taken steps to make it easier to start a business," said Altmaier. "But we have a problem in Europe: When these companies are successful and start growing, they can no longer find financing here." This is not due to a lack of potential investors in Germany, however. The problem is that these investors lack the necessary expertise. Meanwhile, concluded the minister, there are companies who want to make investments but do not have the necessary financial resources. "The state needs to think about how to bring together knowledge and capital."
Cooling quantum computers with magnetic technology
Thomas Hofmann, TUM Vice President for Research and Innovation, and Helmut Schönenberger, the managing director of UnternehmerTUM, are optimistic that Germany can close the gap on other countries. Hofmann said that many German start-ups actually have better technology than their competitors. Schönenberger mentioned the successful cooperation between the university and his team that has experience in launching start-ups as well as industry contacts: "If we had 10 organizations like UnternehmerTUM, Germany would have a more vibrant start-up scene than the USA."

Three start-ups formed at TUM made presentations to the minister: Kiutra has developed a magnetic refrigeration technology that can reach extremely low temperatures, for example to cool quantum computers. Maiot applies artificial intelligence methods to truck fleet data to help operators in implementing predictive maintenance scheduling. Kumovis has invented a 3D printer with a clean room environment for the manufacturing of medical implants. The founders all agreed on where they think the government could help start-ups: more advice on navigating rules and regulations, and support in networking at the European level.
Successful ideas in the Digital Product School
Maiot founder Adam Probst took part in the Digital Product School, where participants from big companies and start-ups work together for three months developing product ideas. The school is a key instrument in the Digital Hub Mobility, which the Ministry of Economic Affairs set up at UnternehmerTUM in 2016. The German Digital Hubs are intended to bring together start-ups, established companies and researchers.

Peter Altmaier also toured the MakerSpace, a 1,500 square meter high-tech workshop where start-up teams build prototypes. It is part of the range of support initiatives by TUM and UnternehmerTUM, which offer programs for all phases of a start-up, from designing a business model to management training, from the market entry all the way to a possible IPO. UnternehmerTUM also operates its own venture capital fund.

As many as 30 teams can use offices in the TUM Incubator at the same time to prepare for the founding of their companies. One floor above the Incubator the TUM Entrepreneurship Research Institute investigates how start-ups can become successful. TUM also travels with especially promising start-up teams to Silicon Valley for two weeks or to its partners in the EuroTech Universities Alliance.
More Information:
Technical University of Munich
Corporate Communications Center