Digital twins and cybersecurity strategies for the modern world of work
New solutions for the industry of the future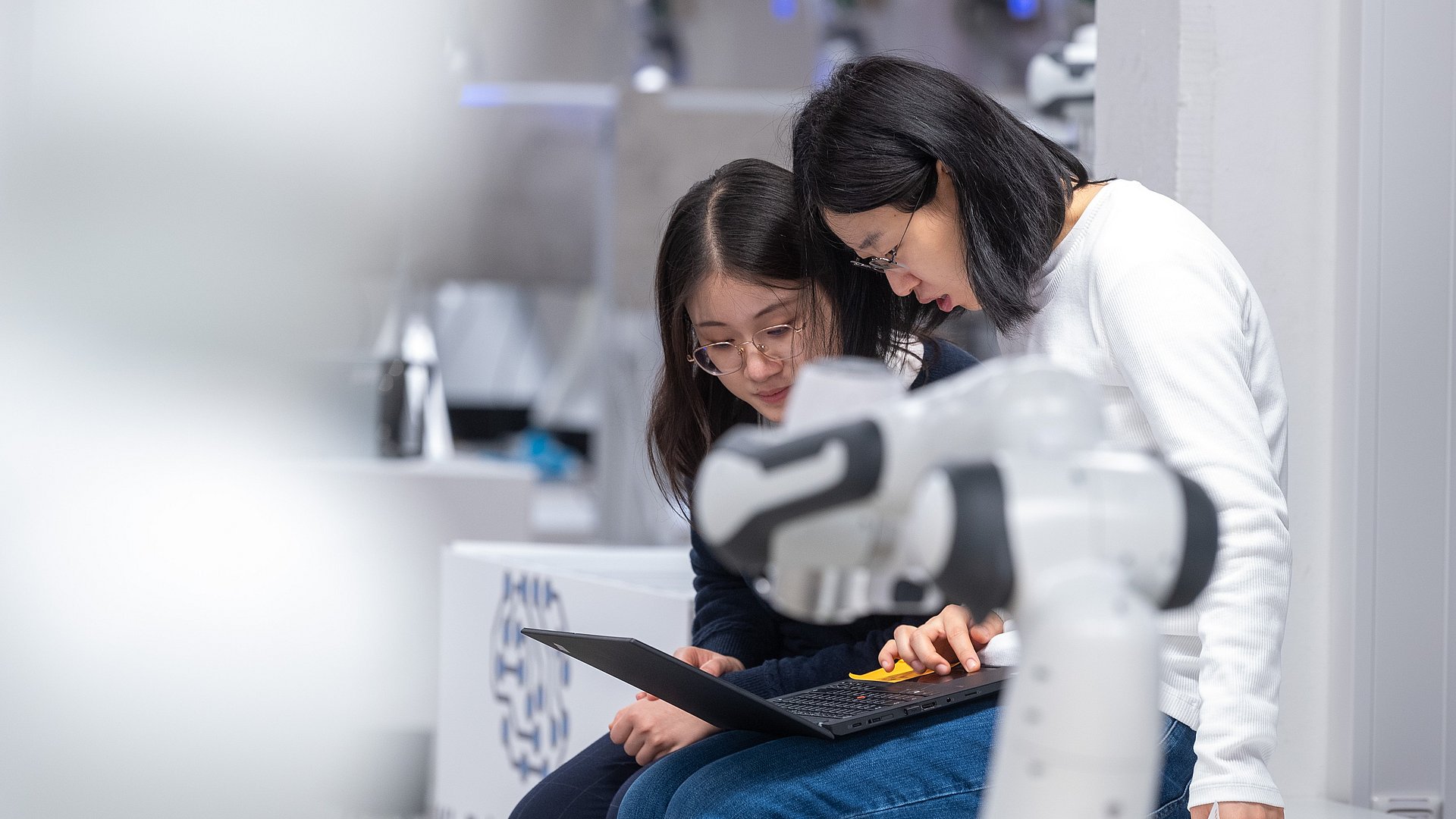 A glimpse into the new Robotics Lab, which opened at the Deutsches Museum in February, is certainly impressive: around one hundred robotic arms can be seen learning together, assembling cables and transmission components and replicating tasks demonstrated by scientists. The lab is the centerpiece of TUM's flagship project, the "KI.FABRIK " (engl. AI.Factory). It is scheduled to operate until 2030, supported by €13 million of funding from Hightech Agenda Bayern, Bavarian Ministry of Economic Affairs, Regional Development and Energy and Bavarian Ministry of Science and Arts.
Initiated by Professor Sami Haddadin , Executive Director of the Munich Institute of Robotics and Machine Intelligence (MIRMI) at TUM, the project aims to build a factory of the future. Professor Klaus Bengler, who hold the Chair for Ergonomics, is responsible for coordinating the research and development project underway at the "KI.FABRIK". The overall project aims to create versatile robots with the ability to learn and the capacity to help people in their work in manufacturing and logistics by using artificial intelligence (AI) and cooperative robotics.
Learning with digital twins
Robots controlled by an AI platform and virtual models of these robots – known as digital twins – form the technological basis of the "KI.FABRIK". "The entire factory is replicated in a data simulation. Before any given component is actually installed, a robot can use the digital twin to practice how to assemble something," explains Bengler. "We won't program robots in the future; instead, they will learn what they should do from us. Humans will demonstrate something and the robots will copy," he adds. He and his team at the new facility hope to demonstrate that robots can learn, optimize, and perform tasks independently.
Practical projects for doctoral candidates and Postdocs
Kejia Chen, a doctoral candidate from China, is part of the lab's international team. She has been conducting research at "KI.FABRIK" since early 2022. Her project involve teaching robots to lay cables in a given shape, such as in an S-shape. These tasks could play a role in activities such as manufacturing car cockpits, a process that currently requires production workers to make repetitive movements. Kejia Chen is working on a system that, in future, will have two robotic arms working together to lay and fix the cables independently.
Chen's research project has yielded initial successes: when she inputs the desired cable shape into the system, the algorithm calculates where to position the clamps to secure the cable in place. This task, which has always been performed manually to date, is set to be performed by robot arms in future. In the next step, the two machines will work together to lay the cable and secure it in place by sliding it into clamps.
While this might appear a simple, straightforward task, it actually involves a lot of work. "To begin with, we had problems determining the right moment for the second arm to come and help the first one, and how it should help, without the two colliding. However, we solved that problem and now the two work together very well," she says. The next major step is to create digital twins for her robots. These can then be linked with the real production line in a car factory so that Kejia Chen can simulate more complex tasks and then practice them with the robots.
Different partners work together
In total, researchers at the lab are working on eight cases, ranging from teleoperation and collective learning to network design and mobile robotics. In addition to scientists and researchers from the TUM School of School of Computation, Information and Technology and the TUM School of Engineering and Design, a number of industry partners are also part of the projects at "KI.FABRIK". Adapting to shifting, increasingly individual customer requirements and implementing these changes in factories – with the help of adaptive robots that have the ability to learn – is crucial for these industry partners.
A joint German-French project targeting commercial success
In 2016, TUM co-founded another long-term project, the German-French Academy for the Industry of the Future (GFA), with the aim of preparing and strengthening industry in France and Germany for future developments. The GFA is the result of close cooperation on research, education and innovation between TUM and the Institut Mines-Télécom (IMT) – the biggest grande école in France, which has campuses across the country.
Since the project started, teams comprised of German and French researchers have collaborate on over 27 research projects, jointly supporting the education of students and doctoral candidates. The GFA also awards seed funding to promising high-risk project ideas to support the preparation of applications for more extensive grants, such as those awarded by the EU. Its research topics include Cybersecurity, AI, Advanced Manufacturing and Network Systems.
Successful research tandems
"The GFA is a vibrant forum for exchange and international understanding. A whole host of motivated people are putting a lot of energy into strengthening German-French research cooperation," says Professor Marc-Oliver Pahl , holder of the Chair of Cybersecurity for Critical Networked Infrastructures at IMT. He knows both university partners in the GFA well, having worked at TUM from 2008 to 2019 before accepting a professorship with IMT Atlantique in France.
Prof. Pahl also has experience working on successful research endeavors, such as the TRUE-VIEW project, in which a Franco-German research team examined the value of the metaverse for the fields of cybersecurity and data security. An activity that led to the joint Horizon Europe "CyberSecDome" project, which includes 13 partners including TUM and IMT and over six million Euro funding.
Enhanced cybersecurity through the Metaverse
With computer systems becoming increasingly ubiquitous, data is increasingly collected and processed – sometimes without us even realizing. The project pursued by Pahl and his team explored therefore how the metaverse could be used to raise awareness about invisible data collection and processing. In the metaverse, users wear headsets to enter collaborative virtual worlds. As part of this work, the team developed several extended reality (XR) interfaces with virtual and augmented reality as proofs of concept.
The scientists created scenarios that provided a virtual representation of Wi-Fi signals at the TUM Department of Informatics, as well as data processing in factory automation systems and ambient data processing in classrooms, all using 3D headsets.
Lively exchange and new learning formats
In addition to his research activities, Marc-Oliver Pahl is a member of the GFA steering committee and provides advice on future educational activities at the GFA. He has been teaching students and engaging with digital learning formats for many years, having played a pioneering role in the field of eLearning. The GFA therefore offers free digital learning formats, for example MOOCs, on topics such as the future of work. The GFA's mission is to strengthening the life-long learning of international students and doctoral candidates, as well as working professionals around the changes underway in the world of work and the digitalization of the economy.
As part of German-French collaboration, the GFA co-organizes PhD schools, workshops and hackathons for international students, doctoral candidates and other researchers in conjunction with industry partners. Over 35 large and medium-sized companies from Germany and France work with the GFA. "It's wonderful to see so many industrial and academic entities wanting to partner with us. Nothing could illustrate the GFA's success better," says Pahl.
The article was already published on the website "Research in Bavaria" of the Bavarian State Ministry of Science and Arts:
Technical University of Munich
Corporate Communications Center