Thousands of first semester students attend welcoming event
Welcome to TUM!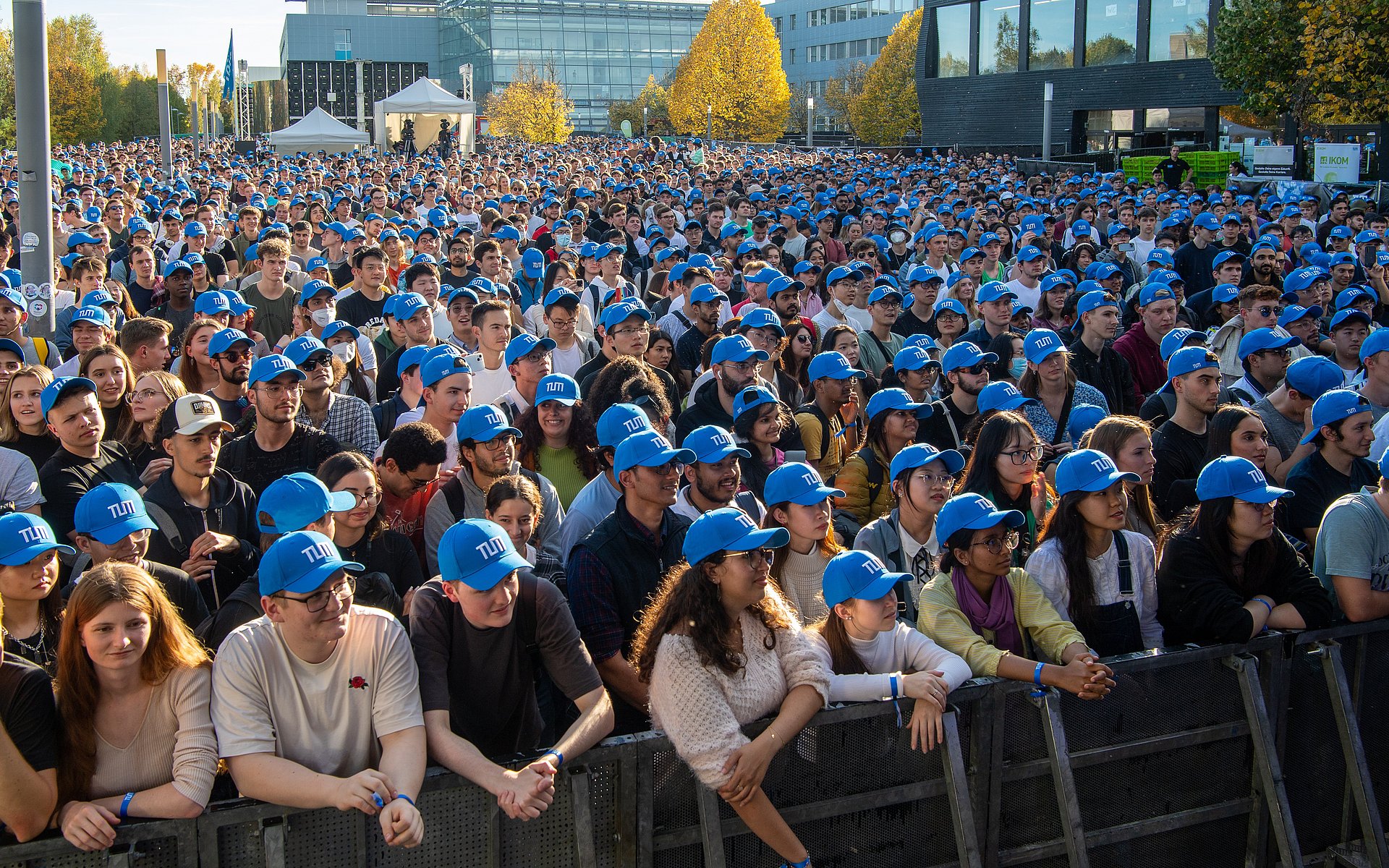 President Hofmann called on the students to take advantage of the university's numerous opportunities and unique service range in order to build transdisciplinary networks reaching beyond their own subject areas. The President reached out to an enthusiastic audience: "Explore the entirety of our wide range of transdisciplinary programs, awaken previously unknown interests, immerse yourselves deeply!"
Hofmann also emphasized the value and significance of diversity: "41 percent of our students come from abroad. People from a total of 140 countries study at TUM. This diversity is our greatest strength: We generate progress with the collaboration of mixed teams and live out a culture of mutual respect, equality and inclusion."
The students are looking forward to a new chapter in life at TUM with eager expectations and happy anticipation. Aryan Thosar (middle) from India will study to become an engineer in the field of Power Engineering. The excellent employment outlook in the industry is one of his primary reasons for coming to Germany.
Bryan Saenz has come to TUM from Peru. He plans to use his Informatics studies at TUM to found his own company in the cybersecurity sector. He was particularly attracted by the entrepreneurial culture at TUM. "My parents are very proud of the fact that I was accepted here."
Shawn Li (right) and his schoolmates Xue Yan Hu (left) and Yuxuan Guo, all of whom earned their Abitur (Baccalaureate) in Marburg, have decided on degree programs in electrical engineering as well as physics. And Guo, called a "genius" by his friends, is looking forward to the many inspiring and gifted people they will be working together with and learning from.
Adithi Satish (left) from Bengaluru in India fell in love with Munich right away. "This is a wonderful city!" Her plans to become a data engineer and analyst brought her to Bavaria.
Silvia Scio left Rome for Munich. She says one of her best friends, who already began her studies last year, told her what a "fantastic university" TUM is. Silvia has enrolled in the Architecture program.

On the other hand Paulo Basso from the Grappa region in Northern Italy is currently completing an exchange semester at TUM as part of the European Erasmus program. He is actually an informatics student in Milan and is enjoying the relaxed atmosphere in Munich.
Hesam Rezaei (right) from Iran has already lived in Munich for six years and has decided to study a combination of Business Economics and Informatics. After completing his studies he plans to found his own company.

And Murilo Escher is headed for research. The descendant of Germans who emigrated to Brazil, Murilo is studying Informatics and sees the university as his dream workplace in the future. He came to Munich a year ago, prepared for TUM in the Studienkolleg and is now off to a running start.
Yuzi He (right) and Ehi Jiani ny from China are both studying computer science and in particular want to use their expertise to tackle the issue of CO2 reduction in the future. "This is very important for our world," Ehi emphasizes.
A total of about 14,000 new students have enrolled in one of the approximately 180 different degree programs beginning in the winter semester at Munich, Garching, Freising, Straubing and Heilbronn. This means the number of students matriculated at TUM has reached a historical high-point of approximately 50,000. Of these, 37 percent are women.
Further information and links
The first semester Welcome@TUM was supported financially and organizationally by the community "Freunde der TUM" (Friends of TUM).
Technical University of Munich
Corporate Communications Center