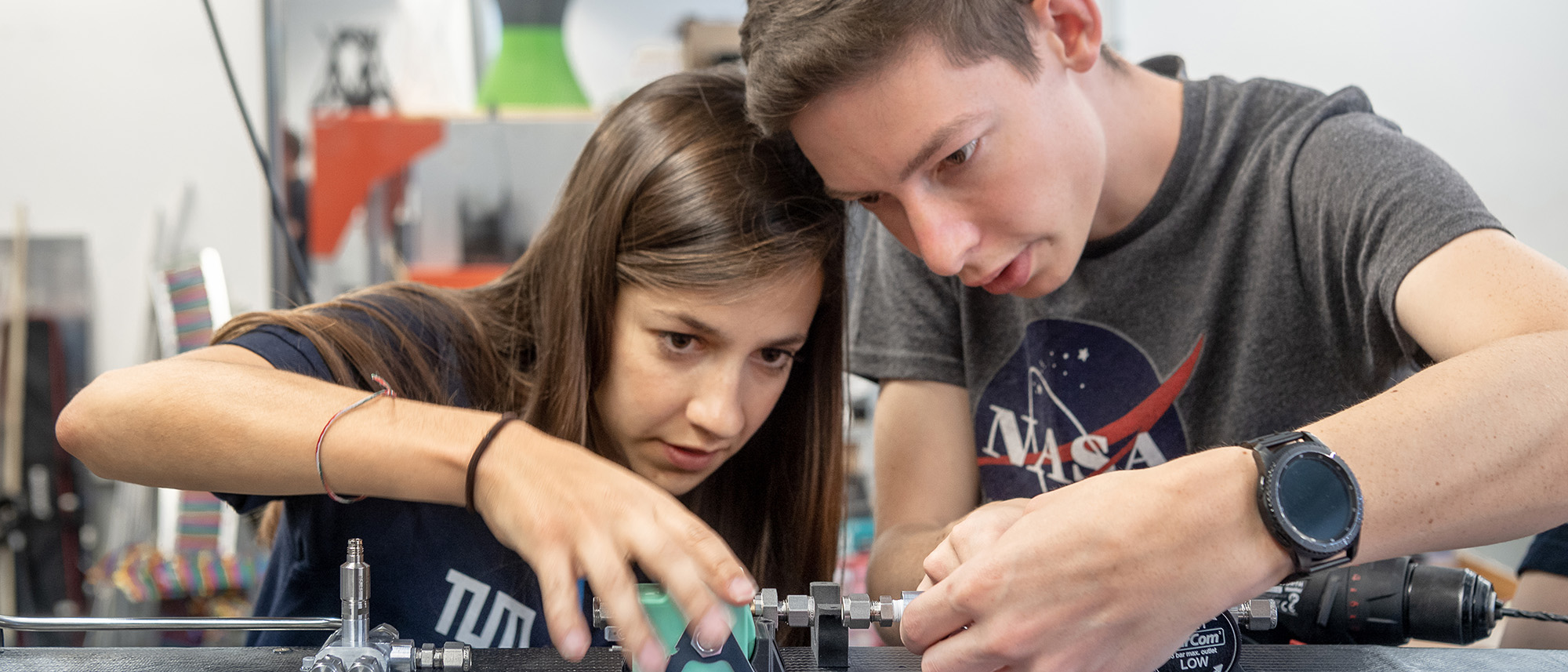 Key Skill Program – Additional Qualification for Students
Entrepreneurship, leadership, responsibility: Studying at TUM is more than attending lectures, taking exams and earning credits. TUM and its partners offer a wide variety of courses and initiatives to broaden your horizon and develop your personality. Take the initiative and get involved!
Visit Campus Life for additional tips and ideas on how you can become involved both in and outside TUM. You will also find information regarding the various training and education services available for enhancing your skills.
The TUM Language Center offers students the opportunity to raise their foreign and professional language skills to a university level, offering courses throughout the semester in 15 languages. Its course offerings include basic, intermediate and advanced language seminars, as well as intensive courses in individual languages during lecture-free periods. Also included are courses in intercultural communication and organized events designed for intercultural exchange. The independent-learning centers at the Garching and Weihenstephan campuses offer students to possibility for independent study.
The Leibniz Computer Center (LRZ) offers courses each semester in PC applications such as Work, Excel, Access, Powerpoint and Photoshop, in addition to high-performance computing, scientific visualization and more.
TUM Pro Lehre | Media & Didactics offers courses on how to improve your study and exam-taking skills through digital scripts, podcasts, E-tests, videos, Wikis, forums and social networks.
The TUM university library offers numerous courses designed to help you locate literature for seminar papers, theses or exam preparations. You will also learn how to properly cite, footnote and manage your literary resources. The library also offers classroom instruction on all TUM campuses in addition to E-learning courses enabling students to learn independently where and when it best suits their needs.
TUM engages student assistants to support both the teaching and research functions of its schools and colleges. Available positions are often announced in classes, directly by the departments, or on the TUM job portal
The Center for Innovation and Business Creation at TUM (UnternehmerTUM GmbH) helps companies and startups face the challenges of our time by using these challenges as sources of innovation to create new, successful business concepts. UnternehmerTUM offers a broad spectrum of services that enable students to discover and develop their business talent.
The Bavarian Virtual University (vhb) offers students enrolled at Bavarian universities tuition-free courses that are either part of the schedule of courses or which can be used to acquire additional skills and qualifications. Access to the courses is available via the Internet from home or the university.
ProLehre offers all TUM students a comprehensive program of courses to enhance their learning skills. Course content ranges from self-management, self-motivation and methods for planning and managing time for work processes to tips on how to effectively review course content and identify most important concepts. More information about the available courses.
As part its "Successful Study" program, the TUM Carl von Linde Academy also offers courses aimed at enhancing learning skills. Contact Bettina Hafner for details.

At the Carl von Linde Academy, students learn key skills beyond the disciplinary constraints of their field of study. The program Science – Technology – Society offers interdisciplinary skills modules and public lecture series.