Anja Karliczek talks about start-ups in the robotics and AI sectors
UnternehmerTUM welcomes Minister for Education and Research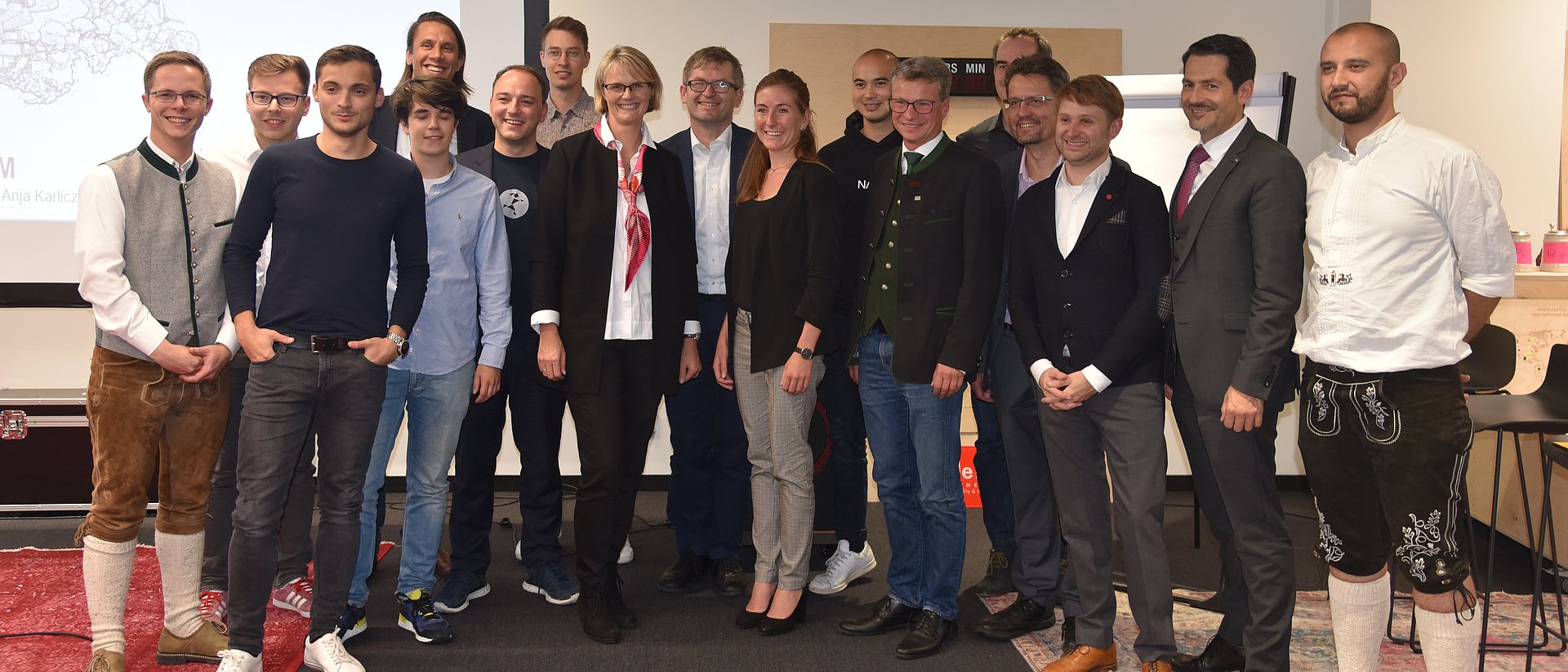 The federal minister met several of the most successful start-ups incubated at TUM that have developed technologies in artificial intelligence or robotics. KONUX, for example, offers smart sensors combined with AI-based analysis software. The system can monitor infrastructure such as a railway network in real time and predict where maintenance will be needed.
The team at rfrnz has developed software that uses machine learning methods to analyze contracts. It can greatly facilitate the work of lawyers when analyzing the thousands of documents involved in a corporate merger, for example.
NavVis uses sensors from robotics technology to create centimetre-precise images of interiors. With the company's navigation software, users can find their way around complex buildings such as airports or explore and plan rooms from a distance, such as production facilities.
Artificial intelligence and robotics are key fields of research and teaching at TUM. At the Munich School of Robotics and Machine Intelligence, more than 50 professors from such areas as informatics, engineering, physics and medicine as well as the humanities and social sciences are working together on future technologies for health, work and mobility.
UnternehmerTUM's appliedAI initiative, with 50 member companies, is the leading non-profit initiative for AI applications in Europe. It brings together industry, researchers, tech players, and the public sector to gain a better understanding of AI and promote its implementation. The program includes trainings and the AI Lab, where prototypes can be tested.
From the business plan to the IPO
The start-ups that made presentations to Anja Karliczek received intensive support. TUM and UnternehmerTUM support new companies with programs tailored to the phases of the start-up process – from writing the business model to management training, and from market entry to a possible IPO.
Up to 30 teams can use offices in the TUM Incubator to prepare the launch of their companies. TUM accompanies the most promising candidates on a two-week trip to Silicon Valley. With its own venture capital fund, UnternehmerTUM invests in young technology companies that demonstrate high potential, offering them access to the MakerSpace, a 1,500 square meter high-tech workshop for building prototypes, and the Bio.Kitchen biotech laboratory.
According to the respected "Start-up Radar" survey, this support is unparalleled at Germany's major universities.
Further information and links
Technical University of Munich
Corporate Communications Center