Video: Mariya Gabriel at the European Union Week
EU Commissioner presents initiatives for innovation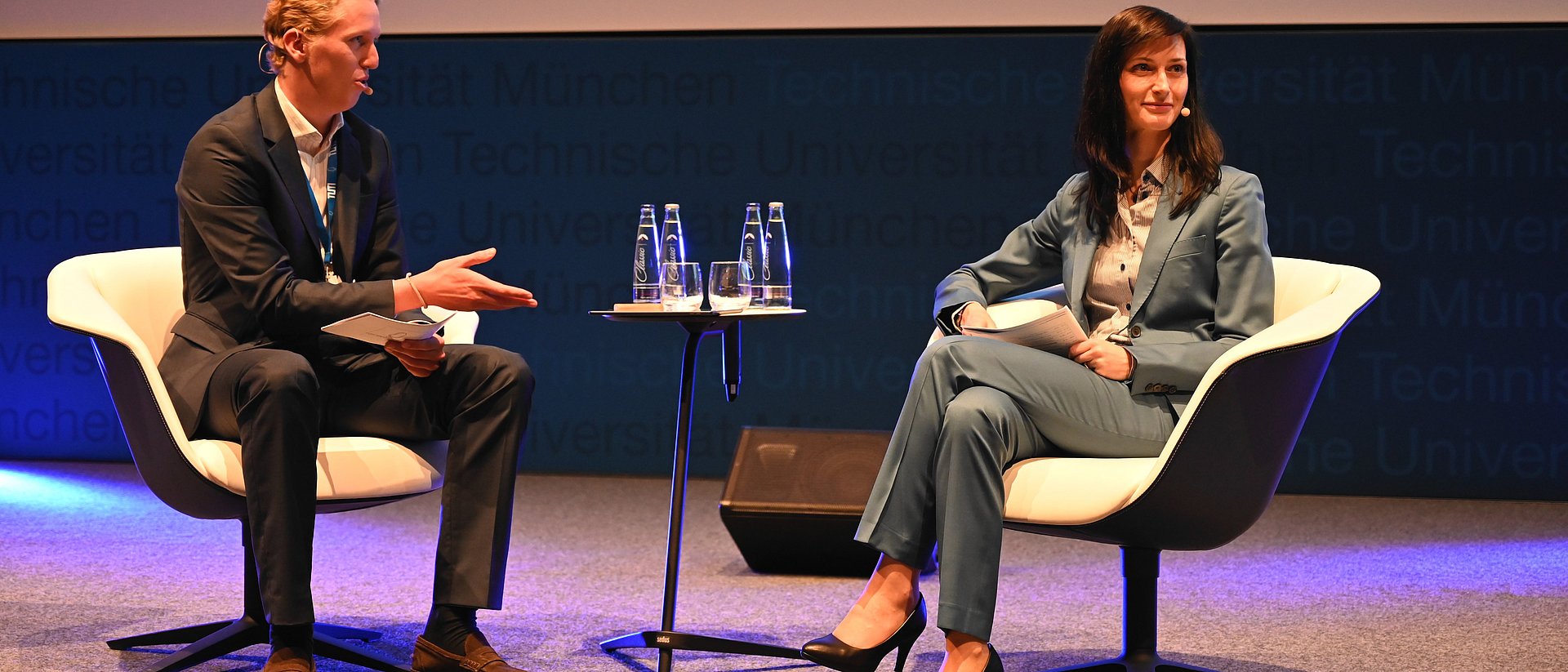 "The latest European strategy of innovation dates back to 2010, we are not living on the same planet anymore", said Mariya Gabriel. "However, we need a new innovation agenda that addresses the new generation of innovators. In 2022, we need to pay special attention to start-ups. From 2024 onwards, we even expect that the main drivers of innovation will be deep-tech start-ups. This new wave of innovation will address issues such as climate, energy, transport, construction, food, agriculture or mobility".
The EU Commissioner discussed with students at the public European Union Week and met for an exchange with representatives of TUM. The event series is hosted by the TUM School of Management, HEC Paris and Koźmiński University in Warsaw with the student teams of TUM Speakers Series and HEC Débats.
The Commissioner was convinced that the graduates of TUM can also lead the new wave of innovation: "These initiatives are here for you to support you as you become entrepreneurs or change makers." She was impressed when she visited the Munich Urban Colab. Here, start-ups, established companies, researchers and citizens jointly develop concepts and products for smart cities, promoted by UnternehmerTUM and the City of Munich.
Mariya Gabriel at the European Union Week
"Connect innovation ecosystems"
Mariya Gabriel emphasized the significance of a pan-European innovation ecosystem: "We must be aware that the nature and the sources of innovations are changing. It is time to adapt our framework and to facilitate the work of this new generation of innovators. Ecosystems are important because that is the strength of Europe: we have an extraordinary pocket of talents, we have vibrant local innovation ecosystems – but in a local innovation ecosystem it is easier to find investors and attract talent from another continent than in our region or in Europe. So, it is time to connect those local innovation ecosystems and that is why in the innovation agenda one of the main flagship initiatives will be dedicated to that", said the EU Commissioner.
Prof. Thomas F. Hofmann, President of TUM, confirmed: "European universities are excellent when it comes to research and teaching. But Europe still needs to do better in terms of the impact we generate from that excellence. In Europe we need strong innovation hubs which are competitive worldwide. The Munich region, with TUM, many other scientific organizations, start-ups and robust industry partners, is one such center. And I've set myself the goal of turning the Munich region into the leading innovation site in Europe."
"Europe should stop being naive"
The Commissioner also commented on her vision of the future of Europe in the context of the Ukraine war: "I think Europe should stop being naive and should perform our leadership in strategic areas and all this based on our values", Gabriel said. "When we talk about these new challenges, one of the most important things is that we are able to fulfill these values with content". However, her perspective for the resilience of the EU in this crisis is positive: "With the crisis, we have already seen that we are able to do it and now we need to count on the creative force of every citizen – that's for me the challenge – in order to transform this wish into solutions that are concrete and real."
Prof. Gunther Friedl, Dean of the TUM School of Management, emphasized: "In addition to professional knowledge and an entrepreneurial mindset, we also want to convey the importance of European cooperation to our students. We experience that this generation has a very positive attitude towards the European Union. Just recently, a survey asking TUM students about their trust in different institutions and business sectors saw the European Commission at the top."
"More visibility to successful girls and women"
The EU Commissioner also attached great importance to gender equality and the support of women: "We are talking about an unlocked potential that Europe should start to use massively", said Gabriel. "There is a necessity to give much more visibility to successful girls and women. That's why we started the campaign #SHEU LEADS. Every week, we are giving visibility to one successful girl or women in Europe. For me, we should have 8th of March, the International Women's Day, every single day in the year."
Further information and links
Technical University of Munich
Corporate Communications Center