Open-Air First Semester Party at TUM Campus Garching
Welcome party for 14,500 new students from around the world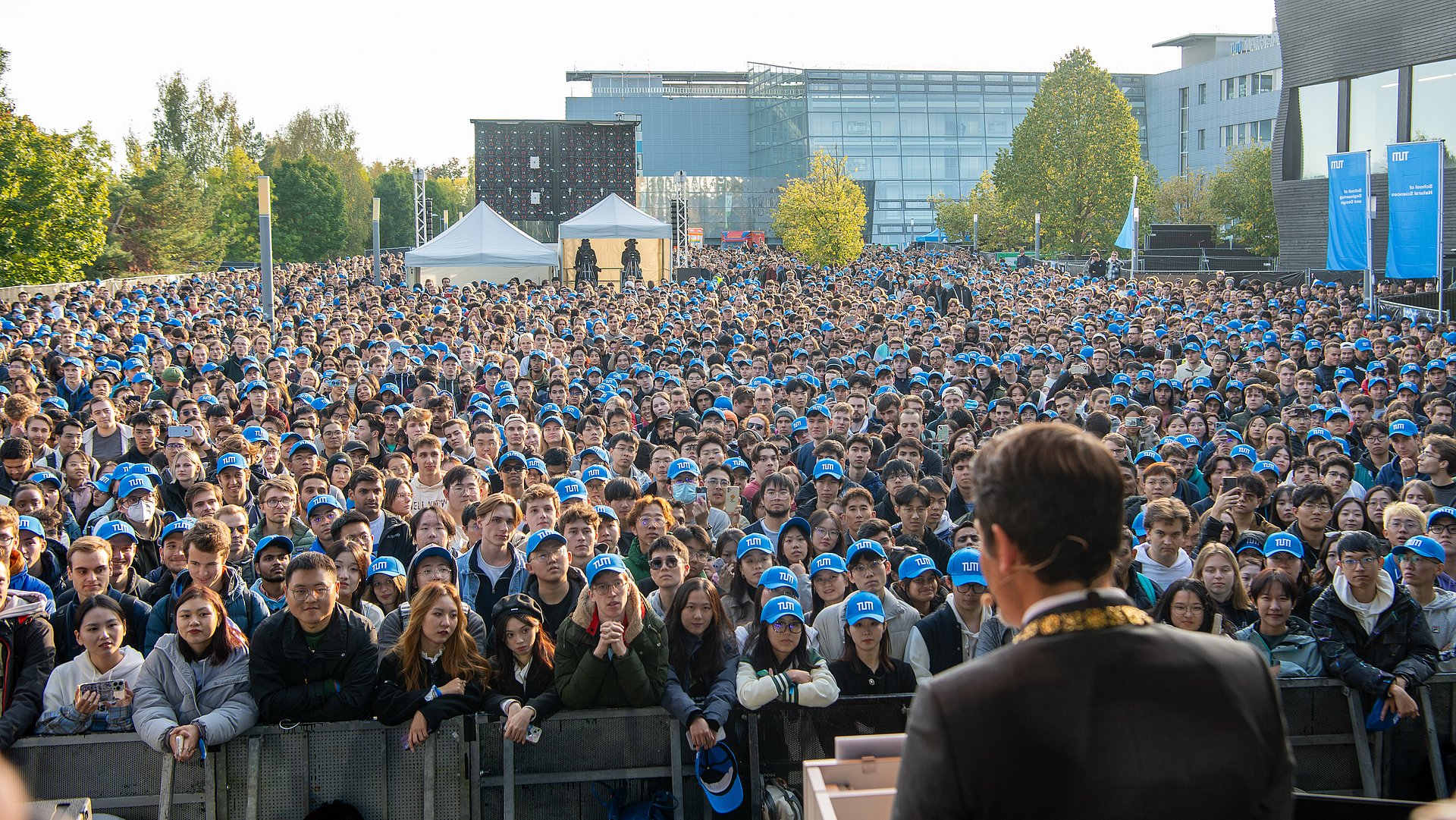 At the big freshman ceremony, President Prof. Thomas F. Hofmann called on students to bring their different strengths and weaknesses, backgrounds, philosophies of life, experiences and perspectives to TUM.
"You come from all walks of life and from all parts of the world. But we all have one thing in common: curiosity - and asking questions. It is precisely this curiosity that makes us strong as Germany's flagship university and is more crucial than ever for solving societal challenges today!" said President Thomas F. Hofmann.
Among the guests at the party area in front of the Department of Mechanical Engineering at the TUM Campus Garching were Pamela Gomez, Alexander Cardenas and Daniela Sierra. They know each other from the German School in Mexico City. Daniela, 18, is now studying sports science at the TUM Campus in Munich's Olympic Park. "Sports is simply what I love. And in Mexico, this subject doesn't exist like that." Her friends Pamela (19) and Alexander (18) have enrolled in Sustainable Magagement and Technology at the TUM Straubing Campus. They don't just want to become managers, but at the same time they want to promote sustainability.
Gloria Satoguina-Gbenoudon has made her way to Bavaria from Benin in West Africa. The 21-year-old is studying aerospace engineering for her bachelor's degree. A family friend, himself an engineer by profession, inspired her to move to Munich and pursue a technical degree. "Space travel is simply fascinating," Gloria enthuses.
Sinem Bölük (20), Anna Knoll (23) and Carolina Lahr (18) from Upper Bavaria have only known each other for a few days. They are studying biology together at the TUM Campus Freising. Sinem is particularly looking forward to the combination of theory and practice and wants to apply what she has learned directly in the lab as soon as possible. And Anna also had the good job opportunities for biologists in mind when she chose her course of study.
Samradnee Deshmukh and Pawan Ghuge (both 22) moved to Munich together from Pune in India. Their interest is in the subject of renewable energies. In their home country, they have already completed their bachelor's degrees in electronics. Now they are pursuing a master's degree. Pawan, as he tells it, comes from a small, rural village that has to deal a lot with environmental pollution. By studying at TUM, he wants to learn how to improve the situation in the future.
Dhanasakdi Joruwan (20) grew up in Thailand. At the Oktoberfest, the future aeronautical engineer at TUM met his compatriot Maximus Gugnon (20). He is just starting his bachelor's degree in mechanical engineering. Maximus is an absolute speed fan and wants to join the TUfast student group - but probably not until next semester. First, he wants to find his way around the university.
Eileen Sauerhering was drawn to TUM from Kempten in the Allgäu region. She chose aerospace for her bachelor studies. "I definitely want to become an engineer," says the 19-year-old. And a great role model for this can be seen in the background of her photo: Samantha Cristoforetti also graduated as an aerospace engineer from TUM and became the commander of the International Space Station ISS as an astronaut in 2022.
Further information and links
The first semester Welcome@TUM was supported financially and organizationally by the community "Freunde der TUM" (Friends of TUM).
Technical University of Munich
Corporate Communications Center