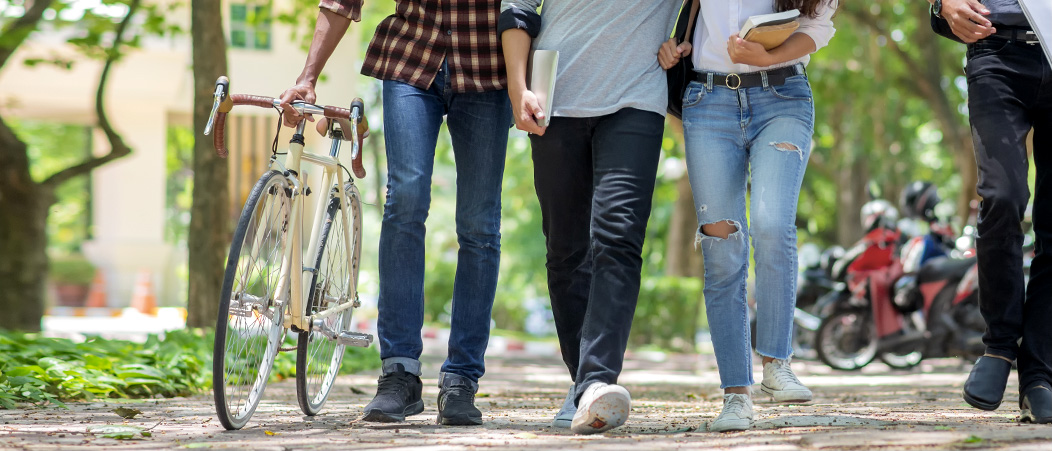 Wellbeing
You want to do something for your physical and mental health or would like to find out about barrier-free studies at TUM? Here you will find support!
Current Information – Coronavirus SARS-CoV-2
As of 3 April 2022, the 3G requirement and compliance checks cease to apply.

Pending further information on the extension of the mask requirement, we urgently and emphatically recommend the use of FFP2 masks on all TUM premises where the minimum distance of 1.5 meters cannot be maintained.

Examination deadlines: study progress checks are extended again in winter semester 2021/22.

Please be sure to check our info-website on current measures regularly for updates.
If you are unable to attend an examination, you must submit a written request for withdrawal to the chairman of the examination board of your degree program and present a medical certificate. Here you can find all information.
TUM wants to enable students with disabilities or chronic somatic illnesses to participate in their studies and student life on an equal and independent basis. The Student Advising for Studying with Special Needs supports and advises in all matters before and during your studies and with the various impairments, whether they are mental illnesses, chronic somatic illnesses, partial performance disorders or visual, hearing and movement impairments.. You can reach it at +49 89 289 22245 or handicap(at)zv.tum.de.
Studying is a period of life that demands a lot from students and can be very stressful. The Studentenwerk München and other institutions will support you if you need help in solving problems - no matter if it is difficulties in studying, relationship conflicts, mental illness, addiction or anything else. Take advantage of the offers for psychological counseling.
The student health management TUM4Health offers a wide range of information and services to keep fit – from check-ups and nutritional tips to shared exercise.
You can find assistance in strengthening mental health during your studies at TUM4Mind.